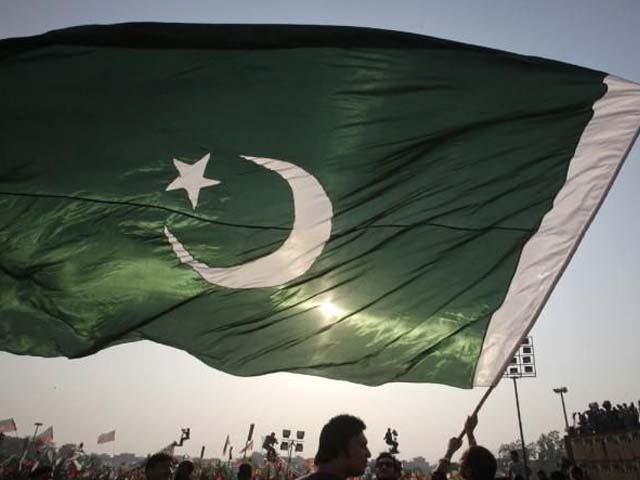 ---
71st Independence Day special: The evolution of Pakistan's national song
7 years before Pak Sar Zameen was officially adopted as our national anthem in 1954, Sar Zameen-e-Pak was our anthem.
---
In the last 70 years, the Pakistan national song has evolved through various governments, wars and music styles. We trace this evolution by reviewing a plethora of national songs from 1947 till the present.

Sar Zameen-e-Pak: The first anthem (1947)

Very few know that almost seven years before Hafeez Jalandhari's Pak Sar Zameen was officially adopted as the country's national anthem (in 1954), Pakistan already had an anthem.

Today, it is all but forgotten, despite the fact that it was the first song played by Radio Pakistan when the station began broadcasting at the stroke of Pakistan's creation in August 1947.

The anthem was commissioned by the country's founder, Muhammad Ali Jinnah, just six days before the creation of Pakistan. Jinnah personally asked a young scholar, Jaganaath Azad, to pen an anthem for the yet-to-be-born country. Jaganaath was Hindu, but he was born in the present-day Pakistani city of Mianwali and was living in Lahore when he received the request from Jinnah.

Jaganaath penned the anthem on August 10, 1947. On August 11th, it was set to music and then played on Radio Pakistan on August 15, 1947. Its author, however, did not stay in Lahore after partition and decided to travel to and stay in India.

The lyrics are largely homage to Jinnah's vision and passion to create a new country which would open new paths of progress in the region.

The song stopped being aired by Radio Pakistan after Jinnah's demise in September 1948.


Pak Sar Zameen: The new anthem (1949/54)

In 1949, a year after Jinnah's demise, the government of Liquat Ali Khan, commissioned the creation of a new national anthem. Interestingly, the music of the anthem came much before the words did. A tune composed (without any lyrics) by the music composer and mystic, AG Chagla, was played by a marching band at the Karachi Airport during the arrival of the Shah of Iran in 1950.

Many poets submitted lyrics for this tune but the government just couldn't decide which ones to pick. Finally, in 1954, almost five years after the tune was composed by Chagla, the government of Prime Minister Chaudhry Muhammad Ali chose lyrics penned by the Urdu poet, Hafeez Jalandhari.

Jalandhari had penned the words in 1952 before they were weaved into Chagla's composition. It was sung for the first time by Jalandhari himself on Radio Pakistan on August 13, 1954.

The anthem is played with 21 musical instruments (both eastern and western) and is almost 80 seconds long. The lyrics lavishly use classical Persian vocabulary and have just one Urdu word. It is often considered to be one of the most melodious national anthems in the world.


Aao Bachoun Sair Karain Tum Ko: Saleem Raza (1957)

This was one of the first Pakistani national songs outside the orbit of the first two national anthems. Penned by Fayaaz Hashmi and sung by Saleem Raza, it became an immediate hit when it was used in the 1957 Urdu film, Bedari.

The tune is extremely catchy, melodically alluding to a whistle-stop journey of the country by a school master and his (male) students. The lyrics, however, are overtly militaristic, even militant. They describe Sindh, Punjab and the NWFP (present-day Khyber Pakhtunkhwa) as lands full of hotheaded men of faith who are always ready and willing to lay down their lives to keep the country safe from enemies.

Interestingly, the song is just about three regions of what was then West Pakistan. There is no mention of its fourth region, Balochistan, nor anything about the Bengali-majority region of East Pakistan. The song was quietly stopped from being played on Radio Pakistan by the Ayub Khan regime which came to power in 1958. No reason was given. It was allowed back on the radio in 1962.

Ironically, the song's composition and lyrics were both unabashed rip-offs of a 1954 Indian song, Aao Bachoun Tumhe Dikhain.


Ay Watan Kay Shajeelay Jawanoun: Noor Jehan (1965)

The national song genre never really took off in Pakistan, despite the success of 1957's jingoistic Aao Bachoun. Ayub Khan (who became president in 1959) was a no-nonsense ruler entirely focused on just two things: Rapid industrialisation and constructing a society driven by economic progress, science and a modernist/rationalist strand of faith – apart from, of course, stretching his stint as president.

However, when Pakistan went to war with India in 1965, Ayub asked Radio Pakistan to begin broadcasting patriotic songs. But the station just had a few such songs and all of them sounded out-dated. So poet Jamiluddin Aali was immediately approached to pen a song 'to inspire the Pakistani soldiers fighting at the front.' Mian Shehryar constructed a tune around the words. The time's famous actress and singer, Noor Jehan, was given the task to sing it.

She first sang it on Radio Pakistan and then on the then nascent Pakistan Television (PTV) which was just a year old. She also recorded it for EMI Pakistan. The lyrics were penned as the voice of a mother, sister, daughter or wife singing to the soldiers. The composition and words are thus highly emotive and yet inspiring without being militaristic or jingoistic. The song really took off when soldiers, with the help of civilians, pushed back an attack on Lahore by the Indian military.

The song was repeatedly played on radio and, according to EMI Pakistan (which released it as a single), it sold over a million copies within weeks!


Ay Puttar Hatan Te Nai Wikdey: Noor Jehan (1965)

During the 1965 war with India, Noor also recorded a Punjabi national song after the attack on Lahore by the Indian military was repulsed (see above). Penned by famous poet Sufi Tabasum, on this Noor sings as a mother of the Pakistani soldiers. She praises her proud sons, saying nothing can deter them because they have the spirit and blessings of ancient Sufi saint, Data Ganj Baksh (whose shrine is in Lahore). This song too instantly captured the imagination and hearts of millions of Pakistanis.


Yaad Kerta Hai Zamana: Masood Rana (1966)

The 1965 war ended in a stalemate. But it had an adverse effect on the economy. The Ayub regime had enjoyed widespread support and unprecedented economic growth till 1966. This support began to erode after the war. Noticing the impact Noor's national songs had had on the public imagination and morale, Ayub's information ministry encouraged the addition of a national song in the 1966 Urdu film, Humrahi.

The Ayub government had begun to greatly patronise Pakistani cinema, so the producer of the film was more than happy to oblige. The result was Yaad Kerta Hai Zamana. Written by Muzaffar Warsi and composed by GA Chisti, it was sung by Mansoor Rana.

It reminded the listeners that the world only remembers those who lay down their lives for their country. More interesting is the way the song was filmed. It shows portraits of Jinnah and Ayub coupled together and also incorporates 19th century figures such as modernist Muslim reformer Sir Syed Ahmad Khan and the poet Mirza Ghalib as Pakistanis.


Sonhi Dharti: Shahnaz Begum (1972)

In 1971, a vicious civil war in East Pakistan saw the region break away to become Bangladesh. Zulfikar Ali Bhutto's party, the Pakistan Peoples Party (PPP), which had won the most seats in West Pakistan during the 1970 elections, was invited to form the new government of a battered and demoralised nation.

The Bhutto government aggressively utilised the national song genre, inviting famous Urdu poets and music composers to produce songs which could help reinvigorate the spirit of a deflated people.

This song was composed by Sohail Rana and penned by Jamiluddin Aali. It first appeared on Radio Pakistan and PTV in January 1972, sung by a young vocalist, Shahnaz Begum.

The music is upbeat and the lyrics are optimistic, reaffirming the nation's belief in a united Pakistan after the East Pakistan debacle.


Jeeway, Jeeway Pakistan: Shahnaz Begum (1972)

After composing Sonhi Dharti, Sohail went on a roll and came up with the even more upbeat, Jeeway Jeeway Pakistan. Also penned by Jamiluddin and released in 1972, this song too reaffirms the nation's faith in a 'new Pakistan'. It has a galloping melody indicating a nation joyfully hurrying towards a newer, better future.


Mauj Barey Ya Andhi Aye: Shanaz Begum (1973)

Sohail continued his rapid stint of composing national songs for Shahnaz with Mauj Barey – a more impassioned ditty declaring that no storm could extinguish the flame called Pakistan. The music has more urgency compared to Shahnaz's first two national songs.

The ironic bit was that even though all three songs were produced to address the despondency of a nation that had lost its eastern wing (the Bengali-majority East Pakistan), Shahnaz was a Bengali. And what's more, after so effectively uplifting the spirit of a demoralised nation, she eventually left the country to become a citizen of Bangladesh.


Aye Watan Pyarey Watan: Amanat Ali Khan (1973)

After the string of hits enjoyed by Shahnaz in 1972 and the impact they had on so many people, the Bhutto regime's information ministry continued to encourage PTV and Radio Pakistan to roll out well-crafted national songs. One of the most popular of the era was Aye Watan.

Written by poet Karam Haidery, it was sung and composed by the famous eastern classical musician and singer, Amanat Ali Khan. Even though the lyrics do not break any new ground and are still trying to address the post-1971 existential crisis that the country had plunged into, the music is extremely rich in emotion and the song is sung with equal intensity.

This became a huge hit with listeners and turned Amanat Ali into a mainstream favourite. However, just a year after recording this song for PTV, Amanat suddenly passed away from liver failure.


Chand Meri Zameen: Amanat Ali Khan

Before his untimely demise in 1974, Amanat enjoyed another hit national song. Written by poet Saqi Javed, the music for the song was composed by Amanat. It was first recorded for Radio Pakistan.

This was the first national song of the era which also directly alluded to the Bhutto regime's 'socialist' tenor. The song glorifies the working classes and the peasants who were helping the country become better with their hard work and sweat. This song was banned in 1977 by General Ziaul Haq's dictatorship. The ban was lifted after the general's demise in 1988.


Hum Mustafavi Hein: Mehdi Zaheer

In 1974, Pakistan was the host nation for the second International Islamic Summit. Held in Lahore, the heads of states of various Muslim-majority nations arrived to attend. Bhutto saw the occasion as the shaping of a 'third progressive force which would challenge US and Soviet hegemony'.

A special song for the event was commissioned by the government. It was penned by Jamiluddin and composed by Sohail. It was sturdily sung by an otherwise lesser-known vocalist, Mehdi Zaheer. It became an immediate hit. It was to become Zaheer's only hit.


Iss Parcham Kay Saye Talay: Nayyara Noor (1975)

In 1975, the Urdu film Farz Aur Mamta produced a hit national song, Iss Parcham. Written by Kaleem Usmani, it was composed by Robin Ghosh and sung by Nayyara Noor. It was lip-synched in the film by star actress, Shabnam. The song highlights the importance of national unity but in the context of the film's plot which explains the state as being like the mother of a nation.


Agar Hay Jazba-e-Tameer Zinda: Tahira Sayed (1976)

Famous Urdu poet Ahmad Nadeem Qasimi entered the national song scene with this poignant ode to progressive thought that is the main engine behind the nation's urge and passion to construct a powerful country. The song was sung by Tahira Sayed and it first appeared on PTV in August 1976.


Hum Maien, Hum Beheney: Naheed Akhtar (1977).

This song was penned by Jamiluddin and composed by Sohail. Sung by Naheed Akhtar, it appeared on PTV in the last phase of the Bhutto regime. It is a women's empowerment anthem proclaiming that a nation's respect is gauged by how its women are treated. It also lionises the contribution of women in a nation's progress.

The song suddenly vanished in the 1980s during the Zia regime but was played on loudspeakers by women groups during their rallies against Zia. The song returned to PTV on the day Benazir Bhutto was elected as prime minister in late 1988. It was played by PTV during Benazir's oath-taking ceremony and has since become a popular women's anthem covered by various vocalists.


Pakistan Ka Matlab Kya (1979)

This was the first major national song that appeared during the Zia's dictatorship. Zia had toppled the Bhutto regime in a military coup in July 1977. After sidestepping his promise to hold fresh elections, Zia in 1979 established himself as ruler and promised to turn the country into a 'true Islamic state.'

In October 1979 after Zia kick-started his so-called 'Islamisation' process in earnest, his information ministry commissioned a national song based on an obscure slogan which was coined in Punjab in 1945 by a poet, Asghar Sodai.

This slogan, Pakistan 'Ka matlab kya, Laillaha-Ilalah,' was used by a group of Muslim League workers in Sialkot during the Pakistan Movement. It was quickly forgotten until it suddenly reappeared 34 years later in 1979.

Over the years this song has been adopted by various religious parties and can still be heard in their rallies.


Mien Bhi Pakistan Houn: Muhammad Ali Shayhki (1981)

Popular composer, Sohail Rana, returned to the national song genre in 1981. With poet Sehba Akhtar, he was asked by PTV to produce a national song which could neutralise the perception of harshness that the Zia regime carried.

Rana brought in a pop singer, M Ali Shayhki, to sing the song. This did not go down well with the censors who were trying to phase out pop music from radio and TV. But ironically, Zia quite liked the idea and Rana was given the green light. The result was the joyous and lightweight Mein Bhi Pakistan Houn.


Khayal Rakhna: Alamgir and the Benjamin Sisters (1982)

Rana's successful experiment to use a pop vocalist to sing a national song encouraged veteran music composer Nisar Bazmi to do the same on the national song he was working on in 1982.

Written by poet Tahir Parwaz, the song advocates patriots to take care of the 'good changes' taking place in Pakistan. Bazmi stretched Rana's experiment by not only getting another pop star, Alamgir, but he also found vocal parts in the song for the then emerging Christian trio, the Benjamin Sisters.

The song appeared on PTV in 1982 and for over a year the channel kept receiving requests for repeats from viewers. Alamgir who often appeared in jeans, was asked to appear in shawar kameez and 'not to move his body too much.' His idea of using disco lights during the recording of the song on TV was, however, agreed – as long as most of the lights were green.


Teri Wadi, Wadi Ghoumoun: Various Artistes (1982)

Rana's last foray into the national song genre came in 1986 in the shape of the cheerful Teri Wadi. Composed by using elements from traditional Pashtun folk music, it was originally sung by Anwar Ibrahim. Soon, Rana used a group of young children to sing it and it is this version of the song that has endured. However, Rana eventually retired and migrated to Canada.


Hum Zinda Qaum Hien: Amjad Hussain, Teheseen Javed, Fatima Jeffery and the Benjamin Sisters (1987)

In 1987 PTV tried to replicate Rana and Bazmi's idea of making pop vocalists sing a national song. Tehseen Javed, Amjad Hussain, the Benjamin Sisters and one of Rana's early prodigies, Fatima Jeffery, were called in to sing a poem by Manoor Anwar.

The song, though a minor hit at the time, was a standard affair. This song was perhaps the last one based on the 'classic' Pakistani national song formula. This formula and genre was about to be turned on its head by a group of unknown pop musicians.

After this song, Javed faded away and so did the Benjamin Sisters. Fatima was never seen again as well and Amjad Hussain joined an apolitical Islamic evangelic group.


Dil, Dil Pakistan: Vital Signs (1987)

On August 14, 1987 just four days before Zia's dictatorship went down in flames, PTV ran the video of a bouncy national song by an unknown pop group, the Vital Signs. Even though the idea of making pop acts sing national songs was not exactly new, this song, and especially the video, seemed completely novel.

Composed by the band, the song heavily borrowed elements from the music of 80s 'New Wave' pop/rock acts such as Ah-Ha and Wham and even dressed like them!

This outraged the censors who refused to allow the song to be aired on PTV. But the video's director, Shoaib Mansoor, convinced the censors that if the Zia regime still wanted young Pakistanis to connect with nationalism and the state, it had to allow them to express themselves in their own style and fashion.

The video was finally allowed to run, turning the band into an overnight sensation.


Aye Jawan: Awaz (1993)

By the time Awaz emerged in 1993, the Vital Signs had already triggered a whole new pop scene in the country. The relaxing of the cumbersome laws and rules imposed during Zia's regime and the return of democracy in 1988 had also aided the shaping of a more welcoming environment for a new generation of musicians.

Awaz, a three-man pop act, delivered its first album in 1993. On it was a peppy national song, Aye Jawan, which attempted to match the lingering popularity of Dil, Dil Pakistan. It did hit a nerve with its impassioned lyrics and energy, but over the years it has been largely forgotten.


Mera Paigham Pakistan: Nusrat Fateh Ali Khan (1996)

In 1996, a famous Pakistani qawaali singer, Nusrat Fateh Ali Khan, decided to record a national song. This was the first time a qawaali vocalist was venturing into this territory. Nusrat had already made a name for himself by fusing his qawaalis with modern western music genres earlier.

His song Mera Paigham was recorded at the height of the 90s local pop music scene. Thus, Nusrat took an obscure national song penned by Jamiluddin many years ago and turned it into an energetic and upbeat ditty. The lyrics suggest that Pakistan meant peace and its message is to spread peace as well.


Hai Koi Hum Jaisa: Strings (2003)

In 2003, the local pop scene which had peaked in the 90s had begun to erode. Pakistan was about to enter a nerve-wrecking period in which extremist terror groups would rip the life out from thousands of civilians, cops, politicians and soldiers.

The formula of the national pop song – first exhibited in 1987 by the Vital Signs and which had toppled the old formulas of the national song genre – had itself begun to wear out. But Strings, a 90s band, managed to give the now worn-out formula a warm, lively send-off with Hai Koi Hum Jaisa.

The song, almost entirely inspired by festive Caribbean music, was recorded during the 2003 Cricket World Cup. It is still the most played song at cricket matches featuring Pakistan, along with, of course, Dil Dil Pakistan.


Dushman ke Bachon ko Parhana Hai (2015): Azan

By 2014, the local pop scene was as good as over. Both the conventional and pop national song genres had withered away while the country was facing perhaps its gravest existentialist crisis. Years of political squabbling and tensions and, more so, multiple carnages committed by nihilists in the name of faith had brought Pakistan on its knees like never before.

Then, in December 2014 one of the most heart-wrenching episodes occurred when extremist militants massacred over a 100 students and teachers at a school in Peshawar. This shocked the nation, finally making the military and the government to initiate that long awaited operation against extremism and nihilist outfits.

In 2015, during the unprecedented operation, a young army major wrote a song which was sung by his son, Azan. The song was written from a child's point-of-view, in which Azan sings that his generation will learn from the mistakes of the past and never cow down in front of terror. Furthermore, he states that to take revenge against those who create mayhem and shed innocent blood, tomorrow's generation will educate the children of an enemy which exhibits bravery by killing children.

The song was released by the media wing of the Pakistan Army, the Inter Services Public Relations (ISPR), and within minutes it went viral. It struck an immediate chord with a scared and depressed nation and even left many shedding tears.

Never had a national song created such an impact after Noor Jehan's 1965 song, Aye Watan Kay Shajeelay Jawano.


As our proud nation turns 70 today, let's celebrate and appreciate all the great music it has produced.
Facebook Conversations
COMMENTS (11)
Comments are moderated and generally will be posted if they are on-topic and not abusive.
For more information, please see our Comments FAQ