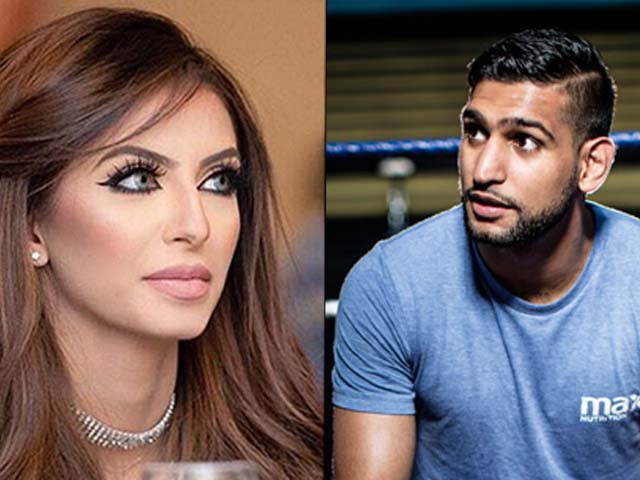 ---
Dear Amir Khan, publicising your divorce on social media only shows your indecency
Amir Khan demonstrated that his hands, which no longer throw punches, are only capable of mudslinging
---
During my recent trip to Pakistan, I often found myself flicking through TV channels. Even though I am still uncertain about what exactly I was searching for, I do remember seeing a menagerie of prominent faces flash on the TV screen from time to time.




Some celebrities like Mahira Khan, Fawad Khan and Shahid Afridi appeared regularly. This was wholly expected given that the scale of their stardom has transcended Pakistan's borders. But I also recall seeing Amir Khan, a British-born boxer, with similar frequency.




He was promoting an energy drink in a commercial that showed him running through the streets of Lahore while attracting hordes of young and starstruck followers. It culminated at Minar-e-Pakistan, where the pugilist drank the energy drink amidst a roaring crowd.



Channeling Rocky Balboa, Amir ascended the monument's steps, looked above at the Pakistani flag and acknowledged the hysterical throng below him. In this moment, he had fully embraced the nation and its manifold hopes for him.

It isn't difficult to see why Pakistan has been enchanted with Amir 'King' Khan. Born to British-Pakistani parents, Amir pursued boxing as a child in order to harness his hyperactivity to achieve something more productive. And he succeeded.

The brave and precocious child from Bolton made his way into the homes and hearts of Pakistanis after winning a silver medal for Britain in the 2004 Athens Olympics at the age of 17. Since becoming a professional pugilist, he has gone on to become a two-time world champion boxer who has said and done endearing things.

Speaking on Al Jazeera English to Mehdi Hasan about Muhammad Ali's effect on him, Amir said,

"He was not only great inside the ring, but even greater outside, because he wanted to be a people's champion and always spoke what was right."

In an Ali-esque way, Amir has attempted to use his hyphenated British-Pakistani identity and his prodigious stardom to improve the plight of Pakistanis. He wants to work as their advocate and better their conditions through various forms of charity work.

His words and actions have been heartening for Pakistanis, who see a part of themselves in him and celebrate whenever he enters the ring. A rare Pakistani athlete of international repute, he carries the dreams and ambitions of his Pakistani brethren into the global ring to tussle with the world on their behalf.

But with the mounting crises in his life, it appears that the Amir we knew was a myth. The country was initially enthralled with what he potentially represented and symbolised as a British-Pakistani hybrid. But in reality, he was knocked out by the sheer force of his stardom long ago.

The details of Amir's boxing career have been eclipsed by the spectacle that is now his life. There is no talk of future opponents or evidence of training to fix the 'glass chin' that has left him vulnerable. The ruthless hunger that animates boxers seems to have abandoned the former champion.

Now Amir is being shamed. He is stuck in the early stages of an ugly divorce that was announced by him on Twitter. By irresponsibly ventilating his marital problems on a social media platform, he hoped to cast himself as the victim of his wife's unfaithfulness despite his own chequered past.


So me and the wife Faryal have agreed to split. I'm currently in Dubai. Wish her all the best.

— Amir Khan (@amirkingkhan) August 4, 2017


He desperately found a way back into the global headlines by besmirching Faryal Makhdoom's name. It seemed as if he had no concern over publicly attacking the mother of his daughter. Through all this, the infantile boxer demonstrated that his hands, which no longer throw punches, are only capable of mudslinging.


Faryal moved on quick. Always mentioned to me how much she wanted to be with another guy, from all people another boxer 🙄 @anthonyfjoshua pic.twitter.com/1GBAQnvzMC

— Amir Khan (@amirkingkhan) August 4, 2017
Lol moved up in the weight classes lol. Trust me I ain't the jealous type. No need to send me pictures of the men your talking to #disgusted

— Amir Khan (@amirkingkhan) August 4, 2017


https://twitter.com/amirkingkhan/status/893459357383495686

Furthermore, allegations of infidelity continue to haunt him and his previous family feuds have quickly devolved into public tabloid fodder. Fellow boxer Kell Brook compared Amir to Kim Kardashian.

"It's comical, comical. He's become Amir Kardashian. He has so much drama around him. He's in the papers for the wrong reasons."

The controversies punctuating Amir's life have rendered his charitable work hollow and have reduced his inspirational words to mere platitudes. And as more scandalous details are revealed, he will be at risk of being further compromised.

Pakistanis owe no loyalty to Amir solely due to the bonds of a shared nationality. Integrity and character should be paramount in the new Pakistan being constructed after the ouster of Nawaz Sharif. In this pursuit of a new nation with greater accountability, Amir King 'Khan' is not the role model Pakistan needs or deserves.