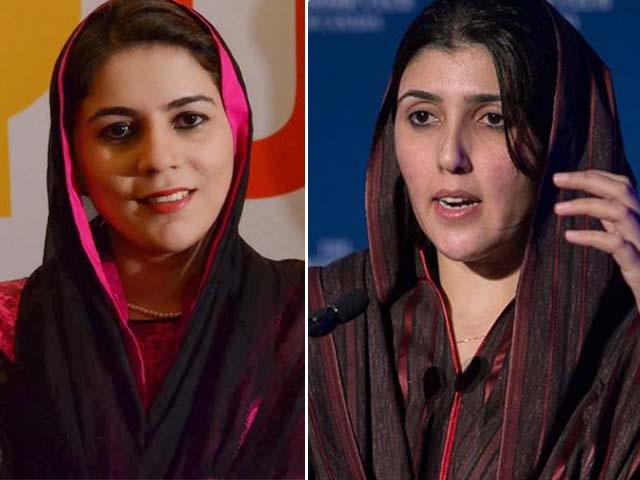 ---
I am a female PTI member and I refute Ayesha Gulalai's alleged claims against Imran Khan
After enjoying four years in the NA on PTI's seat, you suddenly realised that Imran treats women with disrespect?
---
There's a popular saying which states that people don't change, only their masks falls off.

Whoever said that, hit the nail right on the head.

Upon witnessing the ruthless slaughter of ethics and morality by Ayesha Gulalai, I could not resist the urge to write at length on this issue in order to make sure that the naysayers are exposed.

Naz Baloch and Gulalai used to be two household names in the Pakistan Tehreek-e-Insaf (PTI) circles and both women were given great respect by Chairman Imran Khan and the rest of the PTI leadership. They were allowed to voice their opinions during party meetings, without any restriction whatsoever. But even after all the respect given to them, they deserted PTI.

Baloch joined PTI after its historic Minar-e-Pakistan rally on October 30, 2011. She was a complete newbie in the field of politics then, yet Imran still backed her to be the party's media correspondent.

As a result of that trust, Baloch is now a well-known name across Pakistan. She is in fact living off the very fame that was earned by her during her work with PTI. Ironically though, in the presser where she announced her decision to leave the party, she accused PTI of being a party full of male chauvinists.

I have some questions for Baloch.

How on earth could PTI make a rookie like you one of its main spokespersons if it is 'so misogynistic'? How did you make it to the party's core and central executive committees if PTI only has male chauvinists? How were you able to get the PTI ticket for NA-240 if the party despises women?

The fact is that you were given way more by the party than anyone deserves, yet you abandoned it for the sake of a meaningless reserved MNA or MPA seat from the Pakistan Peoples Party (PPP)?

Gulalai, another self-proclaimed political stalwart, is the latest casualty in the business of sold consciences. Gulalai remained affiliated with PPP during the first four years of their previous tenure, enjoying all their perks and privileges, until she jumped off the sinking ship in 2012.

Now, she is repeating history by her probable move from PTI to Pakistan Muslim League-Nawaz (PML-N). The reason she cited for leaving was the "ill-treatment of women" in PTI.

For someone like me, who has been following Gulalai's activities since she joined PTI, this allegation comes across as a massive surprise. Just the other day, she was in Bani Gala sitting alongside Imran, singing his praises, in addition to pleading for the NA-1 ticket.

Imran denied her the ticket and what happened next?

Suddenly, it dawned upon Gulalai that Imran doesn't have respect for women. That has to be the worst plot twist ever. After enjoying four years in the NA on PTI's reserved seat, you suddenly realise that Imran treats women with disrespect? You can't fool people with such a poor script.

As far as her allegations of the ill-treatment of women or the alleged lewd messages that Imran sends to his female workers are concerned, I'd like to share my personal experience with the readers here.

I've been working with PTI as a research analyst for about three years, and during my stint, I have never encountered a rude response from the leadership, let alone harassment or ill-treatment. Gulalai claims that women are not allowed to talk during party meetings and are not appreciated for their services, but that is a blatant lie.

I have personally voiced my opinion on countless occasions, at times even disrupting Imran and the rest of the leadership, yet I've never been told to keep quiet. In fact, I've always been encouraged to put my thoughts and views forward. Therefore, I not only refute Gulalai's claim, but also challenge her for a live debate, so that people have the chance to find out who is being dishonest and who isn't.

As far as Imran's character is concerned, there are countless instances where he has proven his high morals and strong character. I can even cite some examples for those who think I'm praising Imran just because I'm affiliated with the party. Shaukat Khanum hospital was named after his mother, a woman. Lady Diana realised how women are valued in Islam through the treatment she received from Imran. Kristiane Baker, a former MTV host, was positively influenced by Imran and later even converted to Islam.


And last but not least, it is the same 'morally corrupt' Imran who stood up for Gulalai's sister when she was being targeted by party workers for promoting western culture.


My request to all PTI supporters is to immediately refrain from targeting Ayesha Gulalai's sister.

— Imran Khan (@ImranKhanPTI) August 3, 2017


The world would have stood by Gulalai, had she been able to prove her allegations. She has already been served a legal notice by the party and in today's day and age, all she had to do was send screenshots of the alleged messages to prove herself right. Recently, a freelance writer, Amira Hashim, took down the well-known journalist, Wajahat Kazmi, for harassing her through lewd messages. All she did was post screenshots in her blog to support her allegations and that was it.

If you're wondering who I am to make such claims, let me explain.

I am the one who stood shoulder to shoulder with Imran while he was busy fighting the battle against corruption in the Panama case, the judicial commission on electoral rigging, and various other instances where these two women were nowhere to be seen. They restricted themselves to TV appearances only. In short, they never belonged to PTI and I don't have any qualms about stating the fact that as a female PTI worker, I feel their exit from the party is nothing but good riddance, especially how currently, Imran is busy working towards taking the country forward and eliminating corruption.

There's nothing wrong with parting ways with a political party and no one should have problems with that, but it's important that you leave with grace and on good terms. Instead of distorting the facts to defame your previous party and glorify the next one, one should have the courage to call a spade a spade.

An exit from one party to hop to another and serving one's personal agenda should not be projected as a decision taken in the nation's interest. And your opinion should be respected as long as it does not disrespect someone else's character.

So Ayesha Gulalai, please know that you do not speak on behalf of all PTI women workers and supporters, as none of them will support your unethical and unprofessional claims. Please rise above such petty mud-slinging.
Facebook Conversations
COMMENTS (57)
Comments are moderated and generally will be posted if they are on-topic and not abusive.
For more information, please see our Comments FAQ