---
The media is relentless in its pursuit of exclusives, and Kashmir is always a good harvest
This time Kashmiris seem to be running out of patience and the worrying part is that India is equally impatient.
---
(Disclaimer: Graphic images below)

Me: "So why don't you start studying again?"

Baba: "No, I can't..."

Me: "But why?"

Baba: "It's of no use; I have eight FIRs against me madam. The first one was registered when I was on my way to school. They picked me up, slapped me, let me off after three days. The second FIR was for illegal possession of weapons and the third..."

Baba went on explaining the list of police cases against him as the car criss-crossed Srinagar with blaring music.

Me: "Even then, you should at least complete your studies? Things will change..."

Baba: "Even if I am able to resume my second year in college, what after that? Who will hire me? I won't in any case get a sarkari (government) job..."

Zeeshaan Bhatt, 24, though preferred to be called by his nickname Baba, was a talkative and cheerful man.

His cheerfulness surprised me considering his personal tragedies and all the gloom that surrounded the Kashmir valley. My conversations with him in the past two days have been mercurial, swinging from one extreme to another.

Sometimes I thought of him as 'misguided youth', and took it upon myself to tell him the other side of the story as I heard his, and then it was time for me to leave.

This time, as I left Srinagar, I felt a discomfort, a sudden bout of restlessness. My journey unlike the last few times had been short but more disturbing.

Amidst Baba's chatter and the high decibel rap song of Badshah Khan, the words of Khurshid sahab were ringing in my ears. Just a day earlier, I sipped chai and nibbled Kashmiri roti with a thick layer of butter at his dainty little tearoom at Pantha Chowk.

The shop had partly downed the shutters anticipating trouble in the wake of a shutdown call by separatists on Martyrs' Day. Despite my interrupted attention, Khurshid sahab kept on talking. I realised he didn't really notice whether I was listening, perhaps he just wanted to let it out.

"That day a driver was beaten up here outside on the crossroad," he murmured. "He was so badly injured that he is still in hospital recovering from multiple injuries. What was his fault? Just that he had overtaken a truck belonging to the security forces... is that fair?" he asked.

I tried to reason with him that,

"The terrorists aren't fair either", and that, "Would Kashmiris be better with Pakistan breathing down their neck?"

I knew I had taken it too far, I was looking carefully at him – he had my undivided attention.

I needed an answer to my question. Khurshid sahab took a deep sigh and then asked me if I would like to have some qahwa? I politely declined and said I was running late for another assignment.

As I shelved out 70 bucks for my evening tea, he looked me in the eye and pointed his finger upwards.

"All is not so bleak, one day upperwallah (God) will have mercy on us Kashmiris and we will be free from fear, worries and from boundaries... then I will run my tearoom happily ever after," he said, with a strange calm on his face.

I felt as if a part of me was a bit shaken and lost hearing the answer. Some of it stemmed from the fact that I didn't get to hear what I wanted to and the other from the realisation that Kashmiris like Khurshid sahab had hardened with prolonged harshness that had enveloped the valley.

It was just about a day before my meeting with Khurshid sahab that I had met the girl in the black burqa and pink purse at Batingoo. This was the place in Anantnag where the attack on the bus carrying the Amarnath yatris had happened.

A 10-year-old boy skirted around me while I went about reporting, so I curiously asked him how he was?

"We live in that corner house there; my sister wants to meet you, please."

A local reporter who was overhearing our conversation whispered into my ear,

"Please don't go any further for your own safety, leave from here madam. You have no idea, these areas are like little Pakistan, you are never sure."

I had heard the same warnings earlier in the day too. I must confess I felt irritable but the truth was that the media had often been heckled and attacked in Kashmir. The jingoistic media from Delhi had especially earned the ire of the Kashmiris.

It's true that during the Srinagar flood coverage in 2014, I had also been at the receiving end, but instead of questioning ourselves we have always found it suitable to stereotype Kashmir as the strife-ridden, torn and dangerous state full of angry and thankless people.

In this atmosphere, if the Kashmiris (all, some or a handful) have lost hope in the government of the state or centre, how are they to be blamed or called anti-national? Isn't it a failure of the pseudo-democratic system? A system where the government of the day feeds the press with intelligence reports, exclusives and big stories that may just be a way to obfuscate the truth.

No matter how skewed and lopsided, but if you have attributed your newsbreak to 'top sources' nobody will ever question it. Leave alone the journalists who are struggling to compete for air time both outside and within their own channel.

Well, let's come back to the girl in the burqa and the pink purse. As I entered the house located in the narrow by lanes, the point from where the terrorist had attacked the bus, I had dozens of eyes staring at me.

A girl in a black burqa came forward and introduced herself as Nadia. She was wearing a hijab and her deep brown eyes enhanced the overall attractiveness of her get up, even though she bore a melancholic look that also extended to her surroundings. In the small unkempt lawn, women were huddled together and at the centre, Nadia's mother wept bitterly.

"They came in large numbers and banged at the door, we were all too scared to open. Look, they even broke the window panes and threw all our fruits and vegetables outside, they also beat up my brothers mercilessly."

Nadia was out of breath narrating the incident and her mother was hysterical.

She went on,

"Do you know six members from my family have been picked up so far? We don't even know whether they are dead or alive. We are also sad that the yatri's were killed but we ourselves don't know who did it, we just heard gunshots that day."

As I sat listening to their story, the crowd swelled. It was getting dark. I consoled Nadia that there will eventually be a light at the end of the tunnel and left. She was part of a host of other people, all natives who I repeated the same phrase to, but the truth is that I was not sure myself that the tunnel in the north of the country would ever end, and the more I met people and heard their stories, the more I felt they knew it too.

On reaching Srinagar, I checked with one of the officials about Nadia's family members. It was a relief to learn that they were released as nothing suspicious was found. Beautiful Nadia would be happy, I thought.

Then a day later, I received a WhatsApp image from a number with the display picture of a burqa and pink purse. I wondered who it was till my eyes went to the photographs. The images were of fractured limbs and badly bruised bodies – it was Nadia. She even called to inform me that her brothers were back but in bad shape and she had to take them to hospital.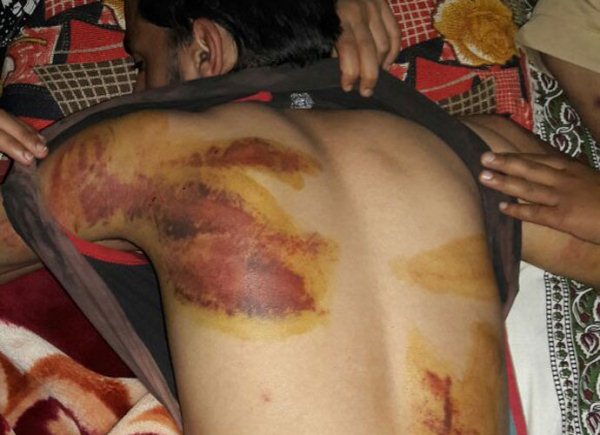 She sobbed,

"We have been facing this situation for a long time but the media only tells one side of the story. My brother is studying for MBBS, if they do this to your brother, what will you do?" she asked.

There was a long silence from both ends and then the line got cut.




Lately, it's the fourth pillar of democracy that has disappointed Kashmiris the most. It all started from the floods about three years ago. Well, most journalists love to be the heroes/heroines of disaster. It's the non-stop coverage of disaster tourism, taking the boat with the National Disaster Response Force (NDRF) team or the chopper with the army or even the air force for that matter. Occupying that ninth space in the boat, even heckle for it with your fellow rivals.

Somewhere the people of Kashmir have been bruised and stripped by the media way too many times. They understand our Television Rating Point (TRP) games and so they tell the ground zero reporter with a chilling rudeness right in their face.

The media is relentless in its pursuit of exclusives, and Kashmir is always a good harvest. So journalists are para-dropped from Delhi. These Delhi squads are thick-skinned as they know they don't have to deal with Kashmir for a long time. So the journo takes a complete shot reporting from the conflict zone of Kashmir. Count the citizens as collateral damage. This time the people seem to be running out of patience and the worrying part is that the other side is equally impatient.

Paradise is in peril, it is bleeding, the people of Kashmir and the country both. This side or that, you can't win hearts by guns, no matter how justified your cause is. Take the longer route and you might just get there one day. Call in the media then, they are sure to cover but patience is a virtue that has long fled the valley.

This post originally appeared here.