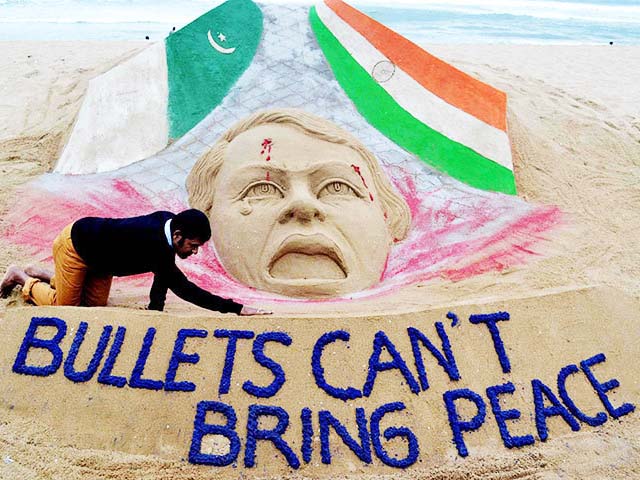 ---
Not all Indians are rapists just like not all Pakistanis are terrorists
Indian nationalism is used as a synonym for anti-Pakistani sentiment, and vice versa. But that should not be the case.
---
As a Pakistani, I always thought of the Indian media as anti-Pakistani and excessively nationalistic. So when I recently got the opportunity to work with Indian journalists, I was not sure what to expect.
I was on my way to London for the Chevening/South Asia Journalism Fellowship. The program brought 17 leading journalists from Pakistan, India, Sri Lanka, Bangladesh, and the Maldives to live and work together in London for two months. Getting off the plane at Heathrow Airport, I wondered what it would be like to have a frank conversation with an Indian journalist. India is almost four times the size of Pakistan, yet their news media seem to be obsessed with us. My thoughts, as I settled into my temporary flat, revolved around wondering if they were the same as the journalists who seem nothing more than hatemongers. After all, they are all part of the same media machine.
On my second day in London, I thought I would cook something and invite my new fellows over for dinner and some conversation. To my surprise, senior journalist Sudhakar Reddy Udumula from Hyderabad, India, beat me to it. He extended an invitation to me and other fellow journalists from the program to join him for dinner. That night, we discussed the rise of right-wing politics over home-cooked rice and chicken.


Udumula's dinner table became a space for frank conversations. We would huddle into his studio apartment, and while he did most of the cooking, we talked about hard issues such as extremism, caste system, the separatist movements, the Kashmir conflict, and the China-Pakistan Economic Corridor (CPEC). We also shared jokes like the one about the pungent smell of Indian cooking that lingers long after the occupants leave, and how estate agents use cinnamon sticks to get rid of it.

Soon, we were showing each other videos of our families, and every discussion about home was followed by an invitation to our countries. When Udumula suggested that I visit India, I told him,

"My family would not allow it because India is unsafe for women. Besides, I am a Pakistani."

He had this look of veiled frustration on his face and he said earnestly,

"Not all of us are rapists, just like not all of you are terrorists."

It was déjà vu.

Three years ago, I said the same thing to an American (a devout Catholic) during a similar conversation,

"Not all of us are terrorists, just like not all of you are paedophiles."

He was not the only Indian in London I could relate to. Anshuman Tiwari, a senior business journalist from Delhi, always appreciated my ability to quiz the media professionals we met during the fellowship program. He shared my love for fitness and Urdu poetry, surprising me with quotes from Jaun Elia. Tiwari had visited Pakistan and agreed with my concerns about Pakistan's economy.

Every time we I took a road trip, went for coffee or visited a museum, I learnt something new about life in India. Take cinema, for example, many Indian people budget a portion of their salaries just for cinema outings. It is about enjoying life despite having limited means.

As our program was approaching its end, I realised that my perception of India was limited to what I had seen in Bollywood movies and a handful of news channels. I wondered how I could have gone most of my life with such a narrow view of such an immense and diverse society. But conversely, I saw that my Indian friends also had a skewed idea of life in Pakistan. I often found myself trying to explain to them the complexities of my multi-faceted society.




On our last day in London, our conversation turned towards education and how children should be raised. Udumula moved me deeply when he told me he'd want his daughter to be like me when she grows up. I didn't have the words to respond to that. We came to London as strangers but were leaving as friends.

It is truly unfortunate that our media only focuses on stories about hate and war. Too often, Indian nationalism is used as a synonym for anti-Pakistani sentiment, and vice versa. But that does not need to be the case, and it should not be the case. We have far more in common than it appears, for instance, our love for cricket.

The ICC Champion's Trophy cricket tournament started soon after I returned to Pakistan. During the matches between India and Pakistan, our entire group exchanged messages, which devolved into play-by-play commentary. We acknowledged one side for outplaying the other. We wished we could be watching the game together.




As I write this article, I realise the 70th anniversary of Partition is just a couple of weeks away. This is the first time I will celebrate our Independence Day knowing that I have friends across the border.

All photos: Hina Ali
Facebook Conversations
COMMENTS (82)
Comments are moderated and generally will be posted if they are on-topic and not abusive.
For more information, please see our Comments FAQ