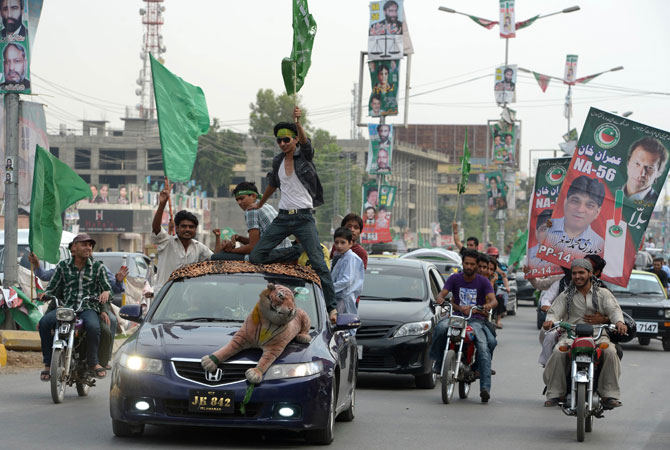 ---
Religion? Kinship? Personal affinity? Money? – A conceptual understanding of how Pakistanis choose their leaders
1985 election is considered to be the turning point as parties and candidates used financial appeals to attract voters
---
Pakistan's democratic fabric has been majorly impaired due to four military generals who systemised their totalitarian rule for over 40 years. This resulted in the corrosion of citizens' civil and political liberties and rights and more so, to the deterioration of public institutions.

Since Pakistan's independence in 1947, state institutions have been meddling in governing processes and this involvement has raised serious questions about electoral competition, rule of law, the judiciary's independence and accountability mechanisms. Military interventions and a lack of political organisations have majorly influenced the elections and citizens' voting behaviour in the past as well.

However, according to the limited election related scholarly work, there are a sundry of other social, cultural and political determinants that have impacted election results. The few scholars who have attempted to develop a conceptual understanding of elections and how Pakistanis choose their representatives suggest that voting is capricious.

Every election in Pakistan has experienced a disparate voting trend. Different regions have also behaved differently during varying elections. Electoral literature tells us that voters can continue to vote on both programmatic and non-programmatic basis despite democratic consolidation. Citizens in modern consolidated democracies tend to make their electoral decisions increasingly on a programmatic basis. This implies that people keep policies and programmes (party's or candidate's manifestoes) in view before making electoral choices.

Political parties in consolidated democracies make programmatic appeals for long-term support from their clients (voters). This, however, ignores the alternative citizen to party linkages. Examples of this are a leader's charisma or other non-programmatic means such as the influence of clientelism, religion, kinship, and personal affinity or constituency services.

In 1951, Pakistan witnessed its first ever direct elections, often termed as a 'farce', used by the Pakistan Muslim League (PML) to consolidate its power in the provincial assemblies. With a menial voter turnout, these elections were held in 197 constituencies with six other political parties vying for power. The PML confidently looked forward to an untroubled rule of law ignoring the growing political dissent in Bangladesh and internal party rifts in Punjab. Their rival parties voiced serious concerns regarding the electoral results. Since no research has been conducted on these elections, it is difficult to ascertain what factors Pakistanis kept in mind before making their electoral choices in 1951.

Pakistan witnessed its first martial law in 1958 under General Ayub Khan. He abrogated the 1956 Constitution, barred mainstream political parties through the notorious Electoral Bodies Disqualification Order (EBDO) to contest elections and introduced an indirect election system through the 1962 Constitution revitalising local political organisations.

Furthermore, Ayub established district and municipal councils (the wider organs of local governments) as electoral colleges terming them as 'Basic Democrats'. Traditional social structures and group identities of family and biradari (clan) largely defined the voting behaviour and the 1962 election results. Basic democrats collectively affirmed Ayub as president and also chose national and provincial assemblies' members.

The Pakistani military continued its rule during the late 60s and early 70s. General Yahya Khan abolished the 1962 Constitution in 1969 and held elections under a new Legal Framework Order (LFO) on 300 general seats in 1970. Post elections, political tensions between East Pakistan's Awami League and West Pakistan's Pakistan Peoples Party (PPP), and the 1971 Pakistan-India war led to the split of the country.

Electoral choices during the 70s elections were largely determined by citizens' political party affiliations. The subsequent 1977 elections were also held under boisterous circumstances. The PPP registered a massive victory against the Pakistan National Alliance (PNA), an alliance formed against Zulfikar Ali Bhutto's rising popularity.

Election studies emphasised on a new form of citizens' voting behaviour in 1977. This behaviour was largely determined by class as opposed to traditional caste or kinship ties. The economically dependent made their electoral choices based on the will of the ones they were dependent upon. This is also considered to be an explanation of the high voter turnout in rural areas.

In the 80s and 90s, patronage and clientelism grew in Pakistan's electoral politics. Non-party based elections in 1985 are often considered to be the turning point as political parties and contesting candidates increasingly used financial appeals to attract voters favouring the affluent to dictate their terms and triggering clientelism. These elections were held under General Ziaul Haq. Post Zia, the 1988 party-based elections were held which partially undid the 1985 elections' impact. However, the country still faces the issue of the moneyed class governing its politics.

During the 90s, Pakistan witnessed multiple elections with the power swinging between the Pakistan Muslim League-Nawaz (PML-N) and the PPP.

In 1998, martial law was imposed again by General Pervez Musharraf, and subsequently in 2002, he held general elections on 272 seats. Religion and clientelistic factors played a vital role in shaping electoral choices in 2002. After Musharraf, the 2008 elections were held with PPP forming a coalition government at the centre. These elections witnessed the emergence of brokers' politics, which greatly influenced voters' choices.

In 2013, Pakistan witnessed its first democratic transfer of power. The country also experienced the rise of a 'third political force' in the form of the Pakistan Tehreek-e-Insaf (PTI). Some election experts affiliate the increased 2013 elections' voter turnout to PTI. However, PML-N still secured a victory with a simple majority.

The general elections are fast approaching as the PML-N-led government is to complete its five-year tenure in June 2018. Often, we see sweeping statements being made by major political parties including the PML-N, PTI and PPP on mainstream media claiming their predicted party win in the upcoming elections. However, given the past voting trends and behaviour, it is almost impossible to suggest which way the power will swing.

There may be possible elements of non-programmatic or programmatic factors determining 2018 elections, but one cannot be pinpoint a specific reason for a candidates or political party's win.

Although Pakistan has exhibited signs of consolidation, further research is required to determine if the tendency of Pakistani citizens is indeed growing in the direction of programmatic voting, and whether democracy is consolidating, consolidated or at risk of another autocratic takeover.
Facebook Conversations
COMMENTS (6)
Comments are moderated and generally will be posted if they are on-topic and not abusive.
For more information, please see our Comments FAQ