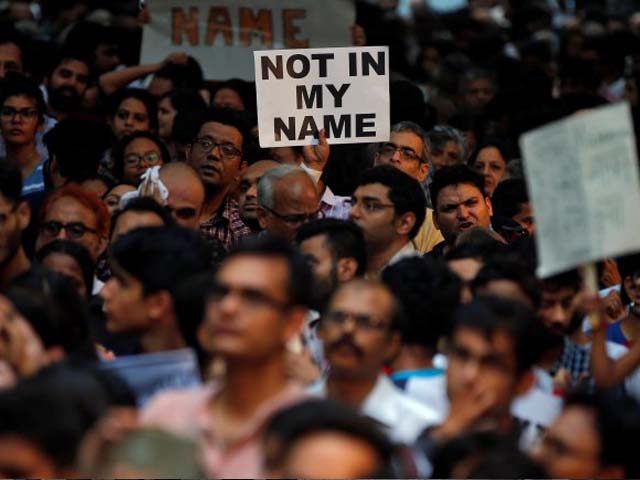 ---
Why is public lynching becoming an acceptable form of vigilante justice in India and Pakistan?
After beating an old, mentally challenged woman for three hours, the mob ripped her clothes off and tonsured her.
---
It is unfortunate that unruly mobs are now hijacking civic spaces in India. With the confidence of being able to dissolve the unidentified in the crowd, the barbaric act of public lynching seems to have become the new norm.

While Indian citizens geared up to kick off the nationwide #NotInMyName campaign against the on-going vigilante violence and mob lynching, a cold-blooded crowd stooped to demonic levels in West Bengal's Murshidabad district by lynching a mentally challenged 42-year-old woman, Otera Bibi, on suspicions of child kidnapping and trafficking.

(Viewer discretion advised: The following video contains graphic images)


After beating her mercilessly for three hours by tying her to a tractor, the mob, without any fear of persecution, ripped her clothes off and partly tonsured her for allegedly kidnapping a girl. She was taken to a sub-divisional hospital by the police, where she succumbed to her injuries.


Unfortunately, the haunting images of lynching are a harsh reality of our time where citizens are battered to death by anonymous mobs with no fear of law and order. The mob violence and current mentality in India is eerily akin to what we have been witnessing in Pakistan.




Two years ago, 28-year-old Afghani woman Farkhunda was lynched after being falsely accused of burning the Holy Quran. Just like Otera Bibi, she too was beaten mercilessly, stamped on, hit by bats, driven over, and her was body dragged by a car before being set on fire.




Another pregnant Pakistani Christian woman was burned to death in a brick kiln alongside her husband in 2014 when the couple was accused of desecrating a copy of the Holy Quran.




Just like Pakistan has been using 'blasphemy' as an excuse for mob lynching, some of their counterparts here in India are misusing the 'beef ban' as an excuse. If democracy is all about 'what the majority wants' and fuels majoritarianism, then it is probable that this may form paradoxical totalitarian democracies.




Mob lynching, after all, is not just outside the parameters of our values but also our religion, irrespective of what faith we may ascribe to. And India's recent descent into such schizophrenia is not just unfortunate, but also terrifying. Devouring law, foregoing humanity, and finding excuses to justify violence cannot and must not become a part of India, a country that is so revered for its 'unity in diversity'.




The action of public lynching is now becoming a dangerous form of vigilante justice in India, where an unruly mob unanimously decides to punish alleged culprits by taking the law in its own hands. However, a lynching is a lynching, whether it is over rumours, beef, crime or whatever reason. Even if somebody is guilty of doing 'wrong', it is a criminal offence to attack them.




There can be no justification or rationale for such gruesome and terrifying murders. The need of the hour, thus, is to enforce a law that punishes those involved in lynching and mob violence. Hinduism or humanity after all doesn't prescribe 'murder' for offences in the name of religion used as a pretext for murder. Besides, India is a nation where a first rate constitution guarantees equality of citizenship above anything else.




Furthermore, now that lynch mobs have deep roots in the history of South Asia (going by the findings of Stanley Tambiah, the late Harvard anthropologist), for the citizens of South Asian countries, including India, Pakistan, Bangladesh and Sri Lanka, staying silent over mob lynching is definitely not an option.




We must therefore fight the blood thirsty demons even if there is little hope of reaping benefits. It is time we make efforts to secure a safe future for the generations to come. Despair, after all, was neither an option earlier, nor an alternative now.
Facebook Conversations
COMMENTS (2)
Comments are moderated and generally will be posted if they are on-topic and not abusive.
For more information, please see our Comments FAQ