---
Through the eyes of an American: The beauty that Pakistan and its people have to offer
They were confused as to why I would be interested in scenes of daily life as opposed to famous tourist landmarks.
---
"Bhabi ke liye hee hans do!"

(Smile for the sake of our sister-in-law)

The Empress Market shopkeepers teased the stoic sabzi wala (vegetable vendor), encouraging him to smile for my camera. This was my first visit to Pakistan and all I wanted was to capture that one perfect shot. The sabzi wala raised his head and grinned. I snapped the image. 

Street photography, for most of these Karachiite shopkeepers wasn't a novelty. However, I visited numerous places on my trip where street photography was seen with awe, and curiosity. Even in Karachi, I drew attention walking around the city with a Single-Lens Reflex (SLR) camera and lens. I noticed people staring at me while I took my time composing an image, or when I worked with a subject on a pose. I have grown comfortable with this kind of attention. I've been to many countries with my camera, and Pakistan was the 30th. During my travels, I have learned that being a foreign photographer means creating images as an outsider looking in.

The plan for my trip was to visit Karachi, Lahore, and Thatta. Prior to visiting, I had asked locals of each city what I needed to know about conspicuous, public photography in Pakistan. Many responses were recommendations on where to shoot, but a common theme emerged around safety. Although the security situation had improved over previous years, the risk posed by the chor (thief) was hard to predict. I decided that the best option was to take one SLR camera with a single lens along with a pocket camera and use sound judgment.

Luckily, I had a fantastic experience in every location. With a few exceptions, the individuals I met were open to being photographed themselves or allowing me to capture their neighbourhood, store, or home. In some of the markets, especially outside of the widely visited ones in Karachi and Lahore, this sentiment was accompanied by a degree of puzzlement. More than one shopkeeper asked me,

"Why would you want to photograph here?"

There was some confusion as to why I would be more interested in scenes of daily life as opposed to tourist areas and famous landmarks. To be clear, I covered both, but the former produced many of my favourite images.

I also learned about the work of groups like Super Savari Express, which facilitated one of my trips to the Empress Market where I got the image of the sabzi wala. Super Savari is a guide company which seeks to reclaim public spaces for tourism for both foreigners like me and Pakistanis. If they succeed, street photography will become a more normal practice in more neighbourhoods in Pakistan.

I hope you enjoy viewing these images as much as I enjoyed taking them. In the future, I will return to Pakistan again in search of the beauty the country has to offer.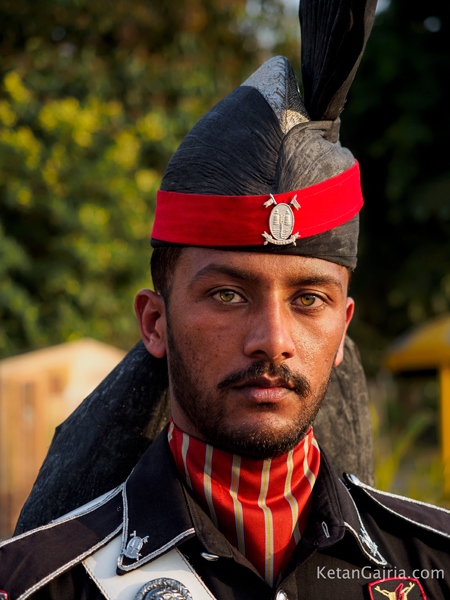 I spotted this Pakistani Ranger with an intense stare at the Wagah border. After some cajoling, he agreed to a portrait.




A Pakistani Ranger poses for a portrait near the Wagah border. I am 1.88 meters tall and he still towered over me.




A porter at the Empress Market in Karachi. I loved the style of his shawl and henna-dyed hair.




A mystic outside of the Shah Jahan Mosque in Thatta who turned out to be very willing to participate in an extended photo shoot until I got the image I wanted.




A shopkeeper near the Shahi Hammam in Lahore. At first he wanted to put out his cigarette for the photo, but I assured him it was just the proper look.




A flower vendor at an entrance of the main market in downtown Thatta.




While driving by this masala shop in a Karachi market, I found this man perfectly posed. I stopped the car and encouraged the man to stay still. After a few snaps, the neighboring butcher seemed to get a bit jealous of all the attention.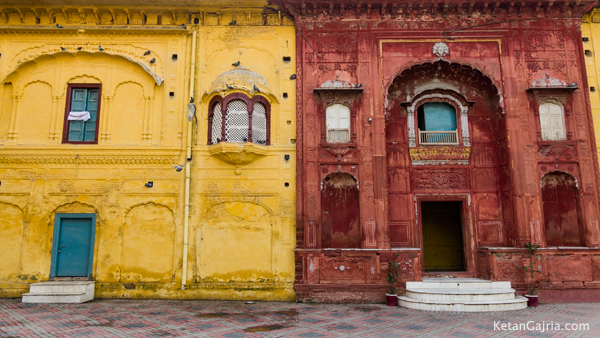 A wall at the beautiful Gudwara Dehra Sahib Sri Guru Arjan Dev in Lahore. I was given a tour of the Gudwara by a Muslim caretaker who provided a complete history of the temple and its namesake Guru.




A vegetable stand in one of Karachi's many markets.




The view through a chapal (slipper) shop in downtown Karachi.




Two workers stop to chat near a market in Lahore.




Hindu women look from a second story window in Lahore.




The top view of Wazir Khan Mosque in Lahore.




Inside the bus on the Super Savari Express tour in Karachi.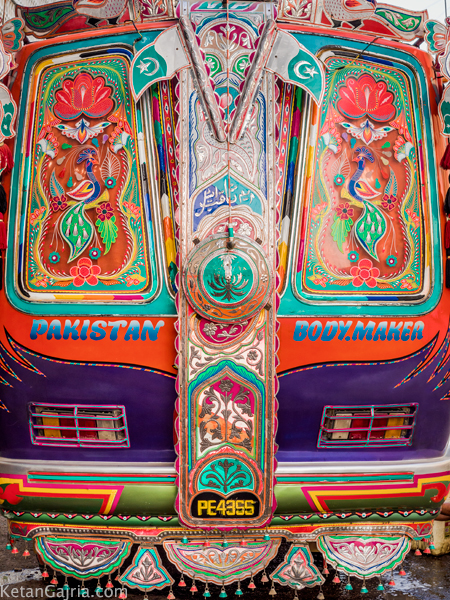 One of the tour buses in the Super Savari Express fleet in Karachi.




The sabzi wala I met at the Empress market whose colleagues teased him, in good nature, throughout our photo shoot.




Stairs of Cuckoo's Den restaurant in Lahore's Food Street. The meal I had after climbing the stairs was delicious!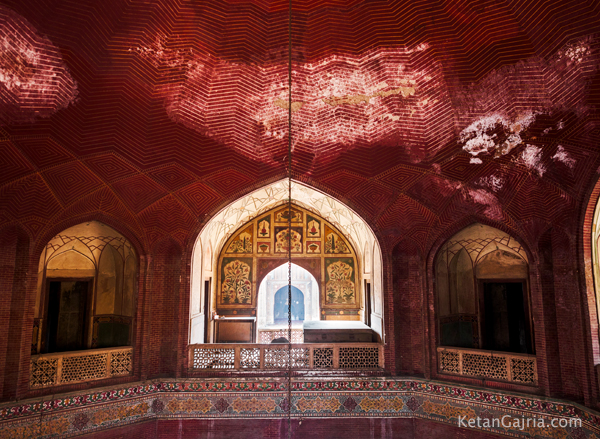 Inside the Wazir Khan Mosque in Lahore.

All photos: Ketan Gajria