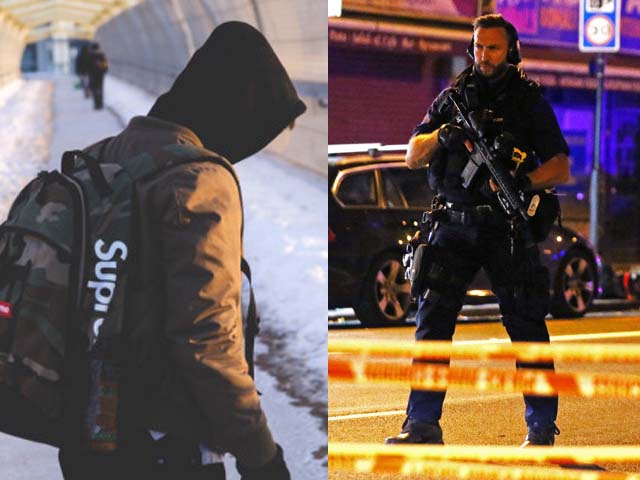 ---
Why is my brown skin, unapologetically bearded face, and big backpack a threat to you?
The brown-skinned people that attack us in London are as far removed from me as you are from the man in Finsbury Park.
---
Reading about the developments from
Finsbury Park, London, where
Darren Osborne
drove a van onto innocent civilians leaving a Mosque makes me sad, upset, and angry, but it is not shocking. We all know the media has been presenting an "us versus them" narrative when covering Muslims; that we reject western values and our way of life is out of tune with yours. But yours is mine, too.
I use the tube to commute every day, like the rest of you. I use it to get to school, exhibitions, friend's places, parties, just like you. Countless times, I've walked to the platform at Holborn during rush hour, there's people oozing out of every corner, but I don't take my spot at the front of the crowd.
Why do I feel nervous when my backpack is full and my beard is too long? I let other people ahead of me, fearing that someone in a low moment or an angry moment will push me. Have I bought into the narrative? Is the narrative reality? For so long the tabloids keep pushing this binary into our minds and we're bound to believe it.
My brown skin, unapologetically bearded face, and big backpack are a threat to you. My body on the platform is your paranoia and it becomes my paranoia too. Likewise, people offering prayers in Ramazan, peacefully, prayers for a better lives and a better world, you see as a threat. It's not within the scope of your culture. But your culture is not distinct from mine.
You came to us hundreds of years ago, ruled us, sold us an idea of a better life, sold us the English language, created a centre, and created a periphery. We have searched for those opportunities on your soil for generations, and now our accents are Welsh, Scottish and Northern more than they are Arab or Asian.
I sell you what you need at my Off License. I take you wherever you want to go in my Uber, on my bus. I take pride in the fact that my son is our mayor, but that's not enough. I take pride in facing Makkah from the north, and I'm as excited as you are when my football team wins on Super Sunday. I have a right to this land, both historically and now legally too.
My prayers are for our culture, and our peace. They are for us being tolerant and for acceptance from others. My prayers are that when you're sick, my taxes take care of your illness and when my child wishes to go to school, your taxes ensure that he gets the education he deserves. My prayers are that I can pray in peace and so can you; that you let your blonde daughter play with her friend Fatima with a scarf on her head. I pray that you don't hold on to the unfair privilege that you have over me; over the fact that Sam on your CV gains more points than Sameer on mine. I get anxious when I see Winston Churchill's face plastered all over London, but what is the importance of a famine in Bengal to a war hero.
I wish that you see that the brown-skinned people that attack us in London are as far removed from me as you are from the man in Finsbury Park. For decades, your words and actions towards me have put me in a box. A box with a label 'Muslim' stands out above all my other identities. I accept that you can be a brother, mother, East Londoner, West Londoner, Arsenal fan, Tottenham fan, whatever you like. I want that privilege, the privilege of being Muslim, but human too. As human as you.
Facebook Conversations
COMMENTS (21)
Comments are moderated and generally will be posted if they are on-topic and not abusive.
For more information, please see our Comments FAQ