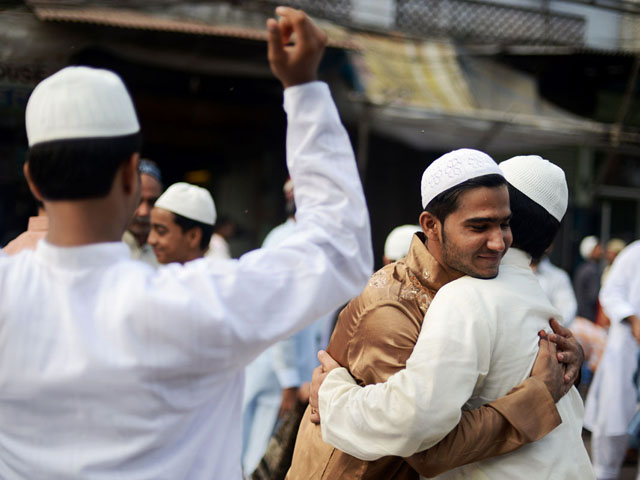 ---
Dear Pakistan, I know our history is complicated, but our friendship is greater. Love, India
My relationship with my Muslim friends is deeper than the mere tokenism of celebrating each other's festivals.
---
When I was a little girl, it was customary for our family to watch at least one new movie every month. Back then, movie titles were always displayed in English, Hindi and Urdu. Therefore, while English remained my primary language of communication, I ended up speaking both Hindi and Urdu fluently. I grew up in Mumbai which has a strong cosmopolitan culture. I grew up with friends and neighbours from different faiths, and was simultaneously introduced to Diwali and Eid, to Navratra and Ramazan, even as my friends got to know more about Christmas and Lent.
It was because of this multi-cultural experience that I got to learn so much about the Muslim culture. I learnt from the elderly Muslim ladies in our neighbourhood how charity was actually our duty. In fact, one of my most vivid childhood memories of Eid is watching elderly women from our neighbourhood go out and offer food and sweets to homeless people. They did not throw lavish iftar parties and give away left overs. Instead, they fed the homeless first. These dadis had humility and grace and they are the ones who taught me that if God has been kind to us and given us more than we need, we must share it with those less fortunate. All the people in my building would get together to celebrate both Eids and it was customary for all children to help with preparations. Some, like me, helped in the kitchen, while others did some baby-sitting to give the ladies a break. Of course, we were all rewarded with unlimited sherbet and Eidi in the form of fists full of candy.
But my relationship with my Muslim friends is deeper than the mere tokenism of celebrating each other's festivals. It was from my classmate Rashida that I learnt the importance of standing by my friends. I was the class monitor and quite a tattle tale. But Rashida never told on her friends and always accepted full responsibility for all the mischief. She said there is no forgiveness for one who betrays friends.
My former colleague and video journalist Tabrez is one of the bravest men I know. As a news reporter, I often end up on assignments that are fit for Ethan Hunt or Jason Bourne. But Tabrez would always support me and never miss capturing a visual even if it meant climbing a tree, scaling a high wall or hanging out of the window of a running Sport Utility Vehicle (SUV) on the expressway.
It was my Muslim friends who told me about how cats had a special place in Islam. My friend Nausheen and I frequently cat sit for each other and we share a very special bond as crazy cat ladies. It is because of all these wonderful people that I know that Islam stands for peace, kindness and friendship.
Which is why it is heart breaking to see the widening gulf between Muslims and non-Muslims across the world. It is ridiculous to judge over a billion people for the actions of a few people. I hate how every time there is a terror attack, Muslims across the world are expected to condemn it publically. Oddly, nobody ever asked me to apologise for Andres Behring Breivik, Adam Lanza or Dylann Roof.
Today, India is home to 170 million Muslims and a majority of them live in relative peace. I can tell you for a fact that an overwhelming majority of Indians don't hate Muslims. However, there does appear to be a sort of 'othering' of Muslims in some parts of India. There are 'vegetarian only' neighbourhoods that cause segregation and ghettoisation. Bovine politics has become increasingly ugly and bloody. Then there are ridiculous conspiracy theories about 'Love Jihad'. Even Saif Ali Khan wasn't spared the allegation when he married Kareena Kapoor.
As a journalist, it is my duty to demand justice for all Indians who have been wronged. So if I raise questions about what happened to Farooq Ahmad Dar, Pehlu Khan and Mohammed Ikhlaq, I must not forget the cold-blooded murders of Neelkanth Ganjoo and Tika Lal Taploo. As an Indian, I believe in balance and fairness. I'm not blind to the anti-minority sentiment. There are fewer Christians than Muslims in India and I hate the words 'Ghar Wapsi'. But I'm confident that India will overcome the efforts of extreme right-wing groups and will work towards retaining our diversity.
I know that if we stick together like we always have, we will get through this. It's just like a Bollywood movie; there will be some chaos and dhishum dhishum, but in the end, 'sab theek ho jata hai' (everything will work out). After all, we are the land of Amar Akbar Anthony. And to my Pakistani readers, I'll say this – I know our history is complicated, and our political ties need a lot of work. But all the same, I'm sending you good wishes and positive vibes in the spirit of Eid.
Eid Mubarak!