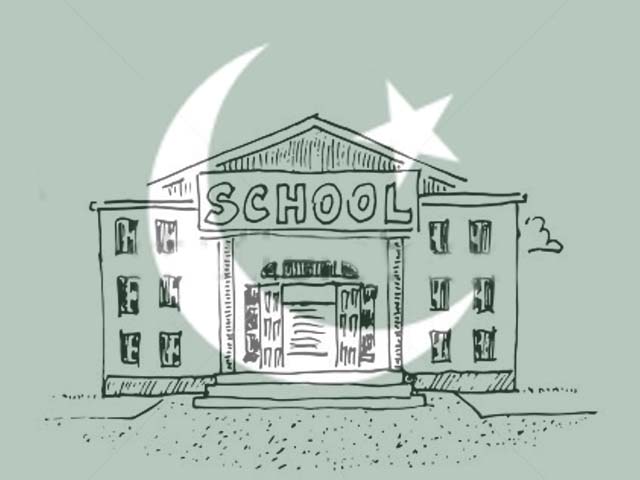 ---
Dear uninformed author, your list of the "Top 10 schools of Pakistan" is nothing short of misguided information
It is rather shocking to see a publication slur and defame schools and colleges openly albeit giving them a ranking.
---
A few days ago, a publication listed the 'Top 10 Schools of Pakistan' on its website. The write-up in question, which was an anonymous contribution to the publication, went viral. I saw the article being excessively shared on my Facebook and Twitter feeds. The following is the list of top schools according to the publication's ranking:


Karachi Grammar School (KGS), Karachi


Lahore Grammar School (LGS) 55 Main, Lahore


Pakistan Air Force College, Sargodha


Aitchison College, Lahore


Cadet College, Hasanabdal


Sadiq Public School, Bahawalpur


Beaconhouse School System Gulberg, Lahore


Lawrence College, Ghora Gali


Chand Bagh School, Muridke


Cadet College, Kohat



Today, I finally decided to share it on my own social media account to see the response people had regarding this article because I was immensely perturbed by it and wanted to gauge my own perspective through the opinions of my friends and family. Although my own alma mater was suggested as being on the second slot of this particular list, the question still rose as to why people were people taking this article so seriously.

Hailing from a family of educationists and being a part of the education industry, I can safely say that the article comprises of nothing short of misguided information, with labels via rankings and absolutely no citations have been given of the research conducted to have that article published. I personally deem this to be irresponsible reporting because derailing alumni, proud ex-alumni and parents is simply not acceptable.

So what went wrong with this article that had grammatical errors in the very first line and had no credible source to justify the criteria that marked the study to have it published? Well, just about everything!

After immense research, I wrote this article to correct the imprudent material that has spread across social media. The standard of an educational institution is gauged by its students' academic and extracurricular activities, the administration and faculty. However, if a school has tremendous accomplishments but does not boast grand redbrick buildings, courts, auditoriums, swimming pools, and more, then that by no means should be the resource to measure its benchmark as a top school. After all, you want your child to be studying in a suitably decent environment that equips him or her as an able student and human being with his or her academic achievements as well as extracurricular feats.

The article ranked Cadet College, Kohat at 10th top school of Pakistan. As great a military institution it is, it doesn't qualify to be on this particular list.  In 2016, only two of its cadets were chosen for the Youth Exchange and Study (YES) scholarship whereas Ahad Anwar from the University of Lahore got the same scholarship and went onto giving a speech on TEDxSalinas. Now that is an achievement, but there is no mention of his schooling or the university through which he went to earn this accolade on the list.

We get to see Chand Bagh School, Muridke on the ninth spot in the list. The article clearly says the following about the school:

"In teen culture, it is considered as the Don School of Pakistan because of the quarrelsome behaviour of its students…"

Why is it on the list when you are publicly defaming the school? You be the judge, my nerves collapsed reading those words alone.

Further down, you get to read about the historic Lawrence College, Ghora Gali, which has been compared to the likes of Aitchison College and Cadet College Hasanabdal. Again, the author of the article has slandered this college by using the following words:

"Lawrence stands at eighth place only due to environment complains by students and parents."

It is rather shocking that a publication would slur and defame schools and colleges openly albeit giving them a ranking.

Next we have Beaconhouse (Gulberg Campus); the author must have been weary to name the other campuses as the institute is run under the banner of 'Beaconhouse School System (BSS)' and not merely one particular branch of the institute. Indeed, the Gulberg campus has proven great results and produced some high achievers in 2016 and 2017. Yet, not just the Gulberg campus but many other campuses of BSS, such as BSS Cantt Campus had Saad Saeed and Haider Ali as the top achievers in Pakistan in their Cambridge International Exams (CIE) this year. Thereby, many other campuses of BSS have produced brilliant results. Perhaps the author did not know that unlike Lahore Grammar School (LGS), which is run by five different directors, BSS and The City School are both operated by two sisters respectively who are competitors of their own businesses. Yes, business. Education has become a business in Pakistan.

[fbpost link="https://www.facebook.com/BeaconhouseCantt/posts/1438556829519707"][/fbpost]

The list of schools from number seven onwards is, in my humble opinion, absolutely ridiculous. Although prestigious schools have been mentioned, their criterion of merit of being on the list and on a certain number for ranking hasn't been given. For my part, thank you to whoever wrote that time waster for an article, for mentioning Aitchison College, Cadet College Hasanabdal and Karachi Grammar School (KGS). These institutes have indeed proven time and again for their exceptional academic and extracurricular activities and also had their alumni placed in some of the world's best universities with scholarships.

Nevertheless, the list named my alma mater,  LGS (55-Main) which has had a number of high achievers and students placed in Ivy League Schools as well as received Oxbridge awards. However, it did conveniently forget to name LGS Johar Town, which has had a sterling record of high achievers and its students enrolled in not only the best colleges in the US and the UK but world over with scholarships, LGS 1-A-1, LGS Paragon City Campus, a school that I personally worked with in 2015-2016 whereby, it not only produced high achievers, but was one of the schools that had one amongst four Pakistani students chosen for Oxford University. LGS Defence Campus, LGS Landmark Arif Jan, and many other Lahore Grammar Schools that have not only the highest world achievers but have also had their students enrol into world renowned universities and done exceptionally well in their extracurricular activities. Thus, their exclusion from the list is simply not acceptable.

I might cut the author some slack for perhaps not having knowledge of the fact that the Lahore Grammar Schools are run by different directors, and the curriculum of the schools vary from each directors' school.

I don't want to come off as biased for giving evidence for the schools that I have mentioned with evidence, but you can Google to find out the other schools' achievements as there are many and the list is endless.

My question is, why did the author forget Convent of Jesus and Mary, TNS Beaconhouse, St Patrick's High School, Mama Parsi Girls School, Learning Alliance School, The City School, Army Burn Hall, Lahore College of Arts and Sciences (LACAS), The Lyceum School, Karachi American School, Bay View High School, Lahore American School, The International School of Choueifat, Roots International School, Froebel's International School, Salamat International Campus for Advanced Studies (SICAS) and many more?

All the aforementioned schools might or might not have a historic heritage but they surely have a list of achievements both academically and co-curricular wise. Students of these schools have not only represented their schools on regional level competitions but also represented Pakistan internationally.

I cannot allot rankings to these schools, but their accomplishments go beyond their infrastructures. Perhaps the publisher and the publication of the article should have named the article the 'Top 10 historic schools of Pakistan'.

By the time I was done reading the article, a pink coloured URL appeared to click on the '10 Most Beautiful Women of Pakistan'.

A notable alumni of Aitchison said,

"Aitchison's Art Fear was pretty good. Clearly they've been working less at hockey."

He is someone who has won many awards academically, was the regional swimmer in the Punjab team whilst in Aitchison, and received a full scholarship from Yale right after his A'levels.

Thus I rest my case, nerves and the cheap publicity or lack of content for the running of that article on this note alone.

Note: This post is in no way endorsing or advertising any school, college or institute. The post is solely a rebuttal to the misguided information that is circulating on the internet. The author has provided citations and references with links of achievements of the schools in the post.
Facebook Conversations
COMMENTS (6)
Comments are moderated and generally will be posted if they are on-topic and not abusive.
For more information, please see our Comments FAQ