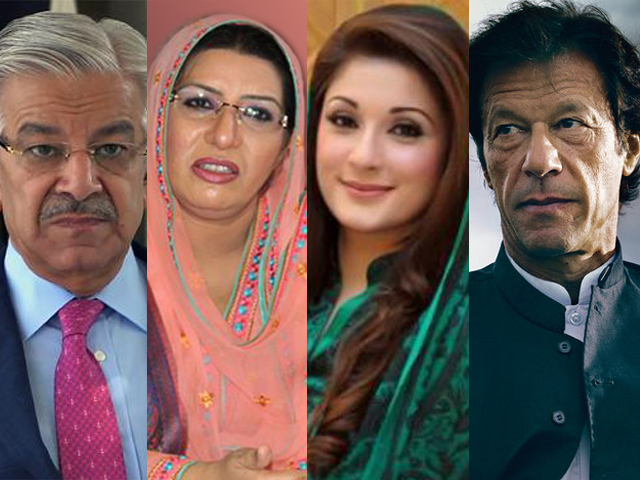 ---
PML-N is cultivating a sexist and misogynist culture, but PTI is no better either
The same PTI supporters who defended Dr Mazari when she was called a tractor trolley, had abused her when she left PTI
---
A few weeks ago, I had written an article lamenting the misogyny in our politics, which is actually a more accentuated reflection of the level of misogyny in our entire society.

The Javed Latif incident had shamed the Pakistan Muslim League-Nawaz (PML-N) and made them defensive. I had hoped that due to the negative publicity, the ruling party would adopt a more careful approach in the future and avoid ridiculing rival women politicians. However, it seems that PML-N, which is already in a lot of legal and self-created problems (the Nehal Hashmi outburst is an example), does not plan on learning from their mistakes.


After the Latif incident, Nawaz Sharif made a sexist reference to Pakistan Tehreek-e-Insaaf (PTI) women. Following his sexist leader, Khawaja Asif has called Firdous Ashiq Awan a "dumper". Asif's recent derogatory comments follow his earlier comments of the same nature against Dr Shireen Mazari when he called a "tractor trolley". Asif has not only name-called Awan but has also repeated his earlier remarks for Dr Mazari in his recent tweet.


There is silver lining for IK, Tractor trolly & newly acquired dumper can b used for hauling political garbage..no additional effort/expense

— Khawaja M. Asif (@KhawajaMAsif) June 12, 2017
It is indeed shameful that a person who is apparently educated and also holds two of the most important ministerial portfolios is using such language openly without any fear of facing consequences, and perhaps there won't be any for him. This is a sad state of affairs, further aggravated by the fact that there is hardly any condemnation from the PML-N senior leadership, just like one year ago following his remarks against Dr Mazari.
A part of me likes Asif, as he has remained loyal to his party through thick and thin. He was one of the few leading Members of National Assembly (MNAs) who chose to stick with PML-N during the Pervez Musharraf regime. He has even dared to openly criticise the establishment in the National Assembly. However, while his loyalty and outspokenness are admirable, he also comes across as an uncouth misogynist. Worse, he also refuses to apologise.
During this current reign, the PML-N government has taken some good measures for women's emancipation, including the passing of the women's protection bill. However, at the same time, the party has still a lot to learn with respect to maintaining common decency and respect towards women. The use of crude remarks against rival female politicians is plain wrong and the party has to mend its ways.
Unfortunately, PML-N is by no stretch of imagination the only culprit as this problem is quite wide spread. While PML-N's attitude is reprehensible, what often surprises me is when PTI social media activists show their anger over such remarks. Their anger is nothing but the worst example of the most shameful hypocrisy, because on a collective level, they are perhaps the most chauvinistic and extremely condescending towards women.
When Dr Mazari was called a tractor trolley, many PTI supporters on social media expressed rage, while ironically, she had been abused by the same trolls when she had left PTI in 2012 owing to some differences with Imran Khan. Worse, many PTI trolls abused her daughter Imaan Mazari as well, some calling her a prostitute. Imaan had to leave PTI and in her blog she wrote in detail about the filth which the PTI foulmouthed trolls had hurled towards her. In her resignation letter, Dr Mazari also mentioned the treatment which both she and her daughter had received at the hands of PTI social media activists.
One can also check the Twitter profiles of high profile women like Asma Jahangir, Reham Khan, Gul Bukhari and Marvi Sirmed to verify the abusive and sexist attitude of the PTI trolls. Similarly, many of the PTI supporters have repeatedly used filthy language against Malala Yousafzai.
I remember visiting the PTI official Facebook page after her Nobel Prize announcement; the comments which I saw depicted the collective mind-set of the party supporters. Some of them were actually condemning Imran for congratulating Malala.
One of the worst targets of crude sexist and vulgar attacks is the prime minister's daughter Maryam Nawaz. I have seen some photoshopped pictures being tweeted by PTI supporters where 

Maryam's head is attached to a semi-nude body (which will not be shared here for obvious reasons)

,

 accompanied by extremely objectionable remarks as captions. This is shameful, but at the same time shows deep irony because PML-N had used similar third class tactics way back in the late 1980s against Benazir Bhutto.
Both PML-N and PTI, supposedly the two major political parties, are cultivating a sexist and misogynist culture, which will make it difficult for the women to come into politics and work effectively. Considering the fact that Pakistan is second last in the entire world in the gender gap rankings, this culture will merely maintain the sad status-quo.