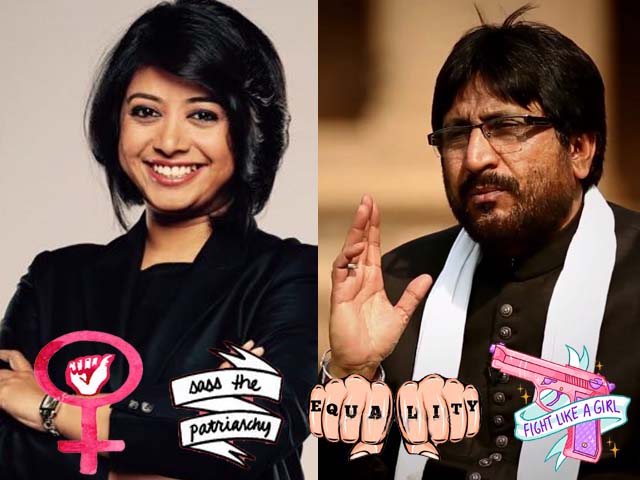 ---
Because gender equality can only be proven if women can show up to work in their underwear?
Men are so engulfed by their own male privilege that they actually deny the concept of equality between sexes.
---
It's 2017. Women are becoming more visible in possibly every field of work and professional capacities, proving that when they reclaim spaces, whether private or public, there is just no stopping how far they can excel. There is no one who can deny that fact.

For centuries, women have been put down and pushed back with claims of natural and inherent incompetence based on their sex. Somehow, because a certain group of humans is born female with physical differences (read: different reproductive organs), they have been and still are considered not good enough to become successful or become leaders.

However, the popular quote, "Time reveals all," can be applied impeccably in this time and age, simply because time has revealed that when women take and are given space to contribute to whatever they set their minds to, they are able to achieve much more than what society expects of them. The argument that women are naturally incompetent because of their sex then becomes invalid.

Unfortunately, despite the multi-fold number of achievements of women across the globe, they are still faced with ridiculous accusations about their characters. As if stepping out of the house automatically means they are sexually promiscuous. But even if they are, isn't it their choice?

Once women are in the spotlight, it marks the end of their personal freedom because they will have everyone issuing opinions and arguments to demoralise their work, their intentions or generally just demoralising them as women. On the other hand, when men exercise their choices everywhere, they are seldom faced with such allegations and trash talk.

Moreover, when women are generally seen to be exercising their choices (rights), whether by pursuing non-traditional 'female' professions or choosing what kind of clothes to wear, their positive work and important contributions are ignored and the focus is shifted towards less meaningful aspects of their life, such as their appearance. You know, since looks is what it all boils down to.

Not that this issue is only specific to South Asia, but I think it's very important to highlight the whole gaga over women's choices of clothing across the border. This whole phenomenon started with Bollywood and Hollywood superstar, Priyanka Chopra, who was criticised for dressing inappropriately by showing her legs in a meeting with Prime Minister Narendra Modi in Berlin. The online misogynistic moral police just could not handle the confidence of a successful woman and so the trolling started. Deepika Padukone, who is also a Bollywood and Hollywood actress, was shunned because of what she wore in a recent photo shoot, while Dangal actress Fatima Sana was also slut-shamed for posing in a bikini for a photo shoot in the holy month of Ramazan.

You see, firstly, the fact that online trolls, especially men, think that they are worthy enough to pass comments on how to maintain and uphold traditions through controlling women's and girls' actions is straight up madness. Secondly, it is devastating to see that even today, women's physical appearances are given more importance than them receiving love, respect and support for their talent, dedication and hard work that is internationally recognised for positively representing their nation, for taking it forward in a highly progressive manner.

When Indian news anchor Faye D'Souza hosted a talk show concerning the same topic, she was shamed by a cleric for claiming and arguing that women and men are equal. As one of the guests of the show, Maulana Yasoob Abbas expressed to D'Souza,

"Underwear pehanke (aap debate mein) aiye. Mard aur aurat barabar hojayege na."

(Come to this debate dressed in your underwear. Then there will be equality between men and women.)

[/fbvideo]

Yes, because equality between the two sexes can only be measured and proven when women can show up to their shows in their underwear. Abbas and his sympathisers need a desperate reality check and perhaps major mentoring on how to conduct themselves properly on national television so as to not look like complete fools.

Here again though, we see the constant need to control and restrict women's choices, all the while shaming women for wanting to do as they please. It is also important to note here that this has nothing to do with Islam nor with the so-called faith Abbas prescribes to; it's actually the patriarchal culture that spews such hate and thought. I am a Muslim myself and I know that many other Muslims like me do not hold offensive views about women nor do we support such statements.

Luckily, D'souza was not one to back down; she held her ground and told Maulana sahib that none of his trash talk will stop her from continuing to do what she does, nor will his views and mind-set affect any other wave-making women in the country.

Let's take a minute to digest the fact that there are people out there who are so engulfed by their own male privilege that they actually deny the concept of equality between sexes.

Is it not absurd and bizarre that we live in a world where social media has become so real that it acts as a platform for moral policing, for trolling, for bullying, for spewing hate, for creating and supporting derogatory behaviour? There are still parents out there who differentiate between their sons and daughters, giving more rights and importance to sons, even though there is an increasingly large number of female role models out there to look up to.

However, rays of strength and hope can be seen in women like D'souza, Chopra, Padukone and Sana, who do not back down nor feel ashamed despite of the hate; instead, they keep rising.
Facebook Conversations
COMMENTS (7)
Comments are moderated and generally will be posted if they are on-topic and not abusive.
For more information, please see our Comments FAQ