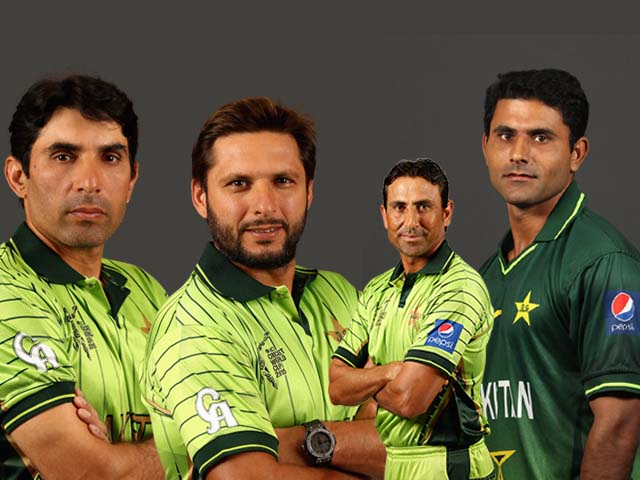 ---
Four Pakistani cricket legends who left behind some big shoes to fill
One must not have second thoughts when calling Misbah the ultimate saviour of Pakistan cricket.
---
One cannot recount Pakistan's rich cricketing history without giving adequate importance to the players who made their mark and kept the green flag flying high. Taking into account the fact that some of its finest players of the past decade or so recently put the curtain down on their careers, it is apt to shed some light on what made them such great contributors to Pakistan cricket.
Be it the aggression of Shahid Afridi, the flamboyance of Abdul Razzaq, or the stability and permanence provided by the stalwarts in the shape of Younis Khan and Misbahul Haq, Pakistan cricket was truly blessed to have such impact players at its disposal.


Shahid Afridi

Afridi, without a doubt, is one of the most popular Pakistani cricketers to ever grace the game. The term 'boom boom' was perhaps the simplest manner in which you could have described Afridi. You may argue over his consistency over a career spanning over two decades, but it is hard to ignore the love he received from his fans. One may never be able to define his approach towards the game but he kept the opposition on their toes whenever he was out there, with a heavy piece of willow in his hands and the tendency to hit every ball out of the park.

For many, Afridi's fondest moments tend to revolve around his 37 ball century against Sri Lanka or famous sixes against India's Ravichandran Ashwin during the Asia Cup. For me, what defined his career were the innings he played against South Africa in the semi-final and Sri Lanka during the final of World T20 2009, which eventually led Pakistan to victory.

This was one of the rare occasions when Afridi came out to bat early, shouldered the responsibility, and took his team over the line. Considering the stature of this particular tournament, it was a remarkable achievement. These two particular performances were in complete contrast to what we have witnessed over Afridi's entire career, which is precisely the reason why it made them ever so special.


Abdul Razzaq
Razzaq was one of the finest and cleanest hitters of the cricket ball. A delivery which met the meat of his blade was only headed one way – the stands. He became better known for his bowling during the early stages of his career with all the traits of a quality fast-bowler, including the ability to reverse swing the ball. As time passed, Razzaq became more of a batting all-rounder as he lost some of the pace in his bowling, but with the bat, he was a force to reckon with and got Pakistan out of jail on numerous occasions.
For me, Razzaq's one particular inning that stands out came at the twilight of his career against South Africa at Abu Dhabi in 2010. With Pakistan reeling at 136-5 chasing 290, Razzaq played a gem of an innings to take his side home. The explosive batsman scored a 72 ball 109 with the help of 10 massive sixes to seal an amazing comeback victory for Pakistan. At one point, it seemed as if the game was done and dusted but Razzaq's calm and unflustered approach turned around the course of the match.
Misbahul Haq
One must not have second thoughts when calling Misbah the ultimate saviour of Pakistan cricket. At a time when Pakistan cricket was in utter shambles, courtesy of the spot-fixing scandal, handing over the captaincy band to Misbah was the perfect tonic as it reaped great benefits over his captaincy tenure. Leading the side from the front is not an easy task. However, Misbah, through his dogged attitude with the bat, proved that despite the frequent chaotic batting displays, he was there to provide stability to the stuttering batting and do repair work more often than not.
Misbah's 11 gave us countless moments to cherish, but for me, one of the standout performances was the ODI series win against South Africa in their backyard. For Asian teams, winning an ODI series in South Africa is virtually an insurmountable task, but it was under Misbah's captaincy that Pakistan defied all odds and clinched the series by a margin of 2-1 and that too with a pretty young side.
On a personal note, it is hard to forget Misbah's press-ups at the home of cricket, Lord's, after scoring a memorable century and inscribing his name on the famous honours board. The press-ups were not just a show of strength but they clearly advocated the determination and love this man held for the game and his country.


Younis Khan

It is next to impossible to encompass the greatness of this magnificent player who has rendered such an exceptional service to Pakistan cricket. People knew little about the young boy hailing from Mardan when he first burst onto the screen, but from the beginning of his career, Khan proved that he belonged at this level. The subsequent performances over the course of his lengthy career, which saw him become Pakistan's leading run-scorer in Test matches and leading the side to victory in World T20 in 2009, are enough to proclaim him as one of the greatest Pakistani players of all time.

He has racked up numerous records and achievements, which is why it is quite an ominous task to single out one innings as his greatest. But perhaps it is safe to say that the innings against Sri Lanka in Pallekele in 2015 is arguably one of his finest knocks. With a daunting task of chasing 377 runs and with Pakistan having been rocked by two early blows, it was down to Khan's brilliance with the bat which saw Pakistan through.

Khan always had a knack for scoring big in the fourth innings of a Test match and this was a glaring instance in that regard. He remained unbeaten on 171, which was the fifth highest Test score in a successful run chase, and led Pakistan to a series win over the islanders.


The benchmark for future generations
One could go on and on about the enormous contributions made by these great Pakistani players but still not do justice to their achievements. The high standards set by these players are a shining beacon for their successors, and although replicating their performances is going to be an extremely difficult feat to achieve, our players can surely learn a whole lot from them in order to excel at this game.
Facebook Conversations
COMMENTS (7)
Comments are moderated and generally will be posted if they are on-topic and not abusive.
For more information, please see our Comments FAQ