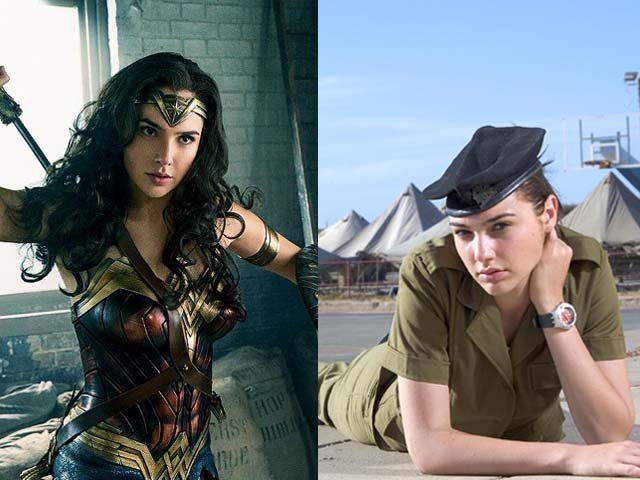 ---
Why Gal Gadot as Wonder Woman is a slap on the faces of Palestinian girls in Gaza
A person with utter disregard for the suffering of humans cannot be the face of a superhero that fights for justice.
---
This past week, viewers from all across the globe flocked to their nearby cinemas to catch the first
female superhero
movie,
Wonder Woman
. People leaving the cinema published accounts of inspiration and motivation. Some even spoke of a rekindled sense of purpose and drive in their
individual feminism. 
Yet in the same news cycle, you could also find a piece or two decrying some ban on this blockbuster placed by Lebanon and then followed by a suspension in Tunisia and Algeria. Naturally, as every ban does, it piqued the reader's interest. After all, what would the Lebanese, Algerians or the Tunisians have against women empowerment? It made little sense until you opened the closet and found the skeletons inside.
In order to comprehend the rationale employed by these Arab states, one has to be aware of the 2014 Gaza massacre. Put short, in a brutal 50-day assault, the Israel Defence Forces (IDF) were able to eliminate 2,139 Palestinians, out of which 490 were children. According to UN estimates, 500,000 Palestinians in the Gaza strip were displaced and 20,000 homes were destroyed. 
On the Israeli side, there were 64 deaths, out which six were civilians including one child. This assault by Israel was decried and denounced by every major human rights organisation. To put this in perspective, Amnesty International accused Israel of war crimes and a "callous indifference" in their deadly attacks on Gaza.
During this time, Gal Gadot, the actress playing Wonder Woman, posted the following on her official Facebook page:
[fbpost link= "]
The spellcheck police would like to rightly allege that Gadot got the spelling of co-existence wrong. However, her post is problematic for reasons far beyond that.
As a person, Gadot supported the acts of a military responsible for the brutal murder of hundreds of innocent civilians. This lady is now being presented as the role model for female empowerment and liberation. That, in essence, is flawed. A person who has such utter disregard for the suffering of humans cannot possibly be the face of a superhero that fights for justice and equality. It is a slap on the face of Palestinian girls in Gaza who are being told that those who support their oppression and murder can, in fact and virtue, be the harbinger for female liberty.
What is most ironic in this situation, I think, is that when the children in Gaza endured what they went through in 2014, they must have been hoping for a miracle. In the world of comic books and superhero movies, the miracle often arrives in the form of a superhero there to allay the fears of the many and give them hope for a better tomorrow. Well, it seems that there is hope for many and justice for a few, just not for the Palestinians, if you please.
As a Pakistani, I can only speak for my own country. There seems to be a loyal and devout support for Palestinian liberation amongst the masses. When the Gaza massacre was happening, Facebook and Twitter in Pakistan was lit up with messages of support, prayers and calls for action. There were thousands of dollars raised by our very own citizens for our brothers and sisters in Palestine. We need to understand that our solidarity with the Palestinian cause has to be broader. We cannot simply push away the thought of solidarity by terming our own actions as having negligible consequences.
Trust me, every social justice movement has heard the naysayers say the same few lines about the lack of power they govern over the oppressive structures. However, we must believe in ourselves and our ability to inspire change through collective action.
We cannot forget that female empowerment cannot exclude women who are being oppressed by structures of power that go beyond their gender. We must strive to fight patriarchy in all forms and shapes. However, we can also not let the message of female empowerment in our countries be hijacked by images that can further hurt those who are oppressed. Our fight against patriarchal structures cannot exclude members of communities that are also disenfranchised.
Facebook Conversations
COMMENTS (45)
Comments are moderated and generally will be posted if they are on-topic and not abusive.
For more information, please see our Comments FAQ