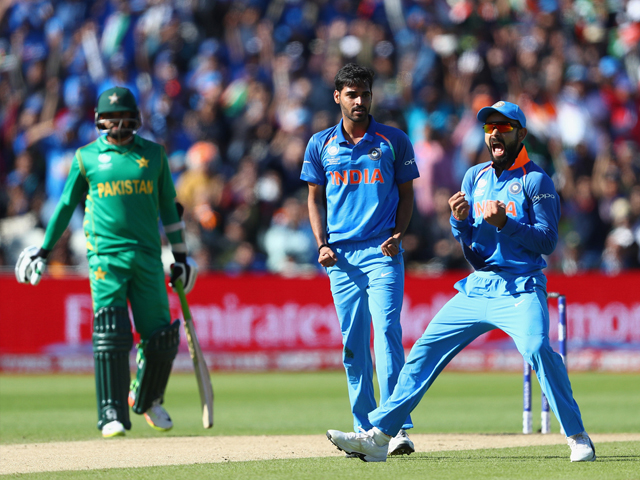 ---
#PakvsInd: It was the same old Pakistan making the same old mistakes all over again
Pakistan's loss was not all because of Sarfraz's poor captaincy as the team was miserable on all fronts against India.
---
Pakistan losing to India in International Cricket Council (ICC) tournaments is now becoming a norm in international cricket, much to the disappointment of their fans. Judging by where Pakistani cricket is headed, it seems unlikely that this trend is going to change over the next few years.

India registered yet another comprehensive victory over their arch rivals, but this time in the ICC Champions Trophy. The eight-team tournament was the only ICC event where Pakistan held an edge over India on a head to head basis. However, the latest defeat proves that that is no longer the case as the stats are now locked at 2-2.

The entire Pakistani team cut a sorry figure in this all important Indo-Pak clash and looked out of sorts for the majority of the match. Although most of us did not rate Pakistan very highly for this particular encounter, but it was extremely disappointing to see the team lose without even putting up a proper fight.

There is no shame in losing, but it is absolutely critical that a team gives it their all on the field. Pakistan's body language was clearly not up to the mark and, although they were physically present, their mind was just not focused enough for this high profile match. The team seemed flustered at times and lacked the energy required to match a top quality side like India. Body language plays a key role in determining the outcome of the match and Pakistan clearly came second best in this particular area.




I feel there is no point in going into detail of our batting woes, lacklustre bowling and usually dismal standards in the field. It was the same old Pakistan making the same mistakes all over again. Batsmen were soaking up dot balls and inviting pressure, fielders dropping crucial catches along with woeful ground fielding and the bowlers losing the plot quickly when put to test. These things have all been too common in Pakistan cricket off late and one of the major reasons behind our decline in the shorter formats.




Pakistan's inability to play in accordance with the dynamics of modern day cricket was particularly visible throughout the entire match. Our bowlers bowled with a mind-set of restricting the flow of runs rather than going for wickets. On the other hand, our batsmen adopted the same sedate and subdued style which made the already stiff target ever so difficult. Pakistani batsmen have continued to go about their business in such a passive style, especially in the shorter formats with absolute disregard for the actual requirements and hence suffering every now and then.




But one thing that I would stress upon was Sarfraz Ahmed's poor captaincy which allowed India to dictate terms right from the outset. Perhaps the only thing Ahmed did right was winning the toss, but the rest, unfortunately, went downhill.

It will be a touch harsh to blame it all on Sarfraz, but being the captain of the side, he should be the one taking responsibility for what transpired in Edgbaston. The wicket-keeper cum batsman had a pretty below par day in the field as captain and most of the shots he called backfired.

Beginning with the decision to give Imad Wasim the new ball was clearly not the right ploy. Especially considering the way with which Mohammad Amir started the proceedings from the other end, and the overcast conditions having an impact, it was simply unfathomable as to why Wasim was given the new ball rather than one of the pacers.




Rather than going for wickets with an aggressive approach upfront, Ahmed opted for a more defensive approach with the plan of containing the opposition. This plan, although kept a lid on the scoring during the initial stages of the match, resulted in lack of early wickets which consequently paved India's path to a ruthless batting display towards the back end of the innings where they scored heavily with the likes of Yuvraj Singh and Virat Kohli in full flow.




Ahmed's rotation and choice of bowlers should also be scrutinised.

Almost every Indian batsman was given a chance to settle down and get their eye rather than cashing in with your ace bowlers when a new player came out to bat.

It was baffling that Mohammad Hafeez did not even bowl a single over during the Indian innings. Pakistan have got it all wrong if they think he cuts it into this side purely as a batsman. Here it was interesting to mention that the professor has a good track record against left-handed batsmen, but despite Shikhar Dhawan's presence, Hafeez was not brought onto to bowl.




With Wahab Riaz leaking runs from one end, who had a day to forget with the ball in hand, Pakistan would have been better off had they extracted more overs out of Hafeez and Shoaib Malik.

Bearing in mind the fact that Ahmed is a relatively new captain, he will go through days when things won't work out for him. But having said that, the onus is on him to quickly learn from his mistakes and lead the side in a better manner.

Here I must make this absolutely clear that Pakistan's loss was not all down to Ahmed's poor captaincy as Pakistan were miserable on all fronts against India. But being the captain of the side, he has to be cleverer and street smart in a leadership role. With the captain in the right frame of mind, it is easier to inspire the side and channel positive vibes throughout the entire team.

Pakistan have now got their backs against the wall with no room for further mistakes, which is why it remains to be seen how our skipper and our side react to this defeat and fare in the upcoming matches against South Africa and Sri Lanka respectively.
Facebook Conversations
COMMENTS (30)
Comments are moderated and generally will be posted if they are on-topic and not abusive.
For more information, please see our Comments FAQ