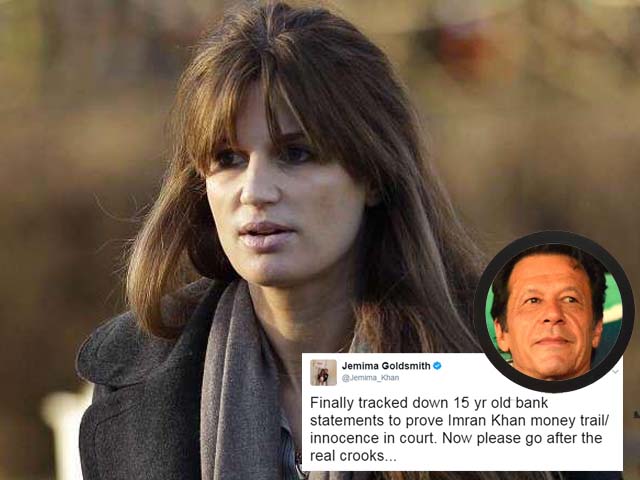 ---
Jemima Goldsmith loves Pakistan more than many of us, even Imran Khan
Jemima, whose only fault was to marry Imran, became the target of a shameless smear campaign by both PPP and PML-N.
---
Jemima Goldsmith recently tweeted that she found documents which would prove Imran Khan's innocence in court regarding the purchase of his Bani Gala residence. The media has been gripped by this tweet and the Pakistan Tehreek-e-Insaf (PTI) fans are ecstatic. On social media, they are raving about Jemima and her loyalty to the great Imran.
Finally tracked down 15 yr old bank statements to prove Imran Khan money trail/ innocence in court. Now please go after the real crooks...

— Jemima Goldsmith (@Jemima_Khan) June 1, 2017


What's great about this tweet is not only the fact that it revealed proof to vindicate Imran and showed Jemima's loyalty to him, but more so, the notion that even after a divorce, couples can be friends.

Many a time, I have seen that high profile divorces end in a lot of bitterness, which is often played out in public. But here, the high profile couple had a nine-year marriage and the separation was amicable. Moreover, they continue to be good friends. Over the years, Jemima has continued to publicly support Imran and has defended him on various issues.

More importantly, this tweet publicised how Jemima's connection to Pakistan is still strong. This is phenomenal given the fact that she has not lived here for many years and even more remarkable considering how she was mistreated by media and PTI's political rivals when she was here.

My mind goes back to 1990s – frankly a regrettable period for me – when I was a PTI supporter. I still remember when the PTI was formed; I was one of the early foot soldiers and campaigned hard for the party in the 1997 elections. At that time, Imran was a political novice and the party was not well entrenched at a grassroot level as it had been founded just a few months prior.

Imran married Jemima in 1995 and this marriage had not fared well with the Pakistani public initially since Jemima was a foreigner. It would not have been a problem, but before this marriage, Imran had been giving off the impression that he loved and valued his own culture more than the culture of the West, and this marriage apparently implied otherwise. After those tall nationalist claims, marriage to a foreigner seemed like a complete contradiction and understandably, it became a political liability. This liability was exploited well by both the Pakistan Peoples Party (PPP) and the Pakistan Muslim League-Nawaz (PML-N) during the 1997 elections.

Jemima, whose only fault was to marry Imran, became the target of a shameless smear campaign by both the parties. Since she had Jewish ancestry, people claimed that she was a part of a Zionist conspiracy to dominate Pakistan. There were newspaper advertisements showing a cheque (a fake one) of £40 million allegedly given to Imran by her father for his campaign. PTI was routed in the 1997 elections and the politicising of Imran's marriage to Jemima did play a role in it, a fact which she herself points to.

Despite this shameless campaign against her, Jemima put up a brave front and even campaigned for PTI; she even gave speeches in Urdu.

Her ordeal in Pakistan did not come to an end after Nawaz Sharif's government returned with a thumping majority and she was charged with smuggling antiques from Pakistan. She had to leave Pakistan, returning only after the Nawaz government was deposed.

During Pervez Musharraf's time, she became a political target after Imran developed differences with the dictator. In her 2007 article for Telegraph, she wrote about how she had studied Salman Rushdie's book for her university thesis on post-colonial literature and how it led to government-orchestrated protests by religious fundamentals against her.

Despite all of this, she remained married to Imran, and during that time, she always spoke well of her overall experience in Pakistan. She also spoke bravely whenever she saw injustice committed, even when it was committed by her own country. In 2003, she was extremely critical of Britain's decision to enter the Iraq war and even wrote that she was ashamed of being a British.

In 2004, the couple finally got divorced, as according to Imran, the East-West divide had become too much. It was an amicable divorce and as I mentioned earlier, the couple has remained on excellent terms since then.

One would have thought that her connection to Pakistan would fade after the divorce. This has not happened as Jemima continues to take an active interest in Pakistan. In 2007, she demonstrated with Pakistanis in London against Musharraf's decision to impose a state of emergency.

While being supportive of Pakistan in general, she has remained cognisant of its problems also. She has been critical of Benazir Bhutto for failing to repeal the controversial Hudood Ordinance. Compared to her former husband, she has constantly taken more liberal stances and has stressed the notion that being a Muslim does not mean one has to follow very rigid codes. While she has been critical of the rigid interpretation of the Islamic code, she has also taken a courageous stance against anti-Muslim bigotry, at one point objecting to her own brother's mayoral campaign!


She also made a documentary against drone attacks and wrote extensively about them. I was not in complete agreement with her stance on drones but I could not help but feel an admiration for her conviction and empathy towards ordinary Pakistanis.


As I wrote in the beginning of this article, I was once a PTI supporter, something I regret today. Back then, I worshipped Imran and respected Jemima. Now I dislike Imran for his consistent reactionary and needless confrontational politics but my respect for Jemima has increased over time. She is an outstanding individual with a liberal and humane bent of a mind and in some ways, she loves Pakistan more than many of us.

Thank you Madam for everything!
Facebook Conversations
COMMENTS (14)
Comments are moderated and generally will be posted if they are on-topic and not abusive.
For more information, please see our Comments FAQ