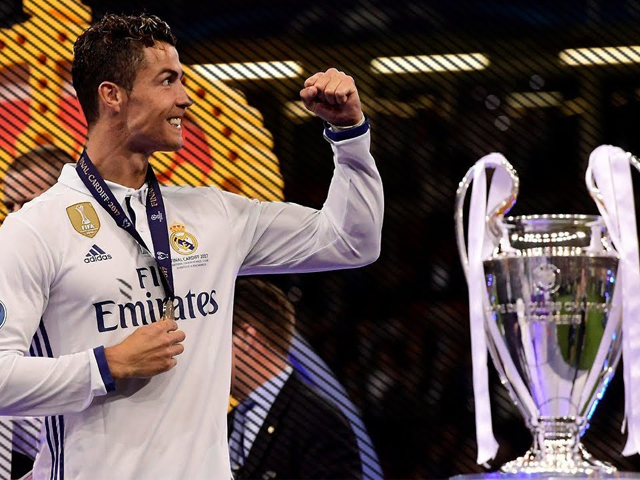 ---
Real Madrid's 12th Champions League win was Cristiano Ronaldo's one-man show
As much as I was a non-believer, being 'Team Messi', even I can't refute those sheer digits. I am a convert now.
---
Okay, I have been fighting this for quite a few years now but it simply cannot go on like this anymore. Being a Liverpool fan, I didn't really have any vested interest in the relentlessly incessant Lionel Messi versus Cristiano Ronaldo debate. But like every other football fanatic, I had to take a side and, probably owing to Ronaldo's former allegiance with our hated rivals Manchester United, 'Team Messi' it was for me.

Over the years, like a proverbial ostrich, I have been burying my head in the sand while Ronaldo – like a true force of nature – kept blowing away every record that came in his way:

The aforementioned statistics are just a handful of his mammoth collection of records. But after years in denial, following Saturday night's events at the Millennium Stadium in Cardiff, my mind is finally receptive to the deific sporting truth that is CR7.

Extraordinary Ronaldo's brace – taking his career tally to a mind-boggling 600 goals – helped Real Madrid retain the Champions League by trouncing Juventus 4-1 to wrap up a historic 12th continental crown.


It might be his perfectly coifed hair and dazzling set of teeth that has netted the Portuguese millions of followers, but it was the sorcery in Ronaldo's boots that earned Los Blancos their third Champions League trophy in the last four seasons.




While for the 'Old Lady from Turin' this was a familiar tale of hurt and sorrow as this was their seventh defeat out of nine finals, including the last five in a row. The final was all the more galling for Juventus since it saw them concede more goals in one match than in the rest of the competition put together. But yet it started so brightly for the boys in black and white stripes.

The encounter in Cardiff was billed as Real Madrid's attack against the defence of Juventus. This defence didn't concede a single goal in either leg of their quarter final win against the terrifying trio of Messi, Neymar da Silva and Luis Suarez from Barcelona; surprisingly, it was the club from Turin which started the match on the front foot.




An early 25-yard cracker from Miralem Pjanic's was only just beaten away by Madrid's keeper Keylor Navas. The Real Madrid central trio of Carlos Henrique Casemiro, Toni Kroos, and Luka Modric took a bit of time to come to grips with their opponents onslaught, but eventually, the metronome passing of Kroos and Modric began to make inroads. Cometh the hour, cometh the man; in the 20th minute, following a layoff to Dani Carvajal in the right-wing position, Ronaldo found space in the box and after receiving a return pass, Gianluigi Buffon was beaten.

Juventus might have been down at this point but they surely were not out of it. Only seven minutes later, the Turin side equalised with arguably the best final goal ever. Mario Mandzukic's goal was a thing of absolute beauty; with the ball passing between four different players and into the net without even touching the floor.




At half-time, it was anyone's game, but then Madrid came fighting out of the blocks after the interval. With two goals in three minutes, including another one from Ronaldo, Los Merengues were now in the driving seat. Juve huffed and puffed but they weren't able to blow down Madrid's house. In fact, it was the boys in purple who further extended their lead with a goal from substitute Marco Asensio in the dying seconds to add insult to Old Lady's injuries.

Football is a team sport but there is no doubt in anyone's mind that it was Ronaldo's cutting edge that brought Real Madrid its 12th Champions League title. Scoring in his third different Champions league final, the Portuguese is now a shoe-in for a fifth Ballon d'Or, which would make him equal with Messi.

Contrasted with Messi's laid back demeanour, Ronaldo's cockiness might not be everyone's proverbial cup of tea, but his records stack up after his fourth Champions League medal.


"This is one of the best moments of my career but it seems I am able to say that every year," Ronaldo said, further adding, "People won't be able to criticise me because the numbers don't lie."

As much as I was a non-believer, even I can't refute those sheer digits. I am a convert now.
Facebook Conversations
COMMENTS
Comments are moderated and generally will be posted if they are on-topic and not abusive.
For more information, please see our Comments FAQ