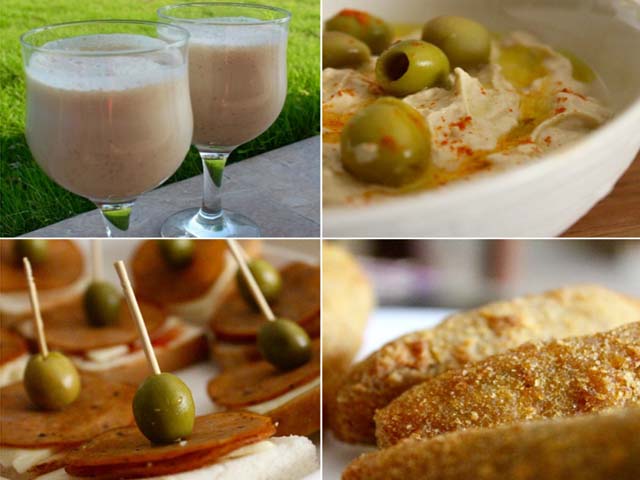 ---
Date shake, hummus, bite-sized sandwiches and peri bites – what more can one want for iftar?
Date shake is the perfect drink to have when you're craving something sweet but want to stay in the healthy parameter.
---
Once again, I'm reminiscing about UK times. Iftar was an exorbitant affair. We used to open our fasts in the campus mosque where different groups of people, usually from the local community, used to host iftars. The menu was different every day, and in addition to desi pakoras, jalebis and samosas followed by qorma, biryani or pulao, we got to experience different dishes from around the world. They ranged from Malaysian satay and lemang to Arabian Margoog and Kabsa. Rooh Afza was of course the staple drink, the undisputed favourite transcending all cultural barriers.

In Pakistan, we are experiencing long summer rozas and past noon (this holds true for me at least), our minds and bodies start failing to synchronise. I usually like getting all the cooking done right after Fajr prayers or if sleep overpowers me, then as early as possible before the heat starts kicking in.

Let me take a moment to note here that for all those out there who are in the process of constructing kitchens, please invest in an air conditioner, especially for these hot summer months.

So getting back on topic. Close to iftar time, food cravings are at an all-time high and energy levels an all-time low, not to mention tempers close to flaring.

Here are some quick recipes which will satisfy those taste buds, are easy on the stomach and barely take time (plus, they can be prepared well in advance).

Date shake




The first time I had this heavenly drink was in London at Bateels. And let me say, it was beyond amazing. It is the perfect drink to have when you have to revitalise energy levels and are craving something sweet but want to stay in the healthy parameter as well. Moreover, the benefits are numerous. Dates are very helpful in improving digestion, are a rich source of iron and also are an important source of vitamin B.

Ingredients:

Dates without seeds – 10-12 (let them soak in warm water for half an hour so they are easier to blend)

Milk – 2 glasses

Cream – ¼ cup

Yoghurt – 6 tbsp

Honey (for added sweetness)

Method:

Blend all the ingredients in a blender with ice cubes.

Hummus




Let us switch continents and time capsule back to the summer of 2016. Edgware road, London or as I like to call it, little Middle East reincarnated. The thronging traffic, hurried pedestrians and lines of busy retail outlets form a familiar London scene. But as you continue to walk, the distinct and musky smell of shisha – also known as hookah or a water pipe – will hit you because the area is ablaze with a culture of shisha cafes, with people sitting next to their ornamental pipes, their faces gradually fading into the plume of smoke that they exhale. It is also home to a myriad of Lebanese restaurants, doner kebab outlets, shawarma stands and halal butchers on every corner and is the focal point for much of central London's Muslim population. It is here that I was introduced to the Lebanese cuisine and I fell in love with hummus.

Hummus serves as a great dip. It barely takes 10 minutes to make which is why it's a great recipe to have on hand, plus it is light and low in calories. Serve it with carrots and cucumbers or go traditional with pita bread (or even our desi rotis or naan).

Ingredients:

Chick peas – 3 cans (drained)

Lemon juice – ¼ cup

Olive oil – ¼ cup

Garlic – 2 cloves

Tahini – 2 tbsp (sesame seeds paste)

Salt to taste

Method:



In a food processor, place chick peas, lemon juice, olive oil, garlic and tahini. Processes until all things are well combined.


Add enough water to make a smooth dip.


Season it with paprika.


Transfer it in serving bowl and drizzle with little olive oil.


Bite-sized sandwiches


These are amazing hand foods; they take a maximum of 10 minutes and voila, you are done. The best thing about them is that they can be served warm or cold.

Ingredients:

Bread cut in quarters

Cheese slices cut in quarters

Chilli Garlic sauce

Pepperoni slices

Olives

Toothpicks




Method:

Heat the pepperoni and bread slices in a lightly oiled pan. Now spread chili sauce, place the cheese pepperoni and olives. Stick in a tooth pick and you are done.

Peri Bites




I don't think there is anyone who loves Nandos and hasn't had their peri bites. Here is an easy on the pocket way to try within the confines of your home. A great alternative if the traditional pakoras get too monotonous for you. They're also extremely easy to make.

Ingredients:

Jalapeno peppers – 12

Chicken – 1 cup (boiled and shredded)

Salt – ½ tsp

Black pepper – ½ tsp

Cheddar cheese – ½ cup (shredded)

Egg – 1 (lightly beaten)

Bread crumbs – 1 cup

Flour – ½ cup

Oil for frying


Method


Split open the jalapenos and remove the seeds and membranes.


Now combine the cheese and chicken, add salt and pepper in it. Mix it well.


Now stuff the mixture in jalapenos one by one. You can change the stuffing according to your taste. Maybe add cream cheese with peri sauce.


Let the jalapenos chill in the fridge for 30 minutes.


Now coat the jalapenos with the flour, then the egg and in the end, bread crumbs.


Heat oil in a pan and fry them.


All photos: Arhama Siddiqa