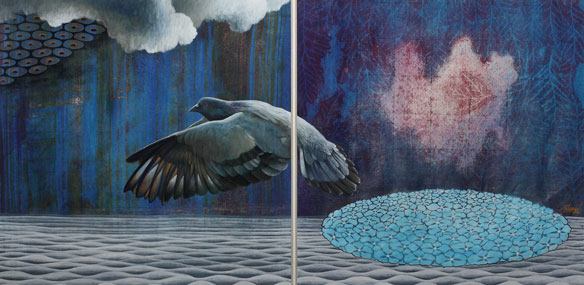 ---
The sheila from Pakistan
I was like that koel, supplanted in someone else's nest, in a world that did not belong to me.
---
There was not a single person in sight. Not a single one. My father asked me to describe the first thing I saw when I went out on the street early in the morning. Perhaps I could make up something.
"I saw a bunch of kangaroos coming down the road, Aba. It was like a mela."

I was always an early morning person. My father called me his alarm clock. He never needed another while I was in the house. It was my sounds that woke him for morning prayers, not the muezzin's call from the mosque. My bedroom door opening and then shutting and the louder sound of the front door being pushed unstuck as I left the house for a morning walk.

Out on that street, a 17 hour flight away from this silent street here in Australia, there were already signs of the bustle that was to come. Sweepers out with their brooms, maasis walking to work with colourful dupattas over their heads, their feet in bright rubber chappals moving briskly over the dusty road; drivers cleaning their cars - not in their driveways but on the street so they could chat with each other - and those who were done cleaning taking a quick read of their employers' newspapers before the employers themselves awoke and asked for them. Motorbikes whizzed past carrying one, two, three or four laughing persons, the women invariably seated sideways. It was a precarious existence livened with energy at this time of day.

Later, as the sun rose higher in the sky that energy waned rapidly until the maasis walking from their first job to the next dragged their feet raising little clouds of hot dust with each step, and motorbikes droned past with three morose persons on their backs. It was a blazing, dusty world, until across the sky there streaked a bird.

Black as night with red eyes, the koel raced from tree to overhead wire to another tree, its voice rising hysterically to a fevered pitch. You'd think the residents would call the authorities on the bird for disturbing their peace but it had the opposite effect. Wilted faces lit up and the old drew the young's attention to the koel, pointing out its trajectory. Faces were raised to the sky, following the flight of the bird which was surely too ugly and too strident to warrant such smiles. It was only the initiated who knew.

It was as if the bird had pulled a sheet across the sky. Thick grey clouds, laden with thunder and lightning blotted out the merciless sun. There was a spring in the maasis' step because of a sudden cool breeze, and an urgency to get indoors. You don't mess with the monsoons, and you never let them catch you outdoors. Because the monsoons start not with meek drops seeking permission to carry on, but with a blustery deluge telling you to get the hell out of there or else. And yet, as with the manic bird, the storm produces only smiles. What isn't better than that merciless sun? Why shouldn't a bird, a storm, and the promise of mangoes make you smile?

It made me smile too, although it was just a memory - it was just a tremulous smile. It carried me through the morning while I dropped my children off at school where I knew no one.

I drove past the large hoarding in front of the new block of apartments which said, 'If you lived here you would be home now' and through the orderly lines of traffic to work, where again I knew no one. Although that was not strictly true. There was Caitlin at the front desk. She knew my name. And Lisa in the secretary's room, she knew my name too. They both looked up as I passed and produced the perfunctory nod and smile that said, "Good morning" and no more. No avid interest in my appearance, no reference to a previous conversation, no knowledge at all of my background. How could there be?

I was like that koel, supplanted in someone else's nest, in a world that did not belong to me. I was the person in the next room, the sheila - it's what they call 'woman' Down Under. The sheila from Pakistan. Oy.

"Hey Mariam, come along for lunch today? Jane and I are thinking of Fast Eddy's."

God bless Karen. She was always there when I was at my lowest.

It was a hot afternoon. In that respect Perth was no different to Lahore. We had an hour, maybe an hour and a half to get to lunch and back. Fast Eddy's was around the corner. Karen stopped the car, Jane and I got out. Halfway across the parking lot something zipped across the sky over our heads with a noise that rose rapidly to a hysterical crescendo.

"Bloody storm bird," Karen growled.

My jaw dropped when I heard that sound, that wonderful manic laugh. My heart turned over and my face was suddenly wet with tears.

"Mariam? What happened? Mariam? Did I say anything?"

There were koels in Perth too.

 "Oh man, she's crying. I don't know what happened. Mariam?"