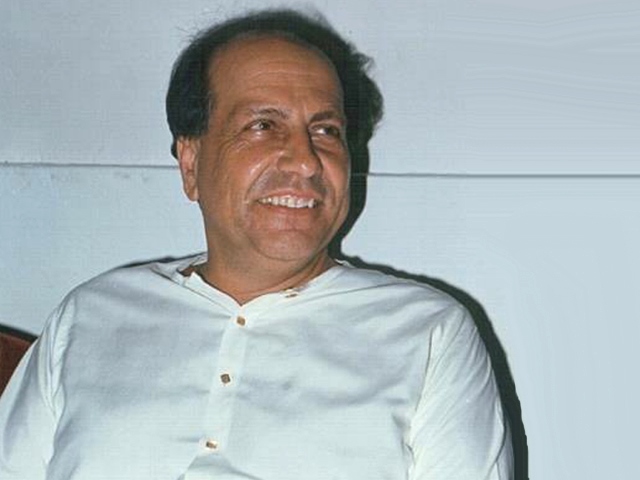 ---
Remembering my father, Salmaan Taseer, and his love for pranks on his 73rd birthday
Abba's age-long political rival, Nawaz, was not excused from his pranks, who Abba sent flowers to on Valentine's Day.
---
At last I'm able to laugh about my father, Salmaan Taseer, and remember the good times without anger and sadness. More than six years after his death, I found myself at a dinner table with the company coiled in helpless laughter over my Abba's stories. As today would be his 73rd birthday, I'm happy to share his light-hearted side and humour.

Abba had the most wicked sense of humour. Friends, relatives or his children were not immune from his tricks, pranks and one-liners, and all who knew him will attest to his fun and vivacious side. He always managed to spontaneously highlight the comical side of a situation; when things were not funny, he would create situations that were. Moreover, he had names for people and had a knack for breaking the ice with one of his witty comments.

He had a bee in his bonnet about everyone in the house rising and shining at an unearthly early hour. He loved mornings and insisted on the whole family gathering around for an early breakfast. When asked why he was so peppy and focused in the morning, he answered wryly that it was an old prison habit – my father had been incarcerated many times because of his political views under General Ziaul Haq and the Sharif government.

On regularly finding us kids still snoring in bed as he sipped his early morning tea, he devised novel ways of waking us up. One favourite he reserved for my sister Sanam was shoving his huge, ungainly and very slobbery (and smelly) bulldogs under her covers while she slept. Scarred from being repeatedly woken up by bulldog slurps all over her body, Sanam still wakes up at the crack of dawn.

Furthermore, even his age-old political rival, Nawaz Sharif was not excused from his pranks, and he chose Valentine's Day 2010 to send a beautiful bouquet of roses to Nawaz who had criticised him earlier at a conference in Islamabad. Abba, on a day dedicated to celebrating love, counted Nawaz as one of his admirers, and expressed joy and happiness on being on Nawaz's list of people he admired. He also thanked Nawaz for remembering him in the press conference in Islamabad. The incident even went viral on different media platforms. Nawaz was irked by my father's gesture, who had a jolly good laugh.

When mobile phones newly became part of our lives in the 80s, Abba decided to have some fun with his new brick-sized gadget. He was in the bathroom with his recently acquired phone and the traditional landline rung. I answered, and a French-sounding gentleman on the other end requested to speak to my father. I knocked on the bathroom door and Abba said he's unable to speak to anyone at the moment as he was sitting on the throne. I informed the Frenchman on the phone of my father's unavailability who then informed me that he was calling from the French embassy and must speak to Mr Taseer urgently. When I knocked on the bathroom door once again, Abba's irritated voice replied and gave me details of what he was up to in the loo which made it impossible for him to attend the call.

I surely could not reveal to the caller all those details, however, I picked up the phone and told the Frenchman that my father was busy at the moment and cannot come to the phone.

"Is he in the bathroom?" the Frenchman inquired.

I hesitated, and confirmed he was.

"Is he doing some nasty business there?" the Frenchman further probed.

Further questions followed, inquiring about all the unspeakable throne details Abba had just revealed to me. I was aghast, and shut the phone in horror and confusion. I ran to the bathroom to tell Abba that the Frenchman had been horrifically graphic, to which I heard him having a good laugh in the bathroom, revealing that it was he who was on the line, pretending to be a Frenchman.

One weekend morning, in the 90s, as he was reading the morning classifieds in the newspaper, he chanced upon an advert selling antique furniture. He inquired further and found out that it was his good friend Najam Sethi who was the seller. Given his mischievous nature, he couldn't let this opportunity pass without some fun.

Very good at accents, he called up Mr Sethi as an Arab and inquired about the prized antiques. He told the excited Mr Sethi that he was a visiting sheikh who was an avid collector of antique furniture and would buy the entire lot and offered an exorbitant price, saying he could not wait to collect the pieces and would be at Mr Sethi's residence before the hour was up in his new white Mercedes.

Abba was not one to let his prank end there, and sauntered off to Sethi's Lahore residence and entered saying he had dropped in for some morning tea and a weekend breakfast with his old friend. Mr Sethi, who was expecting an Arab billionaire, was most agitated to see my father stroll in at this time of the morning.

"Partner," he said to Abba, "This is really not a good time."

He told Abba he was expecting some important foreign guests and that Abba should perhaps meet up at another more convenient time. Not to be deterred, Abba looked hurt and offended, and dug his heels in a cup of tea and some desi breakfast, enquiring who on earth Sethi was expecting so early on a Sunday morning.

Exasperated, Mr Sethi revealed that some Arab friends were due. Feigning surprise, Abba asked Mr Sethi if they were due in a white Mercedes. Mr Sethi nodded in confusion, to which Abba then proceeded to inform him that on his way over, he had met some Arabs in a white car looking for Mr Sethi's house to buy some furniture. Abba said he had told them to be on their way as they were surely under some misunderstanding about his journalist friend who had no interest in the furniture business.

As you can imagine, Mr Sethi was aghast and could not believe how Abba had ruined his treasured imminent transaction. However, he soon picked up on Abba's prank and the story has coloured many conversations since.

On Twitter, he was very entertaining and his razor sharp wit was legendary, often directed at me. Here are some examples:



I've decided to sacrifice something dear to me for Eid. Where are you Sara?


My daughter Sara is going to Spain to watch the football final. Somebody forgot to tell her it is in South Africa.


A thief stole my credit card a week ago but I didn't report it because I saw he was spending less money than my wife. True!


My wit is not appreciated by all. Someone agitated 'no governor in the universe Twitters like you'. I took it as a compliment.


After my interview on Dunya TV tonight, I will consider opening an exclusive ST fan club. Minimum requirement under 80 with a heartbeat!




6. I'm surprised to see Nawaz Sharif complain about Babar Awan using private planes as he and Sharif family use the Governor Punjab plane like a rickshaw.

7. Sharifs are transporting Paul the Octopus to Raiwind to predict their future! I'm afraid he may end up in their paya if he tells the truth.

8. Tried for Angelina Jolie to accompany me to Muz'grh but got Farzana Raja. Sare khawashat pure nahin hote (All dreams don't come true).

9. Watching a horror movie on HBO or Rana Sanaullah, Ijaz Haq, Ikram Sehgal on talk shows? Chose HBO, it's less scary.

I hope I've been able to offer a sprinkling of his boisterous and vivacious side. Most who knew him can tell a good story about him, and his larger than life personality remains part of his very broad legacy.

Happy Birthday, Abba!