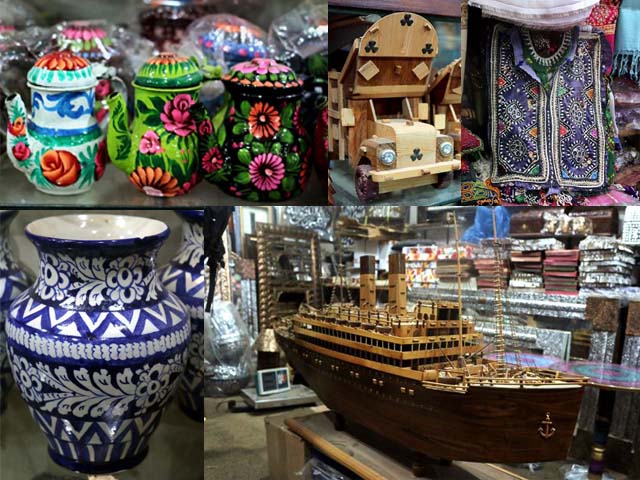 ---
Discovering Pakistan's circumstantial craftsmen
Pakistan is blessed with minerals and craftsmen who beautifully transform them into exquisite pieces of art.
---
After their father fell seriously ill, two brothers Rameez and Khurram devoted their lives towards pursuing his dream. Their mission was to open their own handicrafts' shop as their father was fond of wood carving.

Rameez, expressing his gratitude towards his father with a smile on his face, said,

"I remember the words of my father very clearly. He said when you craft, you create and that creation is all yours. Not only is it satisfactory, it is magical."

The two brothers have set up their own shop in Saddar for over 30 years now. Khurram pointed towards his hands and added,

"When a man works, the hands suffer. The line of destiny on my hand has faded as well, but my hard work has surely paid off."

The two sons are not too worried about their income and they are happy with whatever they earn.




If having dozens of handicrafts is a wish, then this shop is a utopian dream. The items here range from every province; from the historically famous art of Hala to the modern day truck art along with a slight blend of Indian culture.

Craft like a Chinioti




Chiniot is famous all over the world for its woodwork and its wood carvings are a collector's delight. The beautiful carvings on the timber decide the value of the item. The value increases depending on the tools used.




Rameez and Khurram are both experts in wood carving. They have taught many other people in their surroundings who also work for them. They use the inlay technique where wood is decorated by adding contrasting-coloured materials and then lathing and painting them.

Hands of grace




The craft of Kutch, also known as kachichi is solely done by women especially from the district of Kutch. It's a traditional form of hand-made embroidery practiced over cotton and silk fabrics, sewed in a geometric pattern. The embroidery is then decorated with beads and small mirrors called abhla. These colourful patterns vary from one item to another and highlight the vivid and vibrant culture of Gujarat, India.




Their shop has especially collaborated with women from the Kutch district; they  purchase these exquisitely handcrafted bags and other items on an annual basis from them.

The blues of Hala




The famous blue pottery is made from a special kind of clay which allows pots and other pieces to be denser than usual.




The artisans are renowned for this noted thin style of pottery making. The style consists of painted blue and white dye with numerous floral patterns, which gives it a delicate and elegant look.

From the woods of the walnut




The naqashe Kashmiri or the Kashmiri wood work is considered as one of the greatest heritages in wood carving. Kashmir is the only region where walnut trees grow in abundance and these beautiful items are carved from the wood of the same trees, which is known to be one of the strongest kinds of woods.




The artistry of the wood work depends on the cuts and how thinly it is carved; this determines the value of the end product. Kashmir has its whole range of cottage industries where wood is carved.

The ornaments of Kashmir




This ancient art is practiced over many regions in Kashmir. These beautiful silverware and brassware were once used as household items and utensils, especially during the very famous Mughal era, but now they are considered to be ornaments.




The weight determines the price and the value of the object as well as how much an item is embossed. These products were used in the region of Khyber-Pakhtunkhwa (K-P) as dowry gifts to newly-weds, but due to rise in prices and modernity taking over the tradition, the utilisation of these beautiful items has become minimal.

Marble marvel




Pakistan is recognised world-wide for its top quality marble and onyx. The country is blessed with minerals and craftsmen who beautifully transform them into exquisite pieces of art. The marble art is especially performed in areas of Balochistan and its production took a boom from the year 1994.

Modern craft cave




The modern Pakistani handicrafts' business is spreading like a virus across the globe. This includes the Sindhi shisha moti ka kaam (Sindhi beads and mirror work) with a modern touch and the beautiful, traditional truck art over numerous objects.




According to Rameez, the modern take on Sindhi mirror and bead work is very interesting to the customers, and many times they have run out of stock, due to which they pre-order these items before the season begins.




Dazzling key chains, book cases, pen holders and other variety of items are handcrafted via this skill.




The modern take on the traditional truck art is an eye catcher for many tourists who visit their shop. The business gets better as many items are sold during the winter season as many tourists visit Karachi then. Each small pot costs around Rs250 and the big ones can range from Rs500 to Rs1,500.




According to Rameez, these painted pots bring in the most business as the demand is high among locals as well as foreigners. It has been over five years since they introduced this modern artistry to their shop. It's a simple procedure where clay pots are painted using enamel colours which bring out the shine and vibrancy in the item. Over an estimate, their income depends 50% on the painted pottery.




Their colourful shop called Rameez Handicrafts is the hard work of these two brothers who did their best to fulfil their father's dream.




The shop is situated in Zainab market, Saddar and is known for its famous handicrafts from all the provinces of Pakistan.

Additional research and content generation: Fawad Jaffri and Saharish Saleem and Jaweria Shabbir

All photos: Owais Jadoon


Facebook Conversations
COMMENTS (1)
Comments are moderated and generally will be posted if they are on-topic and not abusive.
For more information, please see our Comments FAQ