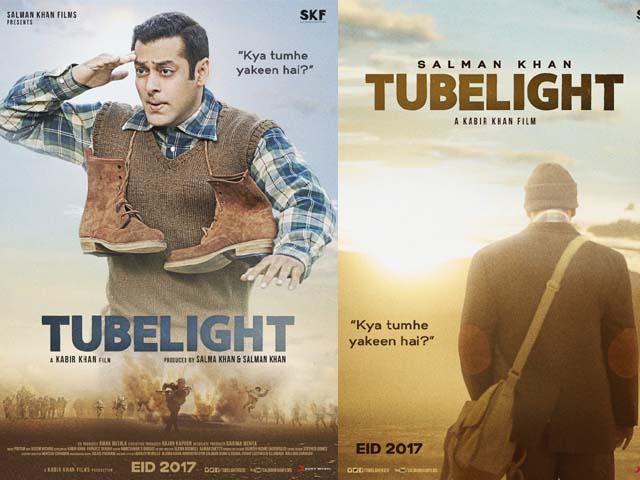 ---
Tubelight seems intense and exciting, but can it be another Salman-Kabir blockbuster?
Salman's quirky role in the film is quite different from what he usually opts for, that is the typical macho man.
---
For many people around the world, Eid is incomplete without the release of a Salman Khan film. Salman and Eid have gone hand in hand for quite a long time now and similarly, this Eid, Salman will be releasing his much awaited film titled 
Tubelight
 directed by Kabir Khan.


While the film is scheduled to release on June 23, the teaser trailer of the movie dropped recently and set social media ablaze. The film is set during the 1962 Indo-China War and features Salman Khan, Sohail Khan and Chinese actress Zhu Zhu as the principle cast. There is even a cameo from the beloved Shah Rukh Khan.


#TubelightTeaser Fastest Reach #400k Likes On #Youtube😎
Megastar @beingsalmankhan Rules 🙏#TubelightFastestEver400KLikes#Tubelight#Kirraak pic.twitter.com/h8T8bw4AOy

— ⚡ Kirraak Salman Fan ⚡ (@KiraakSalmaniac) May 8, 2017
"Salman Khan's Dhamaka"⚡️🤗⚡️#SalmanKhan's #Tubelight Teaser BREAKS #Rajinikanth's #Kabali Teaser Record
Watch Out 👉https://t.co/vUGdzxvOMY pic.twitter.com/WL3XmgsU5h

— Bollywood Spy (@BollySpy) May 18, 2017
#SalmanKhan's #Tubelight becomes the FIRST movie EVER to have it's own #Twitter emoji! https://t.co/pmw6fDYuDI#TubelightKiEid pic.twitter.com/og568VJyV9

— dna After Hrs (@dnaAfterHrs) May 16, 2017


The vibrant teaser shows the beautiful and breath-taking locations the film has been shot in. However, the opening scuffle on the battlefield seems pretty intense and exciting. The best thing about the teaser though is bhai himself. Aside from that, it also has an abundance of emotions and we can definitely anticipate some tears.




Judging from the shot where Salman has two shoes hanging around his neck, one can note that his character is going to be a quirky one. There's also a scene that shows Salman shaking the Earth (and no, he is not the Indian Magneto).




Salman's character can be heard saying,

"Yaqeen ek tubelight ki tarah hota hai, dair se jalta hai. Lekin jab jalta hai toh full light kardeta hai."

(Trust is like a tubelight, it takes a while to switch it on. But once it does go on, there is light everywhere.)

His role in the film is quite different from what Salman usually plays, that is the typical macho man.




The end credits indicate that Tubelight is based on the Hollywood film Little Boy, which was released in 2015 and set against the backdrop of World War II. Little Boy tells the story of a young kid whose father has gone to fight in the war against Japan and the boy sets out on a quest to get his father back home. In Tubelight, Sohail plays the brother who goes to war.




This is Kabir and Salman's third collaboration after the hits Ek Tha Tiger (2012) and Bajrangi Bhaijaan (2015). Just like their previous releases, this one is also expected to set the box office on fire.