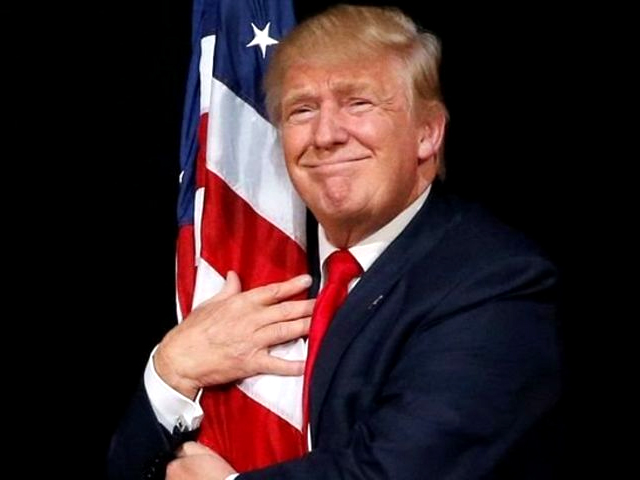 ---
So far so bad: 100 days of Donald Trump made America great again
To his credit, Trump has provided much comic relief, especially on the internet, with his unconventional methods.
---
Against all odds, US President Donald J Trump has completed 100 days of office. While the US president's tenure so far has been tumultuous, with protest after protest erupting across the country, Trump has also baffled the United States and the rest of the world with his conflicting, sometimes bizarre views and methods. 

To his credit, Trump has provided much comic relief — especially on the internet — with his, let's just say, unconventional methods (there is madness in them, yes).

From announcing foreign policy on Twitter to labelling every news outlet as "fake news", the leader of the free world has gone about making America great again at a feverish pace. Here's a look at the first 100 days of the alt-fact presidency of Donald J Trump:

1. Being President

In a recent interview to Reuters, Trump said,

"I loved my previous life. I had so many things going. This is more work than in my previous life. I thought it would be easier."

Let's consider the statement.

Trump, in his previous avatar, was a wealthy businessman who became a household name after hosting a reality TV show, The Apprentice. We are pretty sure that being the president of the most powerful country in the world would be a (little) difficult than being a reality TV star. Can't say no one warned him, even the bald eagle did.


my job pic.twitter.com/H0FL6n8JP5

— Trump Draws (@TrumpDraws) April 28, 2017


What were you thinking, Mr President? Or, were you thinking at all?

2. Shake it like Trump

During the 2016 US presidential campaign, Trump's hands were the subject of much debate. After becoming president, he has raised the bar, in a slightly different way, courtesy the Trump handshake. For once, he inspired the internet without actually speaking a word — let alone firing a tweet. You say it best when you say nothing at all, Mr POTUS.

Japan's Shinzo Abe was the first recipient of the Trump shake:


#DonaldTrump's awkward handshake with Japan's Prime Minister #ShinzoAbe was PAINFUL to watch! (sound on for full enjoyment!) pic.twitter.com/gRzbvOMwwq

— I Doubt It Podcast (@IDoubtItPodcast) February 10, 2017


And then, there was Trump appearing to snub German Chancellor Angela Merkel during a photo op at the White House. Making America great again, one shake (or snub) at a time.


Donald J. Trump appears to ignore requests for a handshake with Angela #Merkel during their first meeting.
Credit: @businessinsider pic.twitter.com/Q4QZqpabJN

— The Kelves (@the_kelves) March 17, 2017


But he was caught off-guard by his neighbour, no less. It appears only Canadian Prime Minister Justin Trudeau has found the perfect way to counter the Trump shake:


Justin Trudeau is all of us. pic.twitter.com/su2ixX6DDe

— shauna (@goldengateblond) February 13, 2017


Comfortably thumb.

3. Take heart, Mr President

That moment when the US president had to be nudged by the First Lady, Slovenia-born Melania Trump, to put his hand on his heart during the national anthem — the quintessential way of honouring the star-spangled banner and all that it stands for.

Take heart, Trump.

https://twitter.com/SteveKopack/status/853984203616247808

In case you missed it:


*Anthem plays*
Trump: oh I know this song!

Melania: *nudge*

Trump: I know, I was just seeing if you would notice.. pic.twitter.com/BkJFzPrTMs

— Tareq (@EdrisTareq) April 17, 2017


4. Death by chocolate

Now, this one wasn't funny at all, despite Trump.

In an interview to Fox News, Donald Trump said that he informed Chinese President Xi Jinping about the missile strikes on Syria over chocolate cake. He even got the country wrong, referring to Syria as "Iraq".


Trump remembers details of cake he was eating while launching missiles, but not which country he was attacking. pic.twitter.com/TYfqXXDeCZ

— Kenneth P. Vogel (@kenvogel) April 12, 2017
"I was sitting at the table. We had finished dinner. We are now having dessert. And we had the most beautiful piece of chocolate cake that you have ever seen. And President Xi was enjoying it."

Bite that.

5. Twitter star

Trump has used Twitter to target his opponents, reach his supporters and, sometimes, even as a tool of foreign policy.

"Trump still believes that Twitter is the best avenue in reaching his supporters, and he's not wrong," remarked Kellan Terry, a data analyst with Brandwatch, a social media analysis platform.

Now, there is some truth to the above statement, but Trump's Twitter meltdowns sound more and more like an extremely melodramatic reality TV show.

Sample some gems:


Terrible! Just found out that Obama had my "wires tapped" in Trump Tower just before the victory. Nothing found. This is McCarthyism!

— Donald J. Trump (@realDonaldTrump) March 4, 2017


After a federal judge in Washington suspended Trump's executive order banning refugees and citizens from seven Muslim-majority countries, the president spoke thus:


When a country is no longer able to say who can, and who cannot , come in & out, especially for reasons of safety &.security - big trouble!

— Donald J. Trump (@realDonaldTrump) February 4, 2017
The opinion of this so-called judge, which essentially takes law-enforcement away from our country, is ridiculous and will be overturned!

— Donald J. Trump (@realDonaldTrump) February 4, 2017
SEE YOU IN COURT, THE SECURITY OF OUR NATION IS AT STAKE!

— Donald J. Trump (@realDonaldTrump) February 9, 2017


6. Caught peddling "alt-facts"

Ever since taking over the White House, Trump and his close aides, especially Steve Bannon and Kellyanne Conway, have been routinely peddling lies and making false claims on various subjects, branding them "alternative facts". In fact, according to a database maintained by The Washington Post, Trump has made 452 false or misleading claims in 98 days as President of the United States.

Here is one instance where Trump's lies were called out by the media:


.@PeterAlexander fact checks Donald Trump on Electoral College results from previous elections. pic.twitter.com/LrlfCoocYU

— CSPAN (@cspan) February 16, 2017


7. Defacing the Nation

Trump casually bragged in an interview to AP that his TV ratings on CBS's Face the Nation are the highest "since the World Trade Centre came down". Now, this is a highly insensitive comment from any president of United States, which has never been the same since 9/11.

But since this is Trump, it hardly caused much outrage.


So Trump just bragged that his ratings on 'Deface The Nation' were the highest since the 9/11 attacks. The man really is a piece of shit.

— Dana Goldberg (@DGComedy) April 25, 2017


Here's to a century of outstanding events that made their way into Trump's run as President. So far, so bad.

In his weekly address, POTUS announced:

"I truly believe that the first 100 days of my administration has been just about the most successful in our country's history."

Alt-right Mr President.

This post originally appeared here. 
Facebook Conversations
COMMENTS (2)
Comments are moderated and generally will be posted if they are on-topic and not abusive.
For more information, please see our Comments FAQ