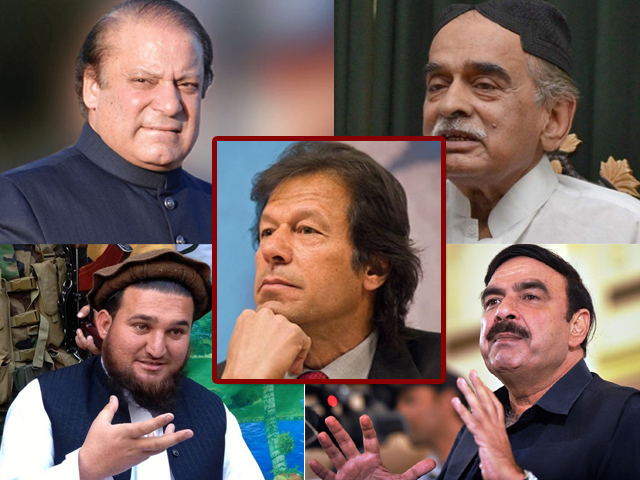 ---
What kind of Naya Pakistan do Imran Khan and PTI have in mind exactly?
If Shaikh Rasheed and Mustafa Khar are the faces of Naya Pakistan, then we're better off with the current one.
---
A lot has happened in the last few days. The much awaited "historic" verdict of the number one obsession of Pakistani TV anchors, Pakistan's chattering white collar urban middle classes, and their favourite political party, Pakistan Tehreek-e-Insaf (PTI), finally arrived.

When the news came that a joint investigating team (JIT) had been formed to investigate the corruption of Prime Minister Nawaz Sharif, I contacted a famous journalist whom I have the privilege of knowing and expressed my frustration that this nonsense would drag further. His reply was:

"Well, in a country where there is no entertainment, such things fill the gap!"

He could not have said it better.

The opening wording of the verdict, a quote from the movie The Godfather, depicts less about the corruption of the prime minister and more about the over-dramatic nature of the entire episode.

For a year, every issue has literally taken a backseat and the media discourse has been largely focused on "corruption" of the prime minister. The remaining focus is on trivial issues of the same nature such as the Dawn leaks case.

Frankly speaking, the Panamagate issue is nothing but an over-sensationalised and over-promoted soap opera which the hyperbolic self-righteous urban middle class in Pakistan has gobbled and its political representative PTI has exploited. PTI has been so fixated with the issue that even suicide bomb blasts have been termed as a conspiracy by the government to divert the focus away from the Panama leaks.

The latest gem to come from PTI Chief Imran Khan entails accusations that the prime minister had offered him 10 billion rupees to stay mum on the Panama case. Any sensible person will merely laugh at this absurd claim by the great Khan.

Is corruption an important issue? Yes, it is, but it is not the only issue or not even the most important one. Pakistan has a myriad of more serious issues, including gender imbalance, rising extremism, chronic civil-military imbalance, risk to religious minorities and ethnic fractionalisation which is always tearing the polity apart. Overzealous obsession about corruption is basically an urban middle class characteristic emanating from its own morality.  Since the media disproportionately focuses on the concerns of this class, this is highlighted at the cost of all other issues.

Even if one assumes that corruption is the top most issue, then the prime minister's alleged tax evasion committed decades ago, while condemnable, is not that big of deal to merit such obsession. For the past one year, it seems that Pakistan's entire future is hinging upon finding whether those apartments purchased in 1990s were obtained through tax evaded money or not.

Let me clarify for the benefit of the obsessive PTI brigade that there were literally hundreds of Pakistani names in that list including of top business houses. Considering the fact that Pakistan is largely an undocumented economy, many business houses during the past decades established such offshore companies. What Nawaz did was wrong but not unusual. I am not justifying it; it is certainly wrong but does not merit the kind of singular focus given to it.

If corruption as an issue is so dear, then as a principle we should be asking for broad reforms including demanding public audit of every institution. However, rather than a campaign against corruption, it is simply a campaign against one person.

The funniest nonsensical comparisons being made are with Iceland. Since the prime minister of Iceland resigned after the Panama leaks, our over-smart TV anchors and PTI supporters have been constantly citing that as an example. I have also read passionate articles where Nawaz's lack of "sadaqat" and "amanat" as required by Articles 62 and 63 of the Constitution, is compared with principled gesture of the prime minister of Iceland.

As a student of comparative politics, let me assure you that comparison between a developed and a developing country is wrong at many levels. While comparing countries, we should be mindful of the differences in population, history, socioeconomic indicators, and political institutionalisation.

Moreover, if all of you are so concerned that Pakistan should follow Iceland then why not emulate it with respect to gender equality, which frankly is a far graver issue as far as Pakistan is concerned. Iceland topped the Gender Gap index in 2016 whereas Pakistan was second last in the entire world! Have the PTI supporters and even general critics who are so obsessed over the resignation of Iceland's prime minister ever shown concern over that disparity? Why not raise our voices to make Pakistan an improved place for women who form half of our population? But no, the only thing in which we want to follow Iceland is its prime minister's resignation! Let me politely remind everyone again that PTI even opposed the women protection bill!

I keep reading that only Imran is the right choice due to his clean image. Even those who claim that he may have issues think that he is the "bitter" pill we have to swallow since he exposed Nawaz's corruption. The fact that Imran has consistently undermined democratic process has not played a role in any progressive legislation, and the fact that he has also courted hardliners is simply disregarded. Recently, Ehsanullah Ehsan, a Tehreek-e-Taliban Pakistan (TTP) spokesperson, has turned himself in and claimed that India's Research and Analysis Wing (RAW) has been funding TTP. Let me politely remind all, that once upon a time, Imran had wanted TTP to be allowed to their open offices in Pakistan and TTP also nominated Imran as their representative for peace talks with the Pakistani government. If TTP is indeed funded by RAW, then this implies that Imran was actually inadvertently aiding the enemy. To call him a "bitter pill" is an understatement.

Recently, the "Lion of Punjab", Mustafa Khar has also decided to join PTI. Mr Khar's record with respect to domestic violence and misogyny is well known.

I really don't know what kind of Naya Pakistan PTI has in mind? If Shaikh Rasheed and Khar are the faces of Naya Pakistan, then we're better off with the current one.