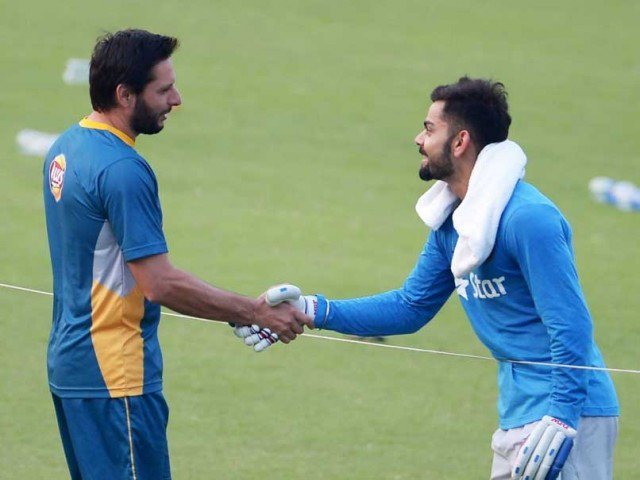 ---
Virat Kohli gifting Shahid Afridi a jersey proves that cricket transcends boundaries
This, after all, was the same Shahid Afridi who had once accused Indian fans of not being big-hearted.
---
The thing about sports is that it is always at the mercy of politics. However, individuals always find a way out. It is hard to believe but Indian and Pakistani cricketers don't really get involved in slanging matches off the field, although between players from India and Australia, it is a possibility these days.

So when we hear that Virat Kohli and the Indian cricket team gifted Shahid Afridi a jersey as a farewell gift on his retirement, it was a gesture that even the tough-to-please Twitterati applauded.

"To Shahid Bhai best wishes, always a pleasure playing against you," wrote the Indian cricket captain on the jersey along with signatures of several members of the team including Yuvraj Singh and Ravichandran Ashwin.
Thank you to you and the entire Indian team for a wonderful farewell gift @imVkohli. Respect superstar, hope to see you soon 😊 pic.twitter.com/DGz8aMs1Xv

— Shahid Afridi (@SAfridiOfficial) April 21, 2017
It's a pleasure to have gifted something of importance and a lasting memory @SAfridiOfficial God bless you with everything in life See you 😊

— Virat Kohli (@imVkohli) April 21, 2017


Afridi and India have had a unique relationship; there was a time when the former Pakistani skipper was served a notice for allegedly committing treason when he announced that Pakistani cricketers get more love in India than back home. It was a statement that took even us aback.

But the political compulsions of the two countries are such that the 'word' sometimes needs to be taken with a pinch of salt. This, after all, was the same Afridi who had once accused Indian fans of not being big-hearted. The players, I suspect, at least publicly blow with the political wind but personally would not be averse to sharing a meal or three. Nor would they oppose playing the lucrative Indian Premier League (IPL).

Bollywood actor Rishi Kapoor recently asked on social media why we no longer include players from across the border in the tournament. The last time Pakistani cricketers played was in the inaugural tournament in 2008 with the exception of Azhar Mahmood who has taken part in several editions since he is a British passport holder.

Kapoor tweeted that IPL has world players and this was also the first time that a cricketer from Afghanistan was taking part in the league. His plea is to consider including Pakistani players, saying only then it will be 'game on'.

"Hum Bade log hain," he finishes.
IPL. You got world players. Afghanistan makes debut. My plea is please consider Pakistani players.Phir match hoga! Hum bade log hain.Please!

— Rishi Kapoor (@chintskap) April 4, 2017


No one can deny the charm of what he is asking; Wasim Akram was a familiar face in the Kolkata Knight riders' players' dugout as their mentor and bowling coach through several editions but he has chosen to skip this one. Ostensibly, it is because he is caught up with other professional commitments but it is also likely that the Knight riders' captain Gautam Gambhir's statement to stop all cricketing ties with Pakistan after a severe terrorist attack in India's Uri is the reason.

Relations between the two countries have a direct impact on cricket, as subcontinent politics' biggest ambassador, Rameez Raja, once said,

"Cricket, cricketers and fans transcend boundaries."

Sadly, in our complex history, it is not always possible to differentiate between the two.

But no matter what, sports is a big healer. The recent attack on the Borussia Dortmund football team bus forced the match to be postponed by a day. Stranded Morocco fans were forced last minute to search for a place to crash. But soon, the hashtag 'bedforawayfans' started trending, and rival supporters spent the evening sharing a meal and a home.


#welcomebvbfans #bedforawayfans Thank you fans of @BVB and @AS_Monaco for showing the beautiful side of football. It warms my heart 💛🖤❤

— Anja 🏡 (@AM_RG13) April 18, 2017
Shocked by attack on @BVB bus in Dortmund. Wonderful to see solidarity among fans w/ #bedforawayfans & football connecting people!

— datensuche (@Datensuche) April 19, 2017
@ImSumrani #BedForAwayFans is what Football is about - compassion, spirit and above all the belief to go beyond religion, race, language

— deepa kapoor (@sonam3010) April 15, 2017


Sometimes though, competitiveness transcends into the private space, and I suspect Spanish defenders Sergio Ramos and Gerard Pique would be the first ones to get into another sort of match once the real game is done. The fact that Ramos was sent off in the El Clasico over the weekend became all the more entertaining when he decided pointing fingers at the Barcelona defender would deflect from his own foolish tackle that reduced Real Madrid to 10 men in the crucial encounter.

Hence, it takes all kinds to make a world and all types to play on a field. India and Pakistan haven't had a bilateral series for more than a decade so we can no longer say if the fans will be like the Dortmund supporters or like Ramos. For now, social media has something else on its mind. It is common knowledge that Afridi hasn't retired for the first time. But is it the last?

A curious cricket lover asked,

"Will Afridi return the t-shirt when he comes out of retirement?"

His guess is as good as mine.
Facebook Conversations
COMMENTS (3)
Comments are moderated and generally will be posted if they are on-topic and not abusive.
For more information, please see our Comments FAQ