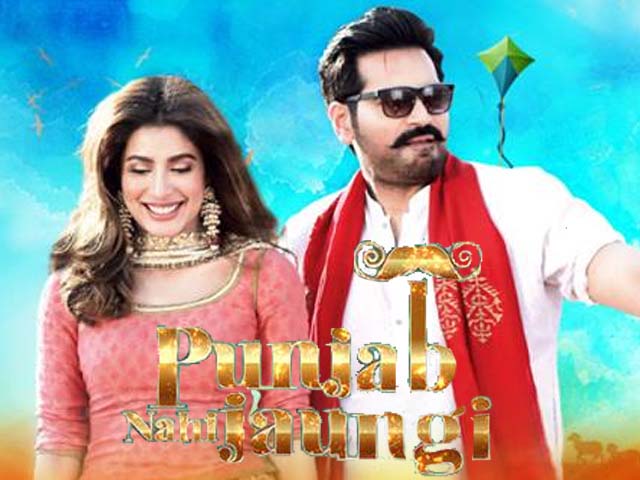 ---
Does 'Punjab Nahi Jaungi' have what it takes to rejuvenate Pakistan's film industry?
The film doles out drama, romance, blood, and tears in large doses, enough to move the most jaded of filmgoers.
---
There is a lot of spectacle, colour, emotion, singing and dancing in the recently released teaser of Punjab Nahi Jaungi. Two beautiful ladies, however, stand out amidst all the razzle and dazzle of the decidedly glitzy 75-second video. One is the glamorous Saba Waseem Abbas who walks ever so seductively, wearing pink, orange and purple, to welcome a triumphant Humayun Saeed to her home. The second is the perennially beautiful Naveed Shahzad who registers her regal presence in the teaser with remarkable grace and style.


There is, of course, no shortage of eye candy in Punjab Nahi Jaungi. The first collaboration of ARY Films and Six Sigma Plus, after the spectacularly successful Jawani Phir Nahin Aani, the film stars some of the finest looking actors of Pakistan. Saeed, Mehwish Hayat, Azfar Rehman, and Urwa Hocane form the corners of the love quadrangle of the production. The film tells the story of two lovers, played by Saeed and Hayat, whose romantic relationship is complicated by the attention of the characters played by Rehman and Hocane and by the displeasure of their elders. The film doles out drama, romance, blood, and tears in large doses, enough to move the most jaded of filmgoers and make a mark at the box office.




Punjab Nahi Jaungi's biggest strength is most likely the tremendous chemistry between Saeed and Hayat, who first appeared together in Jawani Phir Nahin Aani and subsequently in the highly rated television serial, Dil Lagi. Beautiful, confident and winning, the actors form a couple that looks good on screen and makes love stories engaging, believable and interesting. Saeed, who made his acting debut more than two decades ago, looks good, not to mention young and owns the screen with his strong presence, charm and charisma. Blessed with oodles of stardust, the resourceful actor continues to be Pakistani cinema's most bankable star year after year.

The immensely talented and funny Ahmad Ali Butt brings his unique style of comedy to Punjab Nahi Jaungi. Fans of his comedy and those who enjoyed his performance in Jawani Phir Nahin Aani are likely to flock to the theatres just to watch him. In a matter of a few years, Butt has become one of Pakistan's most popular comic actors. After Jawani Phir Nahin Aani, audiences have high expectation of Butt and, based on the teaser, they are unlikely to be disappointed.




The very debonair and talented Rehman makes his cinematic debut with Punjab Nahi Jaungi. The star of many successful television plays and films, Rehman has a huge fan following and adds to the film's attraction. He appears briefly in the teaser, but we hope he gets his fair share of screen time in the film. Relegating the brilliant young actor in an unimportant role would be both sad and wasteful.




Punjab Nahi Jaungi has a lot going for it and comes in a year which needs a big hit; 2017 has not been kind to Pakistani films as there has been no big hit in the year thus far. Punjab Nahi Jaungi is likely to be the hit that is needed to rejuvenate the industry and attract crowds of filmgoers to theatres. Although its commercial success is all but a foregone conclusion, the teaser of the film raises concerns that the film borrows a little too heavily and too freely from Bollywood.

The teaser includes a scene that has been lifted from 1999 Bollywood film Hum Dil De Chuke Sanam and several shots reminiscent of Karan Johar, Sanjay Leela Bhansali and Yash Chopra films. The largely original Jawani Phir Nahin Aani was strengthened by its quintessentially Pakistani sense of humour. Audiences looking for the same level of originality from the team that made Jawani Phir Nahin Aani may be in for a disappointment if Punjab Nahi Jaungi turns out to be another Bollywood knockoff. That would be sad and a step backwards for the Pakistani film industry.
Facebook Conversations
COMMENTS (2)
Comments are moderated and generally will be posted if they are on-topic and not abusive.
For more information, please see our Comments FAQ