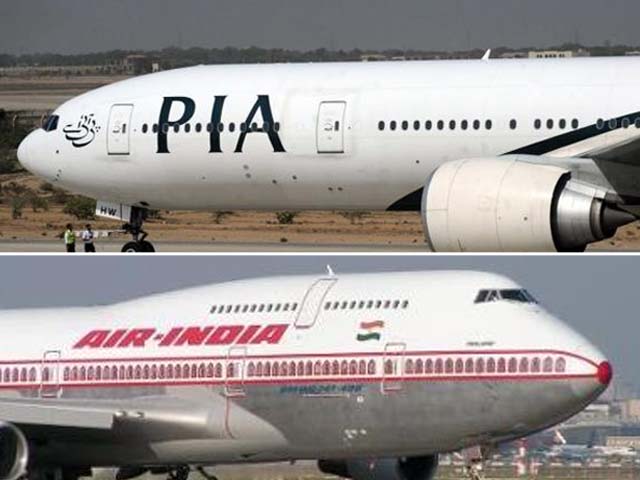 ---
Is it really possible to revive government-owned and managed airlines like PIA and Air India?
PIA is shrinking and crumbling under its own weight, and private airlines are filling the gap in demand and supply.
---
Both Indian and Pakistani successive governments seem to have been stuck in the same situation. Operating a government-owned airline profitably in a deregulated air transport environment is an unachievable target.

Had this been possible, British Airways, Lufthansa, KLM, Air France or, for that matter, all airlines in Europe, North/South America, Africa, Far East, and Australia would not have been privatised, following deregulation in 1978. The simple explanation is that government-owned entities cannot compete with private ones, in terms of price and quality, in a highly competitive market.

Gone are the days when national airlines used to be protected from competition, not only in the domestic markets but international ones as well — a situation that existed worldwide between 1944 and 1978. The problem with successive government-owned airlines, such as Air India and Pakistan International Airline (PIA), has been political economy. But I would like to discuss PIA's specific issues in detail because of my personal experience as a 'service provider' (Air Traffic Controller and Airport Manager) as well as an 'Air Transport Regulator' (Bilateral Air Services Agreements, Economic Oversight and Consumer Protection).

Every political party in Pakistan has a union in PIA named after it. You could count at least five of them among the staff, just as active as their parent political parties. Pilots, engineers and other administrative groups also maintain pressure groups in the name of associations, extorting perks and privileges unimaginable in private organisations.

The beneficiaries of PIA are not limited to its' employees alone, the politicians, whether in the sitting government or in opposition, receive full protocol and special treatment while at the airport and in the aircraft from their respective party workers in the airline itself. Senior government officials, some prominent journalists and TV anchors also enjoy the same privileges in return for making sure that any attempt by the sitting government to privatise this perpetual loss-making entity fails. Before making any further comments, let us first look at the financial performance of PIA over a period of the last eight years:




There has been an average loss of Rs29 billion per annum for the last eight years (a total of Rs232 billion since 2008). Had PIA been privatised in 2008, like other airlines in the world, this struggling nation would have saved Rs232 billion. It would be a fallacy to say that it was not privatised because it had to serve any larger national or public interest.

Yes, it did save about 18,000 jobs, even though about 5,000 jobs could have still been saved in its private form, without curtailing operations. Others could have been absorbed by existing private airlines or new start-up airlines, allowing Pakistani private airlines to grow to their full potential. Nevertheless, PIA is shrinking and crumbling under its own weight, and Pakistani private airlines are filling the gap in demand and supply. In fact, a third Pakistani private airline, Serene Air, is already in the air, and the fourth one, Air Sial, is likely to follow suit in 2018. Bhoja Air and Air Indus have also been given a green signal to recommence operations, should they be able to do so.

Interestingly, an excessive number of PIA employees (18,000) or the cost incurred to compensate them is not the real problem as is generally believed. On average, the employee cost as a percentage of total cost is just as much as other airlines in Asia Pacific (18%). It is, in fact, less than many airlines of Europe and North America (28-35%). But the losses being incurred by PIA are far more than the total employees cost, meaning thereby that PIA would still be at loss even if all of its employees worked for free the whole year. The table below shows the difference between the total annual losses and total labour cost:


The real problem with PIA is not employee cost but the 'corporate governance'.

So what could the government have done in 2008 to privatise PIA without firing a single employee? The government could have sent all PIA staff and management on permanent leave with full pay and allowances until their retirement, saving Rs11.13 billion per annum or a total of about Rs90 billion over a period of eight years. Additional savings on account of crew layover and compensated absences would have increased this number to over Rs100 billion. That is not to say that PIA would have been a dead brand. It would have not only survived but thrived as a private entity re-employing PIA pilots, engineers, cabin crew and other essential staff.

The re-employed PIA employees would have performed happily, exactly the way their new employer wanted them to, for the fear of losing their jobs. This arrangement would have also allowed them to double their income — one drawn from the government until the age of 60 and the other for working with the new management.




Therefore, is it too late for the government to think on these lines? What will be the situation after another eight years? The quantum of losses would continue to grow. The realisation of such a scenario had always been there in the finance ministry but it could never convince the sitting governments to do what the rest of the world had done already.

The story of Air India, in our neighbourhood, is exactly the same as PIA but with a difference. The losses being incurred by Air India are just a small fraction of their national economy because of its huge size in comparison to Pakistan.

The government of Pakistan has at least taken one good step in the recent past, after taking the Parliament into confidence; it changed PIA's status to that of a public limited company. This means that the responsibility of the government is now limited only to the extent of its shareholding (equity) in PIA, which is already bankrupt. The government is perhaps waiting for the right time to declare it so.

What would happen to its creditors, you ask? Well, PIA's accumulated losses are about Rs270 billion as against the equity of about Rs57 billion (PIA's balance sheet 2015).

One may add another Rs30 to 40 billion loss for the year 2016, though the exact figure is not published yet. Its' liabilities, as of December 31, 2015, exceed Rs324 billion. The most severe blow will come to the Pakistan Civil Aviation Authority (CAA) (over Rs50 billion), followed by Pakistan State Oil (PSO). Others with sovereign guarantees may be able to receive part or full compensation from the government's kitty.

The essential point is that 'government-owned unionised airlines' will never be able to operate profitably in a competitive market, no matter what measures you take, including induction of the best industry professionals in the world such as Tim Clark (Emirates), James Hogan (Etihad Airways), Tony Fernandes (Air Asia) and Rich Branson (Virgin Atlantic). Should the idea of 'sending airline employees on permanent leave' and privatising the airline at the same time appeal to the government, it will save the country billions of Rupees every year and boost growth of the airline industry in the country.

This post originally appeared here.