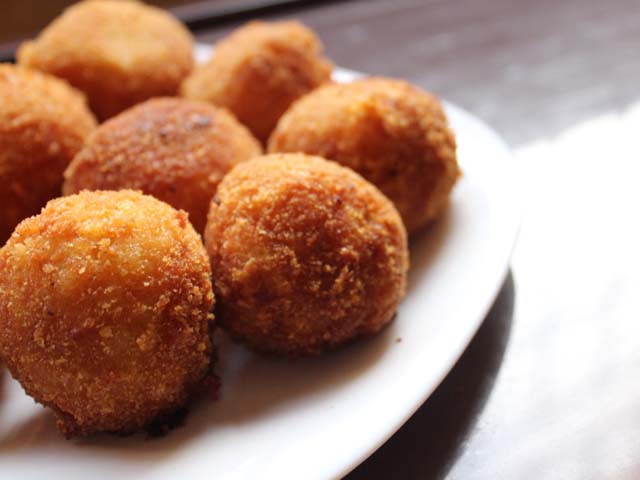 ---
These mac and cheese balls are little bites of deep-fried cheese heaven
A perfect appetiser version of everyone's favourite cheesy comfort food. Trust me, you won't be able to put...
---
Now if there is one dish I have never been able to get right, it's macaroni and cheese (yes collective gasp I know).

After successive failures, a friend (who I shall call 'lion') suggested mac and cheese balls, Chaye Khana style. Since I have never had them but had this dimagi keera (bug in my head) to conqueror this elusive dish one way or another, I decided to give them a try.

After plenty of search engines, I finally decided to mash together not the usual (roll the leftover mac and cheese into balls and deep fry them) recipes, but to execute a slightly spicier version.

Even though these crunchy macaroni and cheese balls taste terrific without any dipping sauce, you can also couple them up with a bit of Tabasco if you want to take the spice level up a notch. You can even add sweet corn and capsicum for more flavour. However, I decided to go simple for this recipe.




Time for a bit of a historical culinary tour. The exact origin of macaroni and cheese is unknown, though it most likely hails from Northern Europe. Marco Polo has been credited with introducing the macaroni to Italy in the 13th century after he was exposed to the food item in China. But it's a debated fact. Some evidence even suggests that macaroni was invented by the Greeks and Romans. A 14th century English cookbook recorded a cheese and pasta casserole named 'makerouns'.

The immigration of the macaroni and cheese recipe to the American South, where it is considered nothing short of a staple, has been credited to the third American President Thomas Jefferson of Virginia who, while visiting France – fun fact: I recently confused him as the inventor of the telephone; yeah yeah, we all have our blonde moments –became enamoured by fashionable pasta dishes served there. He brought back noodle recipes and a pasta machine, since this foodstuff was unavailable back home. Mac and cheese's "Oscar" moment, though, came in 1802 when Jefferson served it at a state dinner at the White House.




Of course, recipes appearing in Medieval Italy and England differ greatly from the gooey concoction people know and love today. Wonder why there isn't an ode to macaroni and cheese in Hamilton though? But that's not all there is to the history of mac and cheese. The recipe continued its popularity throughout the 18th and 19th centuries; most of them feature parmesan as the cheese of choice. Within the last 10 years, macaroni and cheese has even been ascribed the title of most 'sought after side dish' in the UK.




These mac and cheese balls are the perfect appetisers indeed. Stick a toothpick into each delectable delight and you have finger-licking food at its best. In short, they are certainly little bites of deep-fried heaven!

Ingredients:

Boiled macaroni – 1 cup

Cheddar cheese – ½ cup

Garlic powder – ½ tsp

Butter – 1 tbsp

Flour – 2 tbsp

Milk – ½ cup

Chicken powder – 1 tsp

Salt – ½ tsp

Pepper – ½ tsp

Mustard – ½ tsp

Soy sauce – 1 tbsp

Red chillies – 1 tsp

For coating:

Bread crumbs

Flour – ½ cup

Egg beaten – 1

Method:

1. Mix in the flour and butter. Add milk and all the ingredients except the cheese and macaroni.

2. When a thick paste forms, add in the cheese and macaroni. Make balls and freeze for 15 minutes.

3. Dip the balls in the flour, egg and then bread crumbs. Deep fry them on medium to low heat.




Note: When frying the balls, don't overcrowd the pot or you'll lower the temperature too much and the balls won't get as crispy.

Ta-da! You now have the perfect hand-held appetiser version of everyone's favourite cheesy comfort food. And trust me, you won't be able to put these down. So thank you (lion) for putting the idea in my head in the first place and for somewhat pacifying this dimagi keera.

Enjoy all!

All photos: Arhama Siddiqa
Facebook Conversations
COMMENTS (10)
Comments are moderated and generally will be posted if they are on-topic and not abusive.
For more information, please see our Comments FAQ