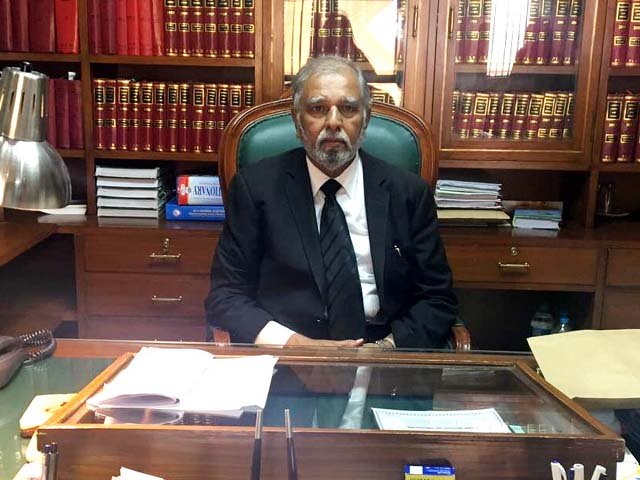 ---
Justice Hani: A goodbye to the harbinger of justice
The Pandora box of his tenure in its entirety speaks volumes of his bravery, courage, and unfettered nerves of steel.
---
In the year 2007, a 10-year-old boy sat within the stuffy walls of the Hyderabad prison, charged with his father's murder. One can only imagine his frame of mind as he spent his days therein, surrounded by offenders averaging three times his age and boasting allegedly dark pasts. Little did he know that a surprise visit to the prisons was to shortly change his destiny.

Alarmed at the little boy's presence in what should have been a cell confined to male adults, Justice Amir Hani Muslim immediately ordered for the child's transfer to the women's prison alongside his mother, a co-accused in the matter, and directed for the child's appearance in court the following Wednesday. There, Justice Hani poured over the puzzling facts of the matter. The boy's deceased father was a man six feet in stature. An axe blow to his head was attributed for his untimely demise, and the little boy and his mother were co-accused in the First Information Report (FIR) and jailed.

Justice Hani directed that the murder weapon be produced before the bench. A heavy axe, over two feet in length, was brought in and the little boy was asked to pick it up. He could not.

Little Rano's acquittal was merely one of numerous landmark decisions Justice Hani dispensed during his tenure, but for each life, each person, and each family involved, every decision was life transforming. Having reversed over tens of thousands of unlawful appointments and promotions within the Sindh and Punjab Police, and leaving behind a legacy of landmark, albeit notorious precedents, Justice Hani finally laid down his robes after 15 years of service towards Pakistan.




A true patriot at heart, he dispensed his duties with a constant fear of God, a sincere devotion towards his country, and the driving maxim, "justice delayed is justice denied" – a motto so often heard that it became dinner table talk for his family. With many friends but an even greater a number of foes, his last few weeks in office witnessed politicians and civil servants across the country counting down the minutes to his retirement, lest he shake the foundations of any more thrones acquired unlawfully. His departure last week from Karachi to Islamabad for his final week as a Supreme Court Justice prompted many a calls of congratulations and exchange of sweets as people rejoiced that he would never again return to Sindh possessing the judicial power to question their authority and actions.

During his time as a judge of the High Court and thereafter the Supreme Court, the Pandora box of his tenure in its entirety speaks volumes of his bravery, courage, and unfettered nerves of steel. Politicians, military officials, civil servants, the rich, the poor, the young and the old – not a single cadre of citizens was left unscathed in the process of his dispensation of justice. Whosoever needed to be summoned was summoned. Whosoever begged for justice was granted an opportunity to seek the same.

Some years ago, the widow of a deceased civil servant came seeking justice. A portion of her entitlement had been withheld by the authorities, and after having gone door to door seeking revival of the same in vain, she found the courage one day to walk straight in to the Supreme Court and knock on his doors. Justice Hani, having heard her grievance, summoned the secretary in charge. The latter stated that the woman's entitlement papers needed certain layers of approval, with the highest authority being that of the then chief minister of Sindh, which may warrant a few months.

Justice Hani gave him two hours to comply. The secretary continued to request for some additional time on the pretext that the concerned officer in charge was currently out of town; much to his misfortune, the same officer found himself bumping into His Lordship a few hours later over lunch at Karachi Gymkhana. Justice Hani returned to court, summoned the concerned secretary once more, and offered to throw him into jail. What ensued was mad panic. A scanned version of the woman's papers was hurriedly sent to the CM for his signatures. Concerned governmental departments were made aware. By the next morning, the lady's legal entitlement had been revived.

Another time, during a random tour of Larkana's jail for women, Justice Hani came across a young lady charged and imprisoned in a rape case. Puzzled, he requested the jail superintendent for details. What transpired was that at a young age, the girl had been married off by her family to a 70-year old man. The marriage did not work out, and resulted in divorce. Two years later, her family again offered her hand in marriage to another, much younger man. Her brother and father placed their signatures as witnesses in the nikahnama and off she went.

A few days after the wedding, the men of her family demanded a dowry payment from the groom in exchange for her hand in marriage. He was unable to pay. And so, her family registered an FIR against the man for rape and he was jailed and sent to the Jacobabad prison two hours away. During the court proceedings that followed, she was questioned regarding the formalities of her previous divorce. Not possessing details and formal documentation, she was unable to answer, and also imprisoned.

Justice Hani summoned both parties to his court and thereafter directed that criminal courts had no jurisdiction to adjudicate on matters governing the legitimacy and validity of divorce and marriage, and the mediation of any matrimonial disputes must always rest with family courts. Furthermore, in lieu of their signatures on the nikahnama, he questioned as to how the woman's brother and father could ever have been excluded from the list of accused persons in the matter. In light of contradictory and shallow evidence, both husband and wife were acquitted and released there and then, prompting both to be overcome by emotion and reportedly fall to their knees in open court.

Many advised that a family member not pen down a farewell tribute to him, for fear that the same be construed prejudiced. Even now, he smiles and shies away each time he is prodded to pen down his experiences and expertise for the world to read. It would however be an injustice that the bench, and more importantly the person behind this bench, which dispensed justice as swiftly, sincerely, and passionately as him, be not recognised in its parting days for what it symbolised. Justice Hani may have stepped down, but in the years of service he leaves behind, he has set a prodigious benchmark. One is truly hopeful, however wonders when again the sound of a bench commencing will send unified ripples of panic, and in some cases relief, across the courtroom.




As a person, his commanding sense of direction, justice, and impartiality transpires not just in his professional but also in his personal life. His hard exterior and equally warm interior are known to only his closest friends and family. Generous, kind, and an extremely doting father and grandfather and yet, unfettered and unfazed at the influence directed at his family during his time in office. As is the norm in Pakistan, brave voices are more often than not silenced by the swift use of threats and pitfalls laid out at every turn. The judicial fraternity is no exception, and has witnessed its fair share of kidnappings, murders, and assassinations. In response to one such hostile phone call received during his tenure, Justice Hani's candid and casual response was,

"Do as you like, I buried my family before stepping into court".

Even as his last few months in office saw him penning one controversial decision after another, he was offered stricter security and entourage. However, his long walks in solitude remained both a habit and a passion, and many a times the family would notice his absence much after he had already discreetly left the house. His only response to the vehement dissatisfaction of his family over his bravery or carelessness, however one would like to perceive it, was a smile and a finger pointed towards the heavens to state that no harm could come to anyone, and none could be escaped from, without the will of God.

As Honourable Justice Amir Hani Muslim officially lays down his robes, and messages of congratulations pour in for him from all across the world. While people are thanking him for his services to Pakistan, a small message of gratitude also goes out to him from his family, for being a true example of how hard work, dedication, and the courage to do the right thing will always light the way even during the darkest of times and harshest of surroundings.

His Lordship leaves big shoes to fill, as well as much to be thankful for. His most recent landmark decision governing clean water provisions in Sindh will undoubtedly impact millions of lives that are yet to come into existence, and is akin to the proverbial Greek saying,

"A society grows great when old men plant trees whose shade they know they shall never sit in".

His courage, valour, and grace continue to light our lives and the world around him, and we sincerely hope he will continue giving to his motherland in his own befitting ways. In the words of Mr Ashtar Ausaf Ali, Attorney General Pakistan, at Justice Hani's full court reference held yesterday on the eve of his retirement,

"This is not a farewell, sir. Until we meet again".
All photos: Amar Abbasi
Facebook Conversations
COMMENTS (16)
Comments are moderated and generally will be posted if they are on-topic and not abusive.
For more information, please see our Comments FAQ