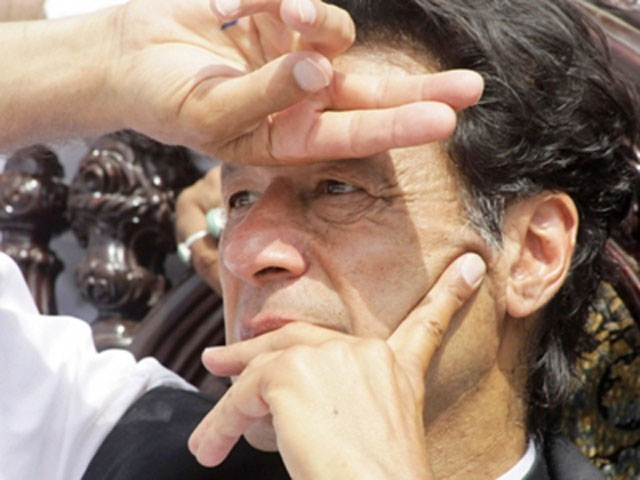 ---
PTI knows that it cannot win the 2018 elections and the Panama case proves just that
By indulging in such tactics, PTI has set a precedent of using street power to blackmail the government.
---
For the past one year, no other issue has gained more prominence in the political landscape of Pakistan than the Panama leaks. The issue is frankly trivial and not worth this much obsession, but thanks to Pakistan Tehreek-e-Insaf (PTI) and our electronic media, a triviality has transformed into a national obsession. The government has been distracted and is in some sort of a survival mode; more pressing issues in the country have been relegated to insignificance as the Panama case has become the centre of everything.  

For PTI, the Panama case has become a fixation which is now bordering lunacy. So much so, that even bomb blasts, openly claimed by Tehreek-e-Taliban (TTP) and Islamic State (IS), are perceived to be a conspiracy hatched by the government in connivance with India to divert attention from the Panama case. Furthermore, many PTI leaders start their tirade by saying,

"Abhi Panama case ka faisla inn ke khilaf aane wala hai."

(The Panama case verdict will be against them.)

Just yesterday, PTI chief Imran Khan was seen whining about a secret deal between the Pakistan Muslim League-Nawaz (PML-N) and the Pakistan Peoples Party (PPP), entailing a plan to save the former from the impending doom of the Panama case verdict.

On social media, I constantly read laughable tweets by desperate PTI members, mostly belonging to "educated" urban middleclass, expressing a range of emotions including hope, fear and frustration about the Panama case verdict. Following are some "shining" examples:


Zaalima abb tou faisla suna day. 🙏#PanamaCase pic.twitter.com/EO7Fl2F0i6

— Zartash Chaudhry (@ZartashChaudhry) March 30, 2017
Soon results on #PanamaCase and Nawaz goes to jail along with his other looters #CorruptionFreePakistan @ImranKhanPTI

— Shahzad Khan Tanoli (@shahzxd) March 30, 2017
If I K loses #PanamaCase, his politics will not be affected much because Nawaz Sharif is Worldly Recognized Corrupt.#چپ_فیصلہ_محفوظ_ہے

— ® رحمٰن رشید (@RehmanRashid123) March 28, 2017
#پھٹیچرتبدیلی@PMLNMEDIA What about your #courrpt #PmNawaz #PanamaCase & #DawnLeaks
IN SHA ALLAH #Soon #GoNawazGo @ImranKhanPTI is our hope

— Muhammad Shehzad Ashraf Khan (@ShehzadAshraf5) March 19, 2017


Does PTI really stand for ending corruption? Is its strategy worthy of some "higher" cause? Will it lead towards a corruption-free, democratic and more accountable Pakistan?

This mind-boggling obsession by the leadership and members of the party warrants a serious examination.

However, even a cursory analysis would immediately reveal that all the political agitation by PTI is nothing but shameless opportunism. There were hundreds of names on the list and yet the emphasis lies solely on Nawaz Sharif over some apartments that were purchased decades ago. Moreover, the names in the leaks were of his children and yet PTI wants the prime minister disqualified under Article 62 and 63.

Now to be fair to PTI, every political party indulges in such behaviour when the opportunity arises; opposing parties exploit weaknesses of the ruling parties and try to increase their political capital. All politics is realpolitik and is geared towards achieving power.

Moreover, in a democratic setup, opposing parties by agitation, even when done for their own power, actually help improve public accountability and governance. However, this only happens if agitation is done within the democratic norms and with the understanding that democracy is the only game in town.

Regrettably, PTI's role during this episode and ever since the 2013 elections is thoroughly regressive. First, it expressed doubts over the results of 2013 elections, despite the fact that virtually no one had been expecting a win for PTI before the polls. Furthermore, for almost six months, it disrupted routine life, and in a move which was highly condemnable, Imran ordered an assault on the Parliament as well.

By indulging in such tactics, PTI has set a precedent of using street power to blackmail the government. During all that needless agitation, PTI constantly invited the military to intervene. Moreover, the dharnas and sit-ins by PTI were a totally useless affair as the judicial commission formed at Imran's own request declared that the elections had been free and fair. Subsequently, PTI lost miserably in the local bodies elections, further proving that it was not as popular as it imagined itself to be.

PTI has adopted similar tactics in this matter as well, and it was its threat of possible bloodshed on November 2nd that led to the formation of the Supreme Court bench, currently in the process of deciding the fate of an elected government.

This is once again setting a dangerous precedent as instead of resolving and settling issues in the Parliament, a judicial route is being adopted. This has two negative implications. Firstly, political parties will opt for this route to trouble or even dismiss a government in the future, even over minor matters. This will not bode well for strengthening parliamentary processes and most importantly, democracy.

Secondly, involving the judiciary in political matters is going to further strengthen the judicial commission and may lead to unwarranted judicial activism in the future. Since a judicial process greatly values precedence, any government can be potentially dismissed on some perceived violation of law or misdeed. Ability to simply dismiss a government also increases the incentive to needlessly interfere in matters which do not fall into the judicial realm. Even in this case, the Supreme Court, due to the situation created by PTI, is actually exceeding its traditional mandate of being a constitutional court by acting as an inquiry court.

PTI knows that it cannot win the 2018 elections. Hence there is that desperation to use a non-electoral route to dislodge Nawaz, irrespective of the fact that it will have dangerous consequences in the future. During the hearings and also in the interim period till judgement, PTI has been constantly pressurising the judges by passing provocative comments. It has been trying to create a perception that the court will decide in its favour, and if it does not, then there is no concept of law in the country.

In my opinion, these four years of PTI have shown that it is a totally immature political outfit and will be Pakistan's worst nightmare if, God forbids, it comes to power.