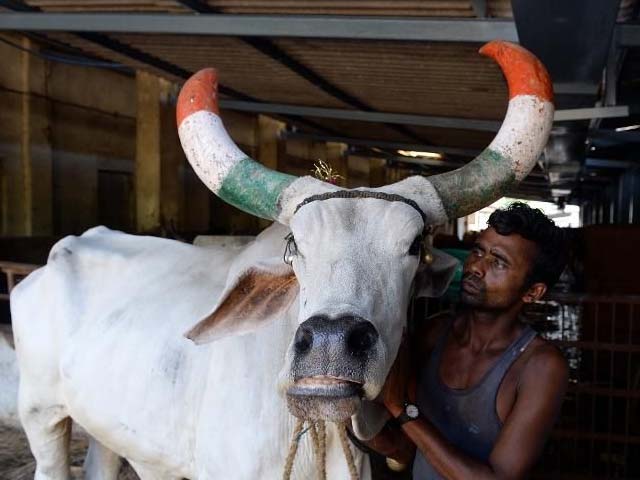 ---
How to get away with murder in India? Blame a man for eating beef
The manager of a Jaipur hotel faced a hungry mob on Sunday that stormed the place over rumours of serving beef.
---
A year and half after the horrific Dadri incident, Hindu vigilantes continue to "cry beef" and hunt for Mohammad Akhlaqs.

The manager of a Jaipur hotel faced a similar hungry mob on Sunday night (March 19) that stormed the place over rumours of serving beef.

According to a report in The Indian Express, the owner of Hotel Hayat Rabbani, Naeem Rabbani, has alleged that after taking his manager into custody, police brought him back among the cow vigilantes "to calm them down". He was also slapped around and manhandled in police presence.

Rabbani, who held a press conference with his staff a day later, said:

"A repeat of Dadri had been averted".

Much to the chagrin of the mob, the meat "appeared to be chicken legs". Nevertheless, the seized meat was sent to the forensic laboratory for "testing to placate tempers", according to the police.

At the press conference, Rabbani vehemently denied ever serving beef. The hotel, he said, had prepared special chicken for their nine staff members, and it was this that the crowd had mistaken for beef.

It's a sad testimony to the times we are in that our law enforcing agencies ran after the piece of meat, instead of identifying the culprits who incited the communal mob, to authenticate its variety.

In Rajasthan, like many other states in India, the killing of cows, bulls and bullocks as well as possession and transportation of their flesh is banned. The Bharatiya Janata Party (BJP) government in the state has also set up a cow department for the welfare of the animal.

After what happened in Bishahra village in Dadri on September 28, 2015 — when Mohammad Akhlaq was beaten to death by a hungry mob over suspicion of storing beef at his house — many saner voices questioned the absurdity of sending a piece of meat for forensic testing. What kind of a country do we live in where the chunk of meat became the actual "cause" of Akhlaq's death and not the ones who mercilessly killed him?

Those questions were never answered by the "authorities concerned" because they didn't have any answer. The actual motive behind Akhlaq's killing was always out in the open. It was never about whether the meat was or wasn't beef. It was about how to pin a "crime" on the sleeves of a man who belonged to the "other" community and then incite another brute mob. This is how you keep the communal cauldron burning, especially when elections are nearing.

Those who wanted to score a point in Dadri have actually succeeded in doing so.

After the recent ascension of Yogi Adityanath to Uttar Pradesh (UP) chief minister, the Thakur-dominated village of Bishahra reportedly danced and celebrated late into the night.

Why?

Because they believe it's a matter of pride that a cow protector like "Yogiji" has become their chief minister.

 "Now we expect justice to be done," Ved Nagar, the head of Gau Raksha Hindu Dal, was quoted as saying by The Hindu.

The same report said Nagar believe that Adityanath's appointment "gives hope that the accused in the Akhlaq murder case would soon get bail". He was quoted as saying,

"The villagers now see a "ray of hope" because Adityanath had stood with the accused".

The timing of the Jaipur incident seems especially curious as Rajasthan is gearing up for an Assembly election in 2018. Not that cow protectors and self-appointed Hindu vigilante groups are not working hard to prepare the ground for elections.

Recently, Bollywood filmmaker Sanjay Leela Bhansali was assaulted by members of the Karni Sena in Jaipur where he was shooting for his film Padmavati. His fault: the film was presenting "distorted facts about Rani Padmavati" and thus showing "Hindu faith and culture in negative way".

The March 19th incident may not have a direct link with Bhansali's assault but they don't seem isolated.

According to this report in Hindustan Times, one of the protesters gathered outside hotel Hayat Rabbani, told the cow vigilantes not to worry about the strength of protesters.

"Don't worry about the numbers as it will just take me a couple of phone calls to assemble 200 people from somewhere else. After all, it was me and my friends who slapped Sanjay Leela Bhansali on the sets of Padmavati".

India has two types of beef eaters — one who actually loves the meat, but doesn't necessarily get to eat it, and the other who gorges on rumours about beef.

So, it's not surprising that in a country — which incidentally tops the hunger list — its people are hungry for the rumoured beef and satiate themselves by "lynching" people for "possession of beef".

The initial reports in the Jaipur incident, too, point fingers at how there is a common pattern that runs through the heart of mob lynchings like Dadri.

How a group first spreads the rumour based on what they saw and "it appeared like beef". Then comes in the gau rakshaks and their leaders (in this case Sadhvi Kamal "Didi", the national president of Mahila Gauraksha Dal).

She reportedly addressed the gathering of protesters and discussed the course of action.

"I am not afraid to sacrifice my life for gau mata. I am ready to be with you in any protest or gheraos to teach the people of this hotel a lesson. But the residents of this colony will also have to participate and they shouldn't back out at the end moment," she was quoted as saying.

She even asked those in the gathering from Kanti Nagar to raise their hands (who agree with her).

If this doesn't amount to inciting a mob and creating communal tension then perhaps it's true the country and its people don't need any protection from the law enforcing agencies. Why do you need the police if they have to slap and beat a man based on suspicion of a crime (which is a crime only because we live in a strange country with strange laws) to placate a violent bunch?

Why do we need laws when a majority group has the mandate to declare anyone from a minority group a criminal based on suspicions of eating a particular type of meat? Why do we even need to argue and expect justice when we know the outcome of such events?

The Jaipur incident didn't turn out to be as violent as the cow protectors wanted it to be, and will soon be forgotten. But there are thousands of more such vigilante groups waiting to orchestrate the next lynching. They are just on the lookout for an Akhlaq or a Rabbani.

This post originally appeared here.