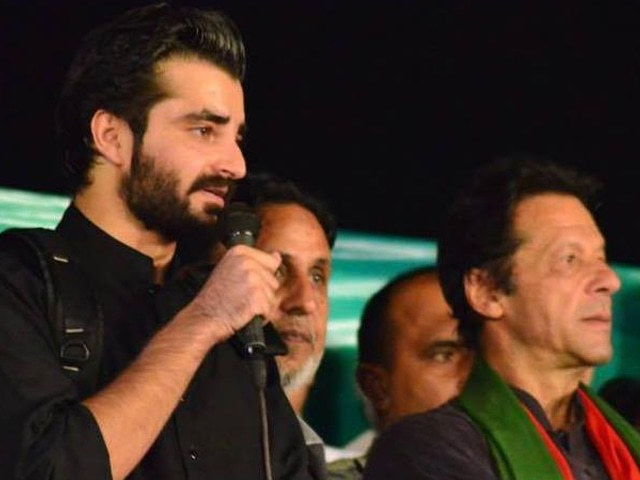 ---
For how long will you keep defending Imran Khan, Hamza Ali Abbasi?
The PTI troll brigade is busy defending their leader's latest stupidity and are as usual defending the indefensible.
---
Currently, the Pakistan Tehreek-e-Insaf (PTI) Chief Imran Khan, or rather the demigod for the impressionable PTI fans, is under fire for uttering "phatheechar" comments about foreign players. I personally think that his comments were made in extremely bad taste and reflected on Imran's inability to show bigheartedness. If Pakistan had been unable to host the Pakistan Super League (PSL) final, then I am a 100% sure Imran would have called it a complete failure on the government's part, despite previously calling the entire idea "madness".

Once the government showed its resolve and successfully hosted the event, Imran then started to belittle the efforts put in by the organisers and disrespected the players who opted to come and play in Lahore despite present dangers and warnings. If anything, Imran's behaviour and statements reek of pettiness.

Given the context of the security situation, this was a successful endeavour which brought joy to millions of Pakistanis. Yes, one is right to say that the real achievement would be when foreign teams can fearlessly come and play and stadiums are filled with people once again, but given the fact that the security situation in the country cannot improve overnight, we did our best and it was a success. Showing resolve in the face of an obvious threat is something which needs to be lauded not belittled. One should rise above petty political partisanship and help the government, which unfortunately seems difficult for the PTI chief and also for his impressionable fans who showed the same kind of pettiness when they chanted "Go Nawaz Go" during Najam Sethi's speech at the Qaddafi stadium.


In my opinion, the media is fully justified in criticising Imran on his reprehensible statement. Of course, if one is a PTI supporter, one would call it a "needless" controversy and an effort by the "biased" media to deflect attention from "real" issues such as Panama Leaks. In fact, anything which is critical of Imran is often interpreted as some sort of a "conspiracy" to malign the great man's image and a tactic to divert people's focus to "trivial" issues.

As expected, the PTI troll brigade is busy defending their leader's latest bout of stupidity and are as usual defending which is not defensible. But then again, trolls are trolls, and they don't have anything better to do. I was not expecting major celebrities/public figures like Hamza Ali Abbasi to join the party and come up with an apologetic defence for their "leader".

I know Mr Abbasi likes making videos and this is not the first time he has gone in front of the camera to defend PTI. He likes to speak his mind, and at times (only at times) he makes sense also. However, his latest video defending his leader was extremely lame and farcical.

[/fbvideo]

Mr Abbasi used the same age-old technique of "other issues are much more important" to come up with an apologetic defence. I can easily retort by saying that the Panama case is also not that important to be given so much attention by PTI. As Pakistan is fighting its existential war, PTI's entire thrust is focused on proving Nawaz Sharif to be corrupt and the Panama case, so much so that everything else has taken a backseat for almost a year now. In fact, they are so obsessed that every time there is a bomb blast, they start terming it as a conspiracy to deflect attention from the Panama case.

In Abbasi's torturous video, the only thing entertaining was his laughable claim that he is totally "neutral" as he is no longer an office bearer of PTI. His anger and passion in that video was completely contradicting his claim of neutrality. At one point, I was thought he would actually break down and start crying!

Mr Abbasi also claimed that Imran's statement was made in a completely private and exclusive setting which frankly is not correct as it was not "drawing room" talk but addressed to a delegation. Yes, it was perhaps off-camera but one cannot dismiss it as a mere "private" chat.

Likewise, Mr Abbasi also referred to Imran's Shaukat Khanum hospital, which again is an age-old tactic of PTI to deflect criticism on Imran's political blunders. What Mr Abbasi should remember is that at the moment, Imran is under criticism not for his philanthropy but for his political stance. I fully admit that he is a great philanthropist and easily the greatest cricketer to have emerged from Pakistan, and I highly respect his achievements in those fields. However, his politics must be judged separately from his philanthropic and cricketing achievements. Trying to conflate his politics with other spheres of his life, with the purpose of deflecting criticism on the former, is not the right approach.

As a public figure, Mr Abbasi needs to realise that everything that he says and does can be held against him. He has certain responsibilities as a celebrity which cannot be neglected or taken for granted all for the sake of party politics and his demigod leader.

It's time for PTI and its leader to indulge in some self-reflection and try to improve their political tactics. Sadly, they constantly appear as an immature, victimised group who is desperate (and not ready) to come to power.
Facebook Conversations
COMMENTS (20)
Comments are moderated and generally will be posted if they are on-topic and not abusive.
For more information, please see our Comments FAQ