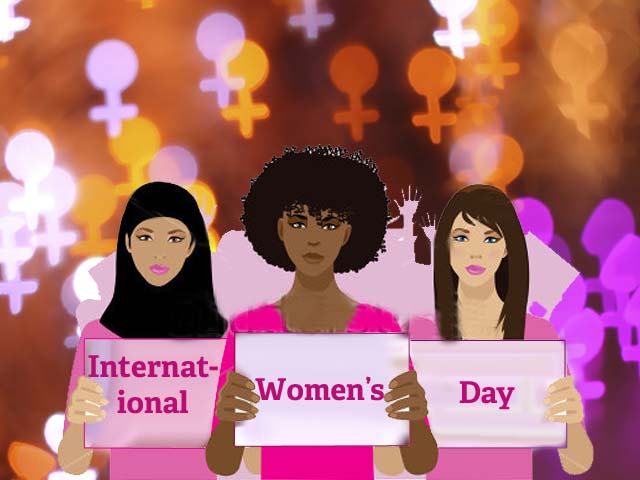 ---
Wear red today
By wearing red today, we can show that we stand in solidarity for equality, justice and human rights for all women.
---
Indeed, today is the day to celebrate women. For those of us who are lucky enough to wake up to our mothers' presence, we are aware of all the work they contribute to the house. Whether it is by showing love to their children, getting all the house-hold related chores in order or by making sure that there is always food on the table, mothers have always remained at the centre.

In our society, being a mother is possibly one of the most unappreciated jobs. Historically, women were respected for raising children since there was no alternative option to full-time mothering. However, they are not as respected today and their work and selfless affection is hardly noticed. Mothering has become an inherently hidden job, which creates an environment which does not appreciate mothers.

These are women who have literally created life, who nurture it with all their heart; they are the ones who have the power to influence the next generation. They fight for us whenever the time arises; they stand up for injustice, they make countless sacrifices for the comfort of their children, they are strong even when there is no strength left - they can heal a broken heart. Mothers do more than just give birth; they are the strength that holds families together and they always have an immense amount of love to share with others. Yet they are not appreciated or loved as much as they should be.

Today, mothers are not the only women who are underappreciated. A woman's contribution to any and every field of work is often hidden or not celebrated at all. Even years after legal changes ended discrimination on the basis of sex in many countries, women are still held back in their careers. This is due to stereotypical prejudices about the qualities required to lead.

For those people who think women are treated fairly, please do not be fooled. Earlier this month, Polish lawmaker Janusz Ryszard Korwin-Mikke, unapologetically made sexist comments in the European Parliament, explaining that women are inferior to men:

"Of course, women must earn less than men. Because they are weaker, they are smaller, they are less intelligent. They must earn less. That's all".

However bizarre his comments were, Member of Parliament (MP) Iratxe Garcia Perez stood up to him in an act to defend the position of women in all areas of life. She said,

"Well, according to what you're saying, and according to your theory, I wouldn't have the right to be here as a member of parliament," MP Iratxe Garcia-Perez, of Spain, said.

"I know that you are very upset, and very concerned about the fact that we women can represent citizens on an equal footing with you. I am here to defend all European women from men like you".

If in 2017 the European Parliament is occupied with people who do not believe in equality, then there are definitely many things that are wrong with our global society. The world usually blames the eastern culture for being 'oppressive' and 'conservative' when it comes to the treatment of women. However, this along with many other incidents proves that this kind of mentality is not just restricted to certain cultures; it is an issue which stretches along a large spectrum that covers not only gender but also other aspects of intersectional identities such as race, class, age, ableism, and more.

Another relevant and very important act that aims to demonstrate the importance of women's participation is the women's strike happening today for International Women's Day. Hundreds of women around the globe in over 40 countries are marching on the streets to show the world the vital contribution of women to the economy and society at large. The demonstration and march is in fact trending on social media platforms such as Twitter and Facebook with the hashtag #adaywithoutwoman. The march has three major rules:

1. Wear red in solidarity.
2. Do not engage in paid or unpaid labour work.
3. Avoid spending money unless it's for small women-run businesses.


This male trump supporter just tweeted: " You're not powerful. I spend months at a time without a woman." 💀 😂 😭 #ADayWithoutWoman

Women: pic.twitter.com/pKyseKN4oK

— ℰ𝑟𝑖𝑛 🧜‍♀️ (@pinklionheart) March 7, 2017
I struggle w/ #ADayWithoutWoman, b/c many aren't privileged to take a day off. So I'll pledge to tell those I see working tmrw-YOU MATTER. 💜

— Alika Hope (@AlikaHope) March 7, 2017


https://twitter.com/ekwix/status/839142888357376005


Will the husband be able to cook, get the kids ready to school, get them to their classes, do the washing up? #mummylife #ADayWithoutWoman

— Mummylife (@Mummylife0912) March 7, 2017








The march will also help men understand the burden that many women carry, especially working mothers who do not have help or even worse, cannot afford help. The strike manages to raise an interesting question: Will husbands and fathers be able to get the kids ready, drive them to school on time, do all the washing up and be able to cook?

A woman's ability to sustain livelihoods and lead by example inside and outside her home is one of her greatest strengths, one that is evident every single day. This women's march will help to highlight that very significance and their economic power in global economies, while focusing our attention on the various injustices women and other gender-fluid people continue to face.

Even though this strike is well-intentioned, there are many other issues that have come to the surface because of it. Especially in the US, many women are claiming that this march is a privileged act simply because there are many people who cannot afford to take the day off from work. It's interesting to note that the reason behind this is because of those very economic inequalities the march is calling attention to in the hopes of destroying hierarchal systems of power. Some believe that not having the need to strike would be the real privilege.

What all states can do in their capacity is empower women by increasing their access to basic education, basic health care, loans and micro-finance to assist them in their businesses. When we give women voices in decisions that affect them, when we involve them in development activities in the community, when we allow them to feel a sense a self-worth, treat them as equal and respected humans, that's when we will see empowerment in its true essence.

However, needless to say, this International Women's Day will be an interesting one.

We can all participate by wearing red in solidarity with the women who march across the world. It is women's day after all, and we all deserve to take out time for ourselves especially because most of our days are spent taking care of others. By wearing red today, we can show that we stand in solidarity for equality, justice, equity and human rights for all women.

Bringing the focus back to mothers, let's not forget that many women who are not able to join the strike and march this year are mothers who need the day's salary to look after their children. Therefore, this women's day, there is no doubt that I am celebrating my identity as a woman and other women around me. However, this year I want to celebrate all the mothers out there, especially my own, who has always pushed me to become the best version of myself, while sacrificing whenever she could to ensure my happiness. After all, without mothers we wouldn't know even half of what we know today.
Facebook Conversations
COMMENTS
Comments are moderated and generally will be posted if they are on-topic and not abusive.
For more information, please see our Comments FAQ