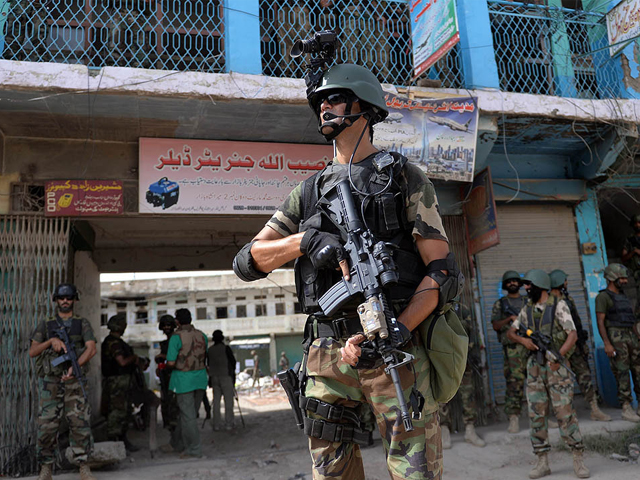 ---
Will Operation Raddul Fasaad be effective?
Military operations alone will never suffice unless police reform and political reform also occur.
---
February 17, 2017: Within hours of the Sehwan attack, terrorist hideouts are magically discovered all over the country and over a hundred "militants" are killed across Punjab, Sindh, Khyber Pakhtunkhwa (KP) and the tribal belt. Yet another military operation, by the name of "Raddul Fasaad" ("elimination of discord/violence/mischief") is announced.

I don't know about you but I'll tell you what I'm feeling; it's called deja vu, the feeling that this has all happened before.

And that might just be because it has.

Flashback to June 15, 2014: Following the attack on Jinnah International Airport, the military launched Operation "Zarb-e-Azb" ("cutting strike"). This operation targeted militant hideouts in North Waziristan and along the Afghan border. Within a week, over a hundred "militants" were reported dead. Again - these hideouts seem to have magically appeared.

If I am not mistaken this is the 13th military operation against extremist militants – and each operation has been preceded by the same dense macabre. The aftermath too, has been identical; the operation results in a certain amount of territory being cleared of militants and there is a temporary lull in attacks, following which the violence resumes.

The much touted National Action Plan is now two-years-old, and it is painfully obvious that the capacity of terrorists to inflict large-scale harm at will is undiminished. Apart from the recent attacks in Lahore, Sehwan and Charsadda, the last six months have seen several major terror incidents in Quetta alone. Large-scale incidents also occurred last year in Khuzdar, Mardan, Peshawar, Charsadda and Lahore, which saw the Allama Iqbal Park massacre last March, the bloodiest post-Partition violence the city has seen.

For the government and the army to claim that they have made great strides in fighting terror is an affront to the dead, the maimed and the families of victims. So it is time, please, for some honest perspective.

According to a press release by the military's media wing on February 23rd, Punjab will be central to the operation and up to 2,000 Punjab Rangers have been deployed to this effect. According to the statement issued by the military's media wing,

"The operation aims at indiscriminately eliminating residual/latent threat of terrorism, consolidating gains of operations made thus far and further ensuring security of the borders."

Furthermore, DG ISPR Major General Asif Ghafoor has stated that Raddul Fasaad will consolidate on the "success" of all prior operations and will target all miscreants "whether they exist within or outside the country".

On March 1st, ISPR quoted COAS Qamar Javed Bajwa during a visit to the Multan Garrison saying,

"Through Operation Raddul Fasaad we will take on all fasaadies and play our part in bringing back normalcy in our country."

Here is my concern though, what guarantee is there that this operation will be anything more than a further pursuance of the game of whack-a-mole that the state has been playing with violent extremism since 2001? What sign is there that civilian institutions will start playing their due role in fighting terrorism and providing security to the brutalised and traumatised citizenry?

Because this is what I foresee, report after report will emerge of terrorists being flushed out, apprehended and killed. A military-paramilitary dragnet will sweep through the country, bringing terrorist attacks to a halt.

Meanwhile, religious seminaries, including madrassas, known to be associated with terror groups will continue to operate almost entirely unregulated by the Board of Education. Sectarian groups, despite supposed bans, will continue to operate freely, collect donations, and propagate anti-Shia, anti-Ahmadi and anti-Sufi hatred with impunity.

Meanwhile, the civilian government and institutions will mostly remain bystanders in the anti-terror effort. They will offer all sorts of great advice and write splendid op-eds but civilian security will firmly remain the domain of General Head Quarters (GHQ).

Military operations alone will never suffice unless police reform and political reform also occur, and till civilian institutions are the vanguard of civilian security. Moreover, in Balochistan, interior Sindh and the tribal areas, a reconciliation effort along the lines of post-apartheid South Africa is needed to heal the trauma and mistrust state policies have created. While the youth continue to disappear and bodies continue to get dumped, large pockets of sympathy for militants of all shades will endure.

The hate, bigotry and networks run deep and wide. The trust in the state outside of Punjab runs very low. In such an atmosphere of mistrust and untended wounds, nothing short of a national reconciliation commission, police reform, nationwide regulation of madrassas and ending murderous hate speech against minority sects will suffice.

So stop putting your fingers in the hole. The levee was breached when you invited the flood in. The civilian and military leadership need to start putting the country before themselves. A nation is made up of its people and the Pakistani citizenry needs to be put first.