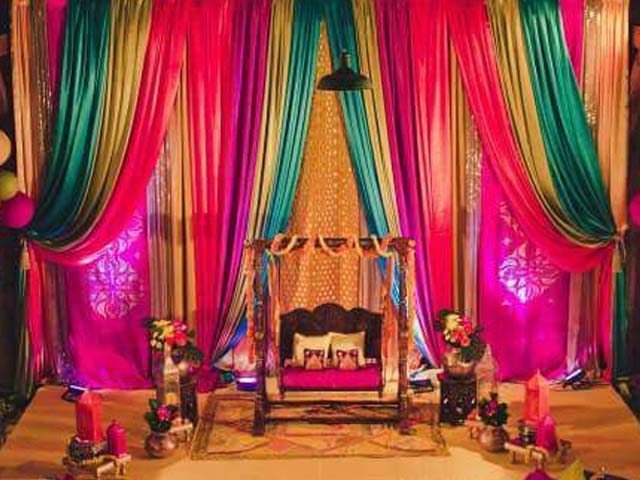 ---
Do Pakistan's leaders care more about extravagant weddings than the well-being of their own citizens?
Thar has faced a drought for years while the leaders who make tall claims fly abroad to host extravagant weddings.
---
Imagine this:

The lights danced on the ceiling and in her eyes. There was silk, chiffon, satin, velvet… all of it – their touch as light as water. Scores of boxes arrived from the jewellers filled with bright diamonds, gold as shiny as the sun, ocean-blue sapphires, scarlet rubies and emeralds as green as lush green leaves of an oak tree. There were glittering shoes, wafting smells of sumptuous food samples beckoning, piles of gift bags sharply wrapped up and more.

Saleha hid behind her mother, staring at everything in pure awe. Her mother Jannat was an old cleaning lady who was a trusted servant of this household. Now the daughter of the family she worked for was getting married and she had to bring Saleha to help. It was the first time she had ever brought her 15-year-old daughter with her to the house where she works.

Nervously tending to different chores, Jannat kept an eye on Saleha; worried that she might knock something down as everything in this house was ridiculously expensive. The first night after working, Saleha returned home completely mute. The next morning when Jannat woke up at the crack of dawn, she couldn't find Saleha in the room. Apprehensive, she looked around in both rooms and finally found her sitting in the backroom, staring at the old suitcase Jannat had tried to fill with clothes and possessions for Saleha's dowry.

A few unstitched fabrics with their colour faded off and a pair of shoes her mistress had given her for Eid last year were all she had saved up. Jannat called out her name several times in panic but she didn't flinch. Sitting down beside her, she put her hand on her daughter's shoulder and Saleha fell, lifeless to the floor. The bottle of rat poison fell from her hand. Jannat sat there in horror. After a few hours, she cleared the place and straightened her daughter's body. She sat beside her daughter's body and wondered what killed her.

The direct line of blame is most definitely not linked to the privileged family that could afford to host a lavish wedding for their daughter. Any law in the Penal Code cannot hold the upper strata of the society responsible for the suicide of an impressionable young daughter of a destitute family.

What charges could be pressed against them? They put too many lights on their bungalow or that they bought too many sets of jewellery? From a legal standpoint, it is against common sense to blame a family for simply trying to celebrate an important day in the lives of their children. But is it really necessary to have such weddings?

Recently, the former finance minister and senior Pakistan Peoples Party (PPP) leader, Naveed Qamar held his daughter's wedding at the most extravagant and expensive venue in Thailand. Resultantly, it caused uproar among people back home in Sindh and Pakistan as he is the leader of a party that represents the most impoverished lot of the country.


Naveed Qamar daughter's wedding in Thailand.
Notables VIP/Govt officials are there.
Poor country, poor politicians!
No venue in Pak for them pic.twitter.com/OCKI8O1iie

— F. S (🇵🇰) (@StaunchInsafian) February 13, 2017
PPP leader's daughter wedding Functions at Thailand .. Syed Naveed Qamar & Qaim Ali Shah can be seen ..

This is how looted money is spent pic.twitter.com/Iu1AcD0mil

— MNA (@Engr_Naveed111) February 12, 2017


It becomes extremely difficult to stop people from expressing their wonder at such spectacles when the leaders in question behave in such an unjustifiably disparate manner.

Thar and adjoining areas have faced a drought for years at end where innocent children have lost the battle of life due to inaccessibility of resources while the leaders who make tall claims to transform people's lives fly abroad to host extravagant weddings.

It is true that the leaders alone are not responsible for this. Each and every citizen who is blessed to be born in a wealthy family or one with surplus resources is responsible for making sure that he/she is not rubbing their wealth in the faces of people who are less fortunate than them, especially those enduring famine. It is no crime to celebrate a happy occasion to its fullest by spending money but can we be sure that our actions are not a source of despair or envy for someone?

The recent #AnushMunib wedding that we all followed bit by bit was the longest Pakistani wedding yet, and while I wish the happy couple the best of fortunes for their future, was it absolutely necessary to spend the amount of money they did? Last year, from January to September, our Instagram feeds were constantly blowing up with pictures from this wedding.




Even Prime Minister Nawaz Sharif's granddaughter, Mehrun Nisa, got married in a very exuberant ceremony where 4,500 guests were invited. Then again, wedding expenses just seem to be the tip of the iceberg in this scenario (Panama bells ringing!).


Nawaz Sharif's Granddaughter Mehrun Nisa Wedding.#WeddingInspiration #PlanWithShadiBoxhttps://t.co/QRARKS7wNO pic.twitter.com/wzb4aRqzIl

— ShadiBox (@ShadiBox) December 29, 2015
Nawaz Sharif's granddaughter Mehr-un-Nisa Wedding pictures https://t.co/qz6TiUKKwD @MaryamNSharif #PMLN @pmln_org pic.twitter.com/c315EJhfCK

— Khaleej Mag (@KhaleejMag) December 28, 2015


I know many will call this an extreme viewpoint, an unnecessary judgment and many will call me a plain 'buzzkill'. However, in order to create a sense of collective well-being in the society, one has to put others first.

According to a law that has been in place in Punjab for a while, the menu at weddings is supposed to comprise of just one dish and the closing time can be no later than 10pm. This has also recently been enacted in Sindh and its importance will waiver if the politicians and leaders themselves find ways to escape these confinements using their vast financial resources.

The recently proposed Marriage Bill 2016 in the Indian Lok Sabha instructs that if a family spends above five lakhs on a wedding, it has to contribute 10% of the amount on the weddings of girls from poor families.

Such an example should be readily followed in our country so that people planning their children's weddings are rid of the nerve-racking pressure imposed on them by societal standards and demands.

There needs to be a centrally governed policy in Pakistan to unify wedding expenditures, regardless of the economic status of the people in question. Weddings should only be a cause of promoting collective happiness, not a painful reminder of someone's destituteness.
Facebook Conversations
COMMENTS (9)
Comments are moderated and generally will be posted if they are on-topic and not abusive.
For more information, please see our Comments FAQ