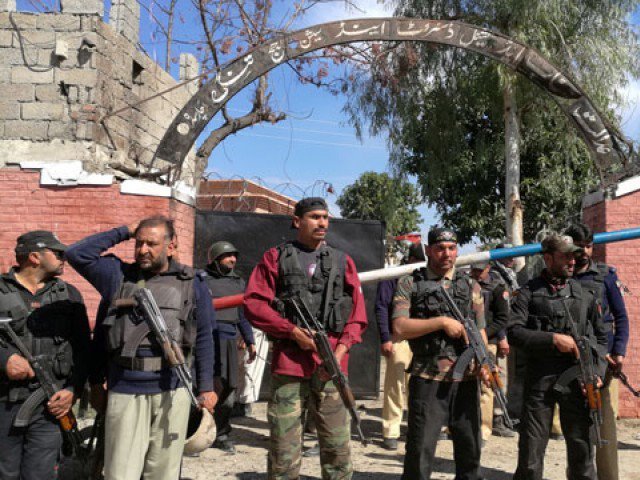 ---
Is the Charsada attack shaping a narrative for Pakistan that we need to change?
Pakistan is not the wars it has fought, Quaid's speeches, or a green passport. To me, Pakistan is much more than that.
---
As I started writing, breaking news tickers were flashing across my TV screen, stating that seven people have been killed while over 21 others have been injured in today's Charsadda attack. An image conjures in my head, entailing a court session in progress, full of burning candles being dowsed in multiple blows. Another few die, while my brothers look for love.

To love is to comprehend; to comprehend something is to go beyond a single story. Yet one single story often goes beyond how we view the world. For example, some common assumptions include, girls are bad at sports, men avoid commitment, corporates are evil, Ireland is unsafe to travel across, and Africa is an entirely backwater dark continent where the population struggles to survive.

See where racism and prejudice stem from?

I work as an accountant, and so far in my career I have constantly been told that I need to develop skills in one specific field. It makes me wonder why it is impossible to accept that a person can effectively function across multiple arenas. We get pigeon holed and side-lined because that makes our expertise easier to explain and ultimately easier to sell. And that is the appeal of the single story – easier comprehension.

As I read updates on the Charsadda attack, I find myself thinking that maybe those western generalisations are true. Maybe Pakistan really is a train wreck in slow motion!

It is sad that Pakistan is often considered a fertile breeding ground for modern day terrorism, almost as if there is an incubator that plants terrorists across the country.

For me, however, Pakistan is home. I was born in Karachi and left when I was a few-weeks-old. During the time I lived abroad, the language I conversed in was not my own and my peers were not like me either. For me, Pakistan was a place I knew solely through the occasional mail I exchanged with my cousins who lived there. It was an imaginary homeland until I moved back at the age of 10.

I often wonder what it means to be Pakistani. Is it a question of values, religion, belonging, or of opposition? For me, Pakistan is not the wars it has fought, Quaid's speeches, or a green passport. To me, Pakistan is much more than that.

Pakistan is so many different things all at once – it is Lahore's Badshahi Mosque, it is food from Burns Road in Karachi, and it is the beautiful drive across Islamabad's Margalla Hills. Pakistan is a monument encapsulating variant hues of beauty.

Pakistan is the sound of the myna birds that nestle quietly in the trees all day and come alive early in the morning. It's the jasmine garlands worn around wrists. It's the adrenaline rush of hitting a six while playing street cricket. It's the nuclear green, cardamom smelling Pakola drink.

But most of all, Pakistan is its people. I remember participating in a sustainability project at work which involved distributing food in a village. The area was visibly poverty stricken, yet full of love. Everyone I met shook my hand and inquired about my journey. Each family offered me tea and water, and one woman even stretched her dupatta to cover my head from the blazing sun.

Terrorism is a brutal reality that paints ugliness on what is otherwise beautiful. What happened in Charsadda is tragic. Headlines are being updated; the number of casualties will increase. One would agree that given the surge of recent attacks, the past few days can be described as Pakistan's bloodiest.

February 13th: Sariab Road, Quetta

February 14th: Punjab Assembly, Lahore

February 15th: Mohmand Agency and Peshawar

February 16th: Lal Shahbaz Qalandar Shrine and Awaran Baluchistan

I fail to understand the hatred behind these actions. In these attacks, we have lost friends, sons, daughters, fathers, mothers, sisters and brothers. My Facebook newsfeed is full of updates on the attack showing remarkable solidarity for the victims.

We live every day under the threat of yet another attack. Do people understand that perhaps we are the victims of terrorism, not the ones who cause it? What is it that we miss when we look at things from their surface, rather than their depths? What other single stories do we have in our heads that prevent us from truly understanding each other? I hope that as the world watches us, it stands in unison to mourn our country yet again. We can find the courage to change our single story of Pakistan.

Pakistan constantly imparts lessons on acceptance across colours, castes and creeds; it teaches us to confront multi-faceted extremism and is gradually showing us the need to build a better place for future generations.

I wish I could tell the world to use love to replace hatred and misunderstanding. But it isn't easy, because the cycle of change starts with each one of us.
Facebook Conversations
COMMENTS (27)
Comments are moderated and generally will be posted if they are on-topic and not abusive.
For more information, please see our Comments FAQ