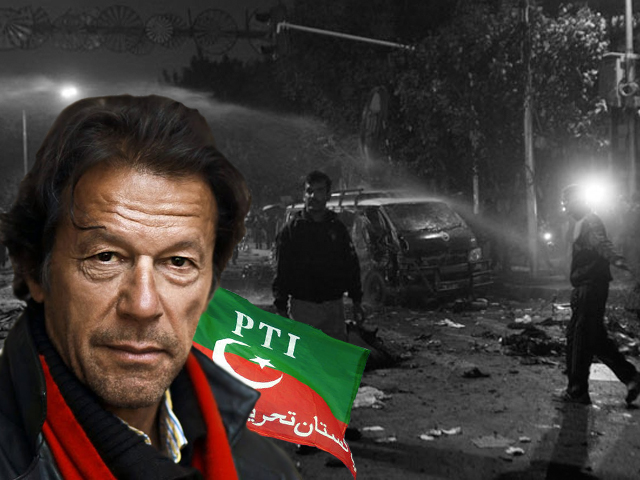 ---
Of the Lahore blast and PTI's real "achievements"
Insensitive PTI supporters pointed out that historically, such blasts occurred whenever the government was in trouble.
---
The city of my birth, Lahore, is bleeding again. Many are shocked and have condemned it in strong words, while some have reiterated their pledge that the fight against extremism would go on – both Prime Minister Nawaz Sharif and Chief of Army Staff General Qamar Bajwa made strong statements of condemnation. With respect to fight against extremism, military and civilian leadership seems to be on the same page.
Prime Minister Muhammad Nawaz Sharif has very strongly condemned the blast that occurred at Charing Cross Lahore.

— PML(N) (@pmln_org) February 13, 2017




However, reactions from some quarters were unfortunately petty. One of Pakistan Tehreek-e-Insaf's (PTI) sitting MPA, Murad Raas, tweeted the following reprehensible words:


A very strong Reference Hearing against CM Shahbaz Sharif in PA today by Babar Awan & PTI MPAs. CM has to go. Suddenly a blast outside PA???

— Murad Raas (@DrMuradPTI) February 13, 2017


It is indeed tragic that at a time of mourning and national tragedy, some PTI politicians, instead of acting maturely and responsibly, are indulging in a petty blame game. They are weaving absurd conspiracy theories and trying to play politics on dead bodies. I keep hearing tall claims by PTI that it "cares" about ordinary people and is their real "representative", yet this reprehensible behaviour from their MPA directly contradicts these claims. These words show almost no respect for the martyred and utter disregard for even commonplace decency.

It seems that in its obsession to bring down the Nawaz government, PTI is literally ignoring every ethical and moral consideration and now interpreting terrorist attacks (which have been occurring for over a decade) as "conspiracy" by the government itself!

These words are inexcusable and have deservedly been condemned by some.


.@DrMuradPTI there are times, sir, when it is better to keep your mouth shut. This was one of those times.

— Zarrar Khuhro (@ZarrarKhuhro) February 13, 2017
as someone from your constituency your tweet was a disgrace to your voters @zarrarkhuhro

— Aam Awam (@AaamAwam) February 13, 2017
Precious lives were lost today and he took it as an opportunity to gain political scores. Slow clap 👏

— ع (@liXaidi) February 13, 2017
@DrMuradPTI i m feeling ashamed as pti supporter plz stop this stupid logic dr sahib more than enough stop looking 4 excuses

— Devilish Angel(Stay At Home) (@DAngel987) February 13, 2017
No. Anyone with any decency is simply revolted by you. As I am. You're a sad excuse for a human being. https://t.co/Jh37XiUoKj

— Zarrar Khuhro (@ZarrarKhuhro) February 13, 2017


However, as expected, the PTI troll brigade came to the rescue of the MPA. Instead of apologising and deleting the tweet, the MPA hardened his tone and kept on repeating the same allegation. He openly alleged that due to coverage of the blast, the narrative in the national media has changed and no one is now talking about reference.


entire narrative & story changes. The focus is now the tragic event & the news cycle runs this story. Call it conspiracy theory

— KHURRAM (@MahmoodK69) February 13, 2017


Some PTI supporters pointed out that historically, such blasts had occurred whenever the government was in trouble.


Exactly. And the band plays on and on and on. https://t.co/BeQwbt3S8b

— Murad Raas (@DrMuradPTI) February 13, 2017


Unfortunately, I have heard similar nonsense before also. This is a standard way of thinking by many of PTI supporters and is extremely dangerous because it obfuscates the entire issue of terrorism. Instead of directing the national discourse towards the root causes of extremism, the focus changes to third rated conspiracy theories. The following was tweeted by PTI MNA Ali Muhammad Khan after the Quetta blast in which he blamed government for deliberately conducting the terror attack in order to divert attention from corruption. In fact, he also suggested that the government was in cahoots with Indian agencies and was also responsible for the APS massacre.




Over the years, PTI leadership has either offered apologetic defence for extremism or come up with these weird theories. Right up to the APS massacre, the standard narrative of PTI had been that terrorism was merely a reaction to war in Afghanistan. PTI Chief Imran Khan had repeatedly blamed drone attacks and Pakistan's cooperation with the US as the main cause behind terrorism. He even went to the extent of suggesting that the banned Tehreek-e-Taliban Pakistan (TTP) should be allowed to open offices in Pakistan.

His apologetic defence for TTP was so blatant that the organisation actually nominated him as their representative when the government wanted to have peace talks with them.

It was after the APS massacre when PTI finally changed its narrative and now blames "foreign powers" who, according to their twisted mind-set, are in cahoots with the Nawaz government and are trying to shift the focus away from corruption.

One actually feels sad, and in fact pities this mind-set that reveals a collective psychosis of a significant part of our urban middle class.

To top it off, many PTI supporters actually think that the party is responsible for lowering corruption and even for "restoring faith in democracy". In reality, PTI's tactics have been thoroughly undemocratic. It refused to accept the election results and indulged in a totally useless agitation which resulted in instability and a loss of billons of rupees to the national exchequer. At one point, during the first dharna, Imran actually endangered the lives of his supporters including that of women and children by ordering them to cross the red zone. No one in their right state of mind can call these tactics as democratic. How do you "restore" faith in democracy when you are storming your own institutions?

PTI supporters would object by resorting to the claim that the 2013 General Election had been "massively rigged". But were those elections rigged? No pre-election survey had given PTI any chance of winning the elections. After the elections, PTI had lost the local government elections and most of the by-elections as well. Their claims of rigging were rejected by the judicial commission as well.

Recently, Imran openly asked the military to intervene, once again undermining the democratic process.

Even their campaign against corruption is exclusively focused on the Panama leaks and reeks of political opportunism. It has merely caused a needless hype and once again taken the focus away from more pressing issues. In fact, as already discussed in this article, many PTI supporters have become so obsessed with it that now even acts of terrorism are being blamed on the government.

If anything, the "real" achievements of PTI entail mainstreaming a conspiracy theory mind-set and thoroughly undemocratic practices. It is largely due to PTI's narrative that instead of looking inwards, our national discourse is increasingly schizophrenic and blames "foreign" hands in everything. It is due to their needless confrontation and actually asking establishing institutions to overstep their limits that democracy has weakened instead of strengthening.


Facebook Conversations
COMMENTS (19)
Comments are moderated and generally will be posted if they are on-topic and not abusive.
For more information, please see our Comments FAQ