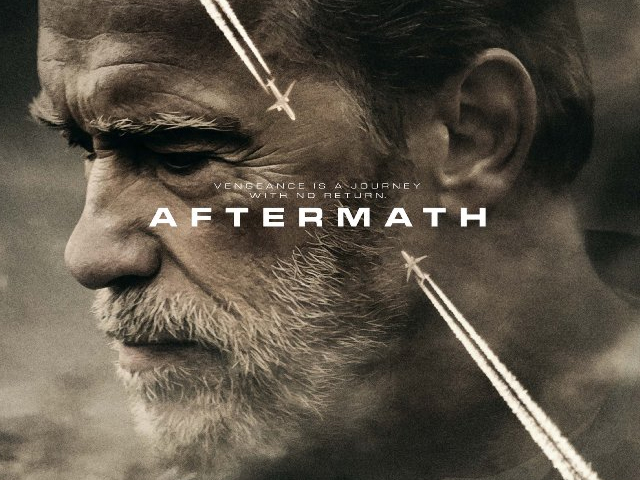 ---
Aftermath: "I'd like for someone to say that they are sorry for killing my family"
Arnie's brilliant performance aptly portrays the emotional trauma a grieving person endures, leaving us wanting more.
---
Anyone would agree to the fact that Arnold Schwarzenegger – a bodybuilding icon, an action hero and a true international star – is one of Hollywood's biggest success stories. He has been successful not only in winning the hearts of many generations by his famous quote "Hasta La Vista, baby" from Terminator, but also by winning the votes of the people and becoming the 38th Governor of California. However, one thing Arnie has not been able to achieve is praise for his acting skills. But that might change in the coming few months.

The trailer of his upcoming movie,  Aftermath, co-starring Scoot McNairy and Maggie Grace, dropped a few days ago, and I can tell you it's nothing like any of his previous work.




Based on a true story, the plot is based on the subsequent events of the July 2002 plane crash wherein a Russian passenger airliner collided with a cargo plane, killing all 71 passengers aboard the planes, due to the air-traffic controller's negligence.

Schwarzenegger plays the role of Victor, a construction worker and a grandfather-to-be, who is eagerly waiting for his wife and daughter's arrival. But the story takes an ugly turn when the plane carrying his family crashes, killing his family and everyone aboard and leaving Victor broken into pieces. With nothing else to look forward to in life and revenge on his mind, Victor gets obsessed with finding the air-traffic controller, played by Scoot McNairy, whose negligence might have caused the plane crash.




From the looks of the trailer, this movie will be a tour de force for Schwarzenegger. Judging by his brilliant performance in the 2015 zombie drama Maggie, it seems Arnie has started accepting challenging roles with more depth.

In essence, Aftermath is a dark revenge thriller which is heavily dependent on Schwarzenegger's portrayal of Victor. In one of the scenes from the trailer, Victor is offered a sum of money by the airline to compensate for the death of his family, to which he replies,

"I'd like for someone to say that they are sorry for killing my family."

Arnie's brilliant delivery of the dialogue aptly portrays the emotional trauma a grieving person endures, leaving the viewers wanting more. And I hope we get to see more of such performances in the movie. I, for one, cannot wait for the movie to be released.