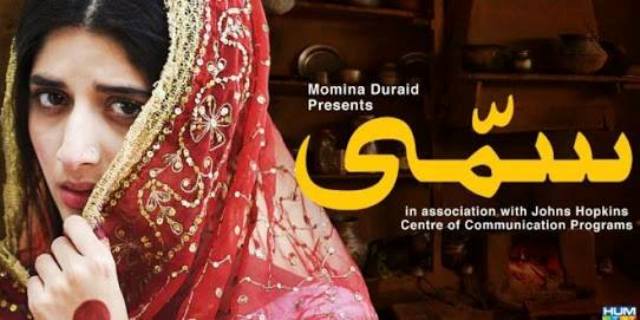 ---
Is Sammi the new Udaari?
Sammi portrays the hideous act of vani and highlights customs like karo-kari and honour killing prevalent in society.
---
In Pakistan, there has always been a social stigma attached to discussing taboo social issues such as sexual abuse, child marriage, and marital rape. These are topics that we do not discuss, but are well-aware of its prevalence in the society. People just sweep these topics under the rug and refuse to come out of their bubble and face the reality.

The media has now taken the initiative to highlight these issues openly despite the opposition from some segments of the audience. Sammi, the new offering by Hum TV, addresses another social issue called 'vani' which many of us are not aware of. Vani is a custom practiced in villages and tribal areas where girls have to pay the price for crimes committed by the men of the family. A girl from the family of the criminal is forced to marry a man from the victim's family. The elders from the tribe call a jirga and proclaim the girl vani.

This is not the first time a social issue has been addressed through the television drama medium. A similar offering by the same channel, Udaari, created waves last year when it addressed the bold social issue of child abuse. It faced a lot of controversies initially because of its content, but was eventually, highly applauded for its fearless stance.

Sammi is depicted in a similar setting of a village where people follow old customs and traditions, and women are still treated as men's property to be used for their benefit. The drama serial brilliantly portrays the hideous act of vani. Apart from vani, Sammi also highlights karo-kari or honour killing, which is again a prevalent evil in our society.




Sammi also marks the comeback of Mawra Hocane who was last seen in the Indian production, Sanam Teri Kasam. It is produced under the banner of MD productions in association with the Centre for Communication Programs Pakistan and in collaboration with John Hopkins University. It is directed by the renowned actor and director Saifee Hassan and written by Noorul Huda Shah. Apart from Hocane, the stellar cast includes names such as Adnan Siddiqui, Sania Saeed, Seemi Raheel, Saman Ansari, Haris Waheeed, Rehan Sheikh, Madiha Rizvi, Irfan Khoosat, Nadia Afgan, Bilal Khan, and Ahad Raza Mir.

During a recent press conference held in Karachi to promote Sammi, Hocane stated,

"We are a part of the privileged segment of society, and we tend to forget that there are many women in rural areas that are suffering."


In the pilot episode of Sammi that aired last Sunday, we saw how Sammi who belongs to a small village was given as vani so that her brother Waqas (Haris Waheed) could be saved from punishment for murder.

On the day of Sammi's mehndi, hot-headed Waqas, protective about his sister, kills Pervaiz (Mirza Zain Baig), his brother-in-law to be, due to a heated argument over her haq mehr. As per the custom of vani, Sammi ends up suffering because of her brother's so-called honour.


One could feel Sammi's helplessness and sympathise with her while she begged her parents and brother to save her, but to no avail. The pilot also depicted how the judicial system is weak in these villages and in matters as serious as murder, the decisions are taken by the village jirga. When Pervaiz's father tries to go to the police to file a complaint, he gets stopped by the village chief who considers it as an insult for the village if the matter is taken to the police.

The performance of all the actors has been good so far, and all of them fit into their role well. Some of them have adopted the punjabi accent well while others still require a lot of tweaking.

It is also refreshing to see Adnan Siddiqui in a different role after a long time. He plays the role of the village chief's brother, and would follow his command without even blinking an eye.


Television has a broad range of audience and it is great to see that it is being used so effectively to convey the impact of these social issues to our society. The people of our country need to come out of their conservative mind-set, speak up and take a stand against such customs. Our society is still stuck in the "log kiya kahenge" (what will people say) mind-set, so much so that if a girl is raped tomorrow, the parents will be reluctant to file a complaint due to fear of tarnishing their reputation. If a transgender is born in the family, her parents either keep the gender identity a secret all their lives or give her away as soon as she is born.

Furthermore, marital rape is not even considered taboo in our society by most people. According to them, if a girl gets married then her husband does not need consent to engage physically as he pleases. Same goes for child abuse. So it's taboo to talk about it, but not when it comes to carrying out the act. Similarly, Udaari was banned due to its portrayal of child abuse as it was considered 'offensive and sensitive' for the audience.

Let us hope that Sammi does not face any similar controversies in the upcoming days and gets a positive response from the audience.
Facebook Conversations
COMMENTS (2)
Comments are moderated and generally will be posted if they are on-topic and not abusive.
For more information, please see our Comments FAQ