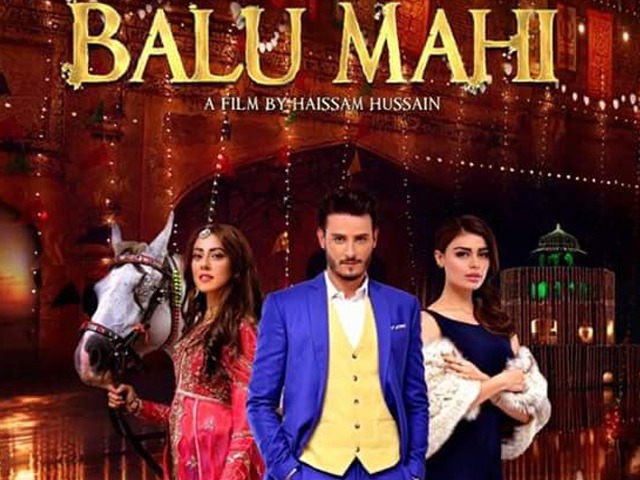 ---
Will Balu Mahi live up to the hype it created?
The movie offers a fresh cast with comparatively young lead actors and a production team that knows its work.
---
The upcoming romantic comedy, Balu Mahi, has created a lot of hype over social media and for all the right reasons. We don't know much about the movie aside from the fact that Osman Khalid Butt takes the lead as Balu, alongside Ainy Jaffri as Mahi. Sadaf Kanwal makes her debut in acting as well. In anticipation for its release, fans have already begun enjoying Balu Mahi's title song, performed by Asim Azhar and Aima Baig.


Recently, the Balu Mahi team started a Balu Mahi dance contest over social media. Featured in the video were Butt, Hareem Farooq, Zainab Ahmed, Imran Kazmi and Usman Mukhtar. During the video, Mukhtar is seen dancing while also urging viewers to post a Dubsmash of the song on the movie's official page. This did create a ripple across the internet and sparked curiosity among viewers about the movie and its cast.

[/fbvideo]

Since Butt has established himself as an emerging actor who can add emotion and comic relief in his dialogue delivery along with apt facial expressions, people are anticipating a great movie. Ainy Jaffri, our other protagonist, has performed well in the television drama Aseerzadi, and in her debut movie, Main Hoon Shahid Afridi.

A few things we can expect from the movie are the usual elements of fun, comedy, along with some dance and action scenes. However, here's hoping that Balu Mahi chose an original way to conduct these elements onto the big screen. Most of the scenes are shot in Pakistan's captivating northern areas, which will be worth watching.

Balu Mahi is directed by Haissam Hussain, who directed the dramas Durr-e-Shahwar, and Dastaan. He also directed Aun Zara, which starred Osman Khalid Butt alongside Maya Ali. Will Hussain and Osman's history add production value to the movie? That is yet to be seen.

The movie offers a fresh cast with comparatively young leads and a production team that knows its work – as anticipated by watching the movie's trailer. Some questions that I can't wait to have answered are – what are Balu and Mahi's real names? How are these two characters connected to each other? And what journey do they embark on?

I personally predict that Balu Mahi will define a new direction for Pakistani cinema led by young innovators. Let us keep our fingers crossed.
Facebook Conversations
COMMENTS (2)
Comments are moderated and generally will be posted if they are on-topic and not abusive.
For more information, please see our Comments FAQ