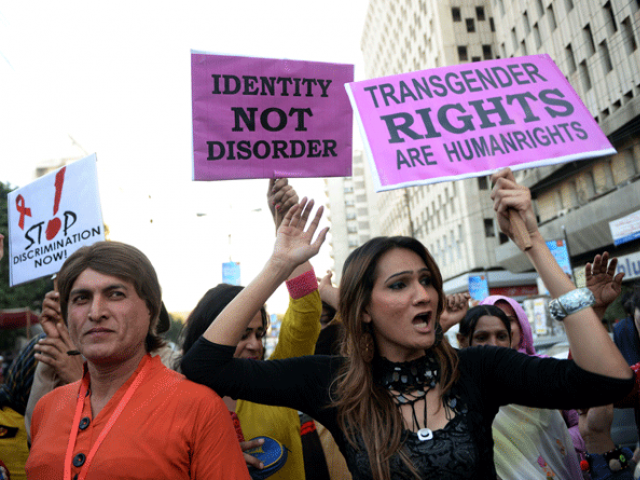 ---
Moving towards a trans-friendly Pakistan, finally
I believe these milestones, small or big, are significant to impact the public consciousness in Pakistan and India.
---
What a feeling it is when you just be yourself without having to be self-conscious about it. There's not an iota of concern there. "I am who I am, I wear whatever I please and I express myself however I chose to," thinks the person. I am not going to be shamed or persecuted by anyone, or entertain any fears about that happening. For many, a transgender, man or woman, it is but an idealised notion that is not always realised but is perhaps trending in the right direction now.

In Peshawar, Pakistan, there was a birthday party for a 40-year-old transgender woman by the name of Shakeela. It was to commemorate and joyfully celebrate her middle-aged life, with guests bringing sums of money to help her start a small business or project. According to attendees at the event, every transgender person is supposed to get a birthday party once in their lives.

This is something that is monumentally in contrast with the norm. It is usually the transgender people who serve as dancers or perform and felicitate the host.

"It's the first time in a decade that we have openly hosted such a function," said Farzana Jan, a leader of Trans Action Pakistan, a campaign group that estimates there are at least 500,000 transgender people in the country of 190 million.

The local police served as security for the event in case of those with malicious intentions who wished to disrupt the party.

Wow! That is something new to hear!

The hardline stance that has come between the Pakistani transgender community and the citizenry has mollified a bit due to the harrowing death of the 23-year-old transgender activist named Alesha, who was shot six times and denied treatment at a hospital in Peshawar. The medical staff deliberated whether the patient should be admitted in the men's ward or the women's ward, while Alesha lay there on the stretcher, dying. Comments about her breasts and body were made in jest. The story garnered national attention and helped to bring the lives of transgender individuals in the forefront. This past month, a Pakistani court ruled that transgender individuals would be counted in the national census for the very first time. Several years ago, in 2012, the Supreme Court declared equal rights for the transgender citizens. A year earlier, they were allowed to vote. However, activists say there are many more hurdles to clear before they attain full rights and freedom from persecution.

The situation is not that different from Pakistan's neighbour to the east, India. Historically, in India, the transgender community has long been a visible, and integral, element of its culture. They were once often welcomed in the courts of pre-colonial rulers as entertainers. Some believe that transgender people are agents of fertility, which is why they are still commonly paid in return for blessings at births and weddings. In modern times, however, these individuals have been shunned by their families and forced into begging at signals or near public transportation to meagerly support themselves. Most change their names or only go by one name. Life is a challenge for these people, but there have been cracks made in that glass ceiling for their advancement and uplift.

The Supreme Court in India passed a law in April 2014 that allowed the transgender community to be solely recognised as a third gender. It permitted them a separate identity while voting, applying for passports, obtaining a driving license or admission to educational institutions. This was seen as a landmark judgment in the traditionally conservative nation. In the name of human rights, this was long overdue and sorely needed to create a fair, inclusive society. Access to quality education is part of that process, but unfortunately, it has been missing for the transgender community… until recently.

Transgender activist, author and founder of the Sahodari Foundation, Kalki Subramaniam helped inaugurate India's first transgender school in Kerala earlier this year. It will initially consist of 10 pupils, all aged between 25 and 50. The students will be prepared for India's Class 10 and 12 board exams, normally taken when students are aged 15-18, respectively. The curriculum will also include some vocational skills, with the teaching staff comprising of transgender individuals themselves, to build protection and encourage the students.

"It is the first such centre in India for transgenders. I am really overwhelmed and excited about it," said Subramaniam.

"As an activist I believe only education can empower transgenders. Many of them, almost 60-70%, have been abandoned by their families. Because of rejection, they lost the opportunity to get good education and thus are not eligible for good job, good money, and good livelihood."

Kerala has evolved and progressed in equality, much faster than the other states, even faster than Tamil Nadu, which was the pioneer state of the transgender movement in India. Subramaniam attributes it to sustained community activism from many sources.

"I think the kind of lobbying the activists here have done and the kind of support they received from other parts of the state has played key roles. Politicians, academicians, students are all part of this lobbying and I think this movement has come to this stage because of the efforts of the activists."

Continuing on the Kerala trend, the 2016 International Film Festival of Kerala (IFFK) incorporated a number of transgender-friendly initiatives, including separate toilet facilities and registration options. The week-long film fest included a category for films on sexual minorities for the first time, entitled Gender Bender. The committee plans to welcome potential transgender individuals as part of the next board membership elections.

The music world in India was graced by the presence of 6 Pack Band, India's first transgender pop music group. The group was curated by music director, Shamir Tandon and has created original songs along with covering popular songs such as Happy by Pharrell Williams. Bollywood celebrities such as Hrithik Roshan, Salman Khan, Anuskha Sharma and Sonu Nigam have all lent their support, presence and voice to some of the band's songs, most notably, Sonu Nigam.

"I felt very happy singing with them. They were singing my songs all the time, they have a very good vibe. I really enjoyed their innocence and child-like energy," the singer told reporters.

I believe that these milestones, as small or big they may be, are very significant to impact the public consciousness in India and Pakistan. By doing so, it will help normalise the Trans community in the eyes of society. The persecution that activists earlier alluded to stems from clinging to parochial religious values and not fully understanding who transgender individuals are, causing intense trepidation in society. Visibility is crucial, so that what is considered unique before will be commonplace now. A constructive patient dialogue is the key to open one's mind and develop large-hearted attitudes to each other. Being able to have an elaborate party in one city to a wedding in a particular suburb, to walking the ramp wearing designer clothing, to having a meaningful, non-stereotypical role in a TV drama or movie, all for the cause of constitute progress.

I feel strongly in the age we are all living in where it is so imperative to be cognisant of people who are different than us. They may be immigrants, refugees, practice different religions, and have different sexual orientations or gender identities, but above else, they are human beings who deserve to be treated with love, kindness and dignity. It is up to this generation of people to uphold these beliefs, share them and have zero tolerance for any hateful or inflammatory rhetoric.
Facebook Conversations
COMMENTS (4)
Comments are moderated and generally will be posted if they are on-topic and not abusive.
For more information, please see our Comments FAQ