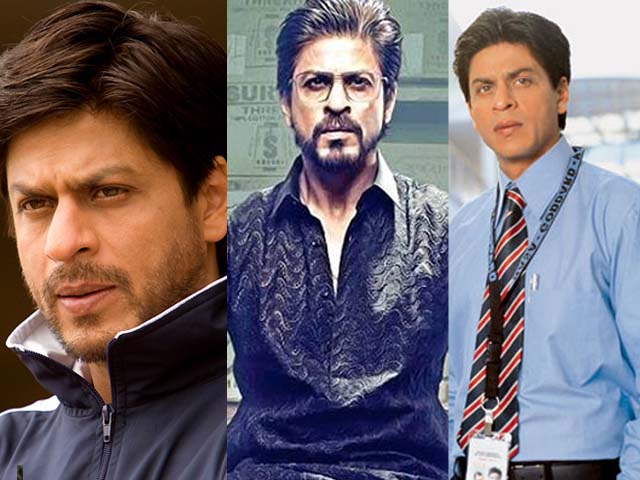 ---
I am a die-hard SRK fan, but I won't watch Raees
It is painful to watch Shah Rukh Khan in films which are no different from other run-of-the-mill potboilers.
---
The much-awaited Shah Rukh Khan (SRK) starrer Raees, released in January 2017, seems loosely based on the life of notorious Gujarati Mafioso Abdul Latif.

Latif was a gambler, a hired assassin, bootlegger and extortionist par excellence. He was also involved in the 1993 Mumbai bomb blasts and on the run till he was killed by the police in an encounter in 1997.

Raees has, perhaps, sketched Latif's life with all the charm and halo one expects from an SRK starrer.

Like all other SRK fans, I wait for his films with bated breath. Such is my King Khan mania that I have never missed a single Shah Rukh Khan film, always made sure that I watch his interviews online and check his Twitter handle twice a day for a peek into his world.

At the age of 36, I participated in the #IamFAN contest, right before the release of Fan. I felt terrible when I could not make it to the poster and meet him in person. My friends know that I have a speech ready for the day I meet Shah Rukh Khan. Every time I visit Mumbai, I do visit H K Bhabha Road for a glimpse of his palatial home, Mannat.

But I am a different kind of a fan who, perhaps, SRK isn't used to. For most of the star's fans, all his performances are worthy of an Oscar, no less.

Whilst I appreciate him for his good work, I also cringe at his errant choice of films and bad performances.

I passionately praised his performance in Dear Zindagi, as much as I deplored his guest appearance in Ae Dil Hai Mushkil. In much the same way, I also vow not to waste my time on Raees.

But the Raees trailer failed to intrigue me. It seemed like it was made in haste. Even if the producers decided to experiment with the story of yet another underworld don, I had expected a storyline worth looking forward to.


Instead, Raees' trailer sketches a plot plagued with clichés. While one of the dialogues informs the viewers that the story is set in Gujarat, there is nothing remotely Gujarati about the rest of the trailer.

The language the characters in the film speak does not have a hint of Gujarati. Anyone who has ever visited Gujarat will know that Gujaratis speak Hindi in a certain way. It would have been just so perfect to hear Shah Rukh deliver dialogues like the quintessential Gujarati Pathan would. But Raees Khan sounds Lucknavi to me.

Ranveer Singh and the rest of the cast in Bajirao Mastani attracted so much acceptance from the audience because of the fact that they immersed themselves in the skin of the Marathas. Isn't good cinema supposed to offer that flavour of authenticity to its audience?

I wish Raees was curated with a little more investment to the authenticity of characters.

If Bhansali's film Ram Leela, based on two factious towns and their rivalry, managed to earn critical acclaim and an enviable Rs15.5 crore at the box office on the first day of its release, Raees, based on the life of a real life bootlegger and the crime and politics surrounding the liquor ban in Gujarat, deserved to be made with a better punch.

But what appears from the trailer is that Raees is yet another action film that has an inalienable flavour of the '70s.

I am not sure how Shah Rukh would feel about being compared to the angry young man of Deewar as this review of Raees' trailer suggests.

As a fan, I feel thoroughly disappointed about not being able to see King Khan taking the genre a few steps ahead and creating a niche for himself with a brilliant storyline that translates into a rich film.

Shah Rukh may have an audience that still likes to see flying bullets, a gangster daring a cop, an item song or two, ugly fight sequences and painful musical breaks. But many like me prefer to see him doing better films with firmer plots and impactful roles.

It is painful to watch Shah Rukh Khan in films which are no different from other run-of-the-mill potboilers. He recently impressed the audience with Dear Zindagi. Fans haven't forgotten his Swades and Chak De!

Apologies, fellow SRK fans. I am aware that I am ruthless with my views on the Raees trailer. The purpose is to let Shah Rukh know that he is capable of doing better films – and that the audience wants to see more of Mohan Bharghav (Swades), Kabir Khan (Chak De!) and Jehangir Khan (Dear Zindagi).

I wish Shah Rukh had picked more substantial roles and convincing films that blow fans like me away with their solid storyline, meaningful dialogues and believable portrayal of characters and situations.

It remains to be seen what response the film is likely to generate given it is creating a hero out of an underworld don.

The political climate in the country is already charged post Uri and Nagrota attacks and releasing a seemingly contentious film on the Republic Day weekend in such times raises serious doubts about its success.

This post originally appeared here.