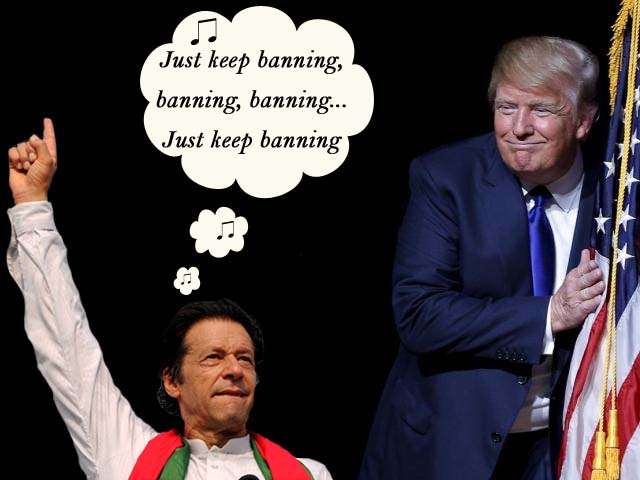 ---
Imran's misguided brain-drain solution
How does someone vying to be the prime minister of our country make such a tone-deaf statement?
---
Most things that come out of Imran Khan's mouth are emotional statements bereft of nuanced thought or judgment. This one was no exception. Like most things Imran Khan, the intention and underlying thought might well have been good, but the execution came out looking all kinds of dumb.

Imran Khan stated he was praying that Trump bans Pakistanis from travelling/immigrating to the US. The reason: It would prevent the brain drain and compel people to travel back to Pakistan to fix the country. Now let's be fair, the intention here is good. Pakistan definitely has a brain drain problem. The US is definitely one of the countries that sucks up these brains. This much is true and irrefutable. But that's about the limit of where he gets it right.

The next question is, what are the root causes of this brain drain and will a travel/immigration ban fix the brain drain problem? The answer to the latter is a huge no, and here's why:

1. The brain drain exists not because Pakistanis hate their own country but because there's a lack of opportunities in the private sector in Pakistan. Will a travel ban suddenly create more opportunities for young Pakistanis looking to work in a challenging professional atmosphere that makes them internationally competitive/employable? No. It is salaries, work culture, meritocracy and quality of life that drive the brain drain, not the ease of immigration or self-hate. Of course, Imran Khan's Naya Pakistan will magically fix all these problems and more, so maybe I'm making a self-defeating argument here.

2. The US still has one of the best educational systems in the world. A travel ban would prevent Pakistanis from studying in the US, further reducing the already miserable number (in comparison to India) of Pakistanis that are studying at the world's top institutions and working in Silicon Valley. If Pakistanis can't have access to the world's best educational institutions and the cutting edge of technological innovation, how on earth are they ever going to achieve parity with countries like India and China whose students flood top US universities and the tech scene?

3. The process of immigrating to the US as a student is already extremely difficult. You first have to get a student visa, then have to get lucky enough to get an H1-B visa, then you become eligible to apply for permanent residency, and assuming you stick out another three years, you can then apply for US citizenship. This process means that the majority of Pakistani students who study in the US return to Pakistan anyway. The chances of getting selected in the H1-B lottery are roughly one-fifth or one-sixth, so as far as Pakistani students looking to stay in the US to work is concerned, many are returning to Pakistan anyway. So in a Pakistani student in the US context, what brain drain is he even referring to?

4. Pakistan has a fledgling tech/start-up scene that is only just starting to attract international investor attention. If there was a travel ban in place, how would any Pakistani entrepreneur ever travel to the US to solicit investment, guidance, workshops, contacts/networks or any of the other things that an entrepreneur needs? Should Pakistanis only look to China for these things? Should we embrace shutting ourselves out of access to the world's most innovative and powerful economy?

5. What about the thousands of Pakistanis that have family in the US? What of the thousands of Pakistani green-card holders with family still in Pakistan? How does Imran Khan's half-baked solution to the brain drain help these people? It would affect their livelihood, their ability to visit their family, their freedom of travel and thus their happiness. How does someone vying to be the prime minister of our country make such a tone-deaf statement?

The harsh but true reality is that if the US does implement a travel/immigration ban that applies to Pakistan, the vast majority of professionals currently working in the US that Imran thinks will return to Pakistan to fix the country's problems will instead look for opportunities in the UAE, Singapore, Canada, Australia, the UK and other places. The root causes of the brain drain are internal, not external.

Pakistan doesn't need a travel ban. It needs anything but.