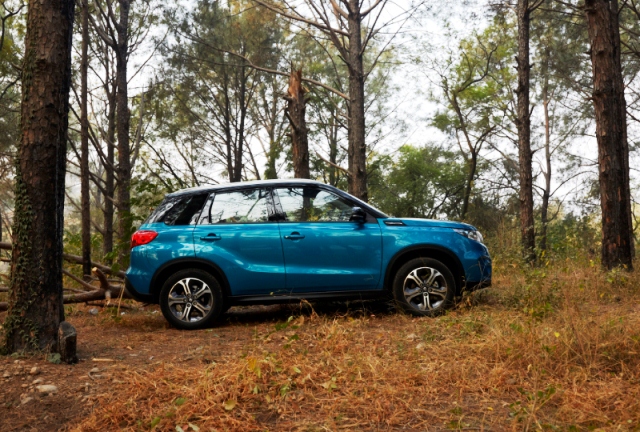 ---
Is the new Vitara worth the money?
Its signature product, the Mehran, has remained static, passing onto generations like a family heirloom no one wants.
---
It's said that the car you choose to buy depends on, well, your budget. But the condition you maintain it in depicts your personality and love for it. The way you drive it is a reflection of your state of mind.

So who exactly would want to buy Suzuki's latest attempt to transform itself in the eyes of the Pakistani public? Perhaps, that is the reason why it's labelling it as a "game-changer".




After all, its signature product, the Mehran, has remained static, passing onto the next generation like a family heirloom no one wants.

A comparison is unfair, though.

If one could forget Suzuki's relationship with Pakistan, which is a difficult task since it is the most common vehicle out on the road; one is almost inclined at giving Vitara a second look.

It's priced at Rs3.79 million for the "loaded" model, as one would like to phrase it, and Rs3.49 million for the basic variant.

In those Rs300, 000 – which was the price of Mehran not too long ago – one gets a panoramic glass roof, parking sensors, LED daytime running lamps, keyless entry, and push start features among other smaller add-ons.




The Suzuki Vitara becomes the latest to join a growing club of crossover SUVs that are slightly more affordable than the traditional beasts on offer such as the Land Cruiser Prado and Land Cruiser from Toyota. Honda's Vezel and HR-V – the imported compact SUVs – are the only competitors, given that a comparison with Audi's Q2 would be unfair for several reasons. Talks are rife of another competitor on its way, though.

The drive

Vitara's 1.6L engine is loud if you push it, becoming increasingly clear that the car is actually making an effort for you. The noise can be annoying and might tease you into slowing down a notch. Its stable, has good traction and grip with the road, so higher speeds would be good for the highways given that Pakistan's roads, traffic, potholes, and haphazardly stopping buses don't allow for much speeding anyway.

The paddle shift gears are a good feel and force the 10-2 position a driver must adopt while driving a vehicle.




Its size is close to the 2016 Vezel and its horsepower is hovering near the same level. The kerb weight is just five kilograms apart. So they are close competitors in terms of space, dimensions and body weight.

But within the model, the Vitara has come a long way from the 1990s when smaller, two-door-with luggage-space was seen in Pakistan. The Grand Vitara, which Suzuki introduced a decade ago, was highly unsuccessful due to multiple reasons including price.




The Vitara, which Suzuki so proudly affiliates with actor Fawad Khan to appeal to a younger generation, may not meet the same fate. According to sources, 120 of the 170 units imported have already been sold.




This addition to the Suzuki family may very well be a welcome one given that this Japanese company has always thrived on lower prices, lower-quality vehicles and high volumes.

We are thrilled to see that the concept of an airbag will finally be applied to a Suzuki vehicle. Vitara will not be driven on volume. It's a niche car, meant for people who want the feel of a SUV, but don't want to spend all the moolah on it. Is it affordable? For the majority, no.

But is it worth the money? Probably.




This is the first Suzuki vehicle that may well attract attention due to its features. Suzuki has made the effort and thought of Pakistan as a worthy market, finally. Its previous attempt, the Rs5 million Kizashi, failed to create that impression.




For a little under Rs4 million, the Vitara seems like good value for money. It doesn't have too many competitors at this point in time and that is an added bonus for a company ridiculed to have looted Pakistani consumers for at least two generations.

[poll id="731"]