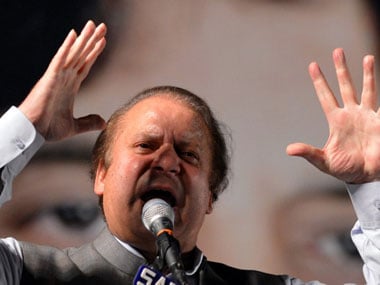 ---
Is PML-N trying to fool everyone under its centrist garb?
PML-N is attempting a double game; it tries to capture the liberal vote while retaining ties with the religious right.
---
Away from the racket of the Panama proceedings at the Supreme Court, the past couple of months have seen Nawaz Sharif take emboldened steps to reconcile with some of the most marginalised segments of society. Firstly, in the beginning of December, the prime minster gave directions to rename the National Physics Centre in Quaid-e-Azam University as The Professor Abdus Salam Centre for Physics, honouring the late Nobel Prize winner from the Ahmadi community. Followed by that was the premier's inauguration of the restoration of the ancient Katas Raj Hindu temple complex in Punjab. Speaking at the event, he claimed that Pakistan will soon be recognised as a minority-friendly country.

This seemingly progressive and more centrist shift to the Pakistan Muslim League-Nawaz's (PML-N) politics is not limited to the abovementioned developments either. Certainly, there have been whispers of this alleged shift within certain sections of the left-leaning intelligentsia, with commentators observing how the PML-N is positioning itself to appease the liberal voter that stands disillusioned with its own Pakistan People's Party (PPP) and apprehensive of the more populist, right-leaning Pakistan Tehreek-e-Insaf (PTI). A case in point is Nadeem F Paracha's recent piece. Paracha pens that the new constituency of moderate voters PML-N is developing within the urban centres of Punjab is already proving decisive and that it was this breed of heterodox supporters that tipped the scales in favour of the ruling party during the closely contested NA-122 by-elections.

Prima facie, this is sound political strategy. PTI, by virtue of its alliance with Jamaat-e-Islami (JI) and other pro-right policies and rhetoric including its support for negotiating with the Tehreek-e-Taliban Pakistan (TTP), seemed to be vying for the same kind of conservative voter and cramping the Noon League within its own constituency. In addition to this right-wing constituency, PTI also enjoys hefty support amongst the more modern middle class section of the society due to its anti-status quo agenda. Thus, a move to expand its horizons and latch on to the now unattended liberal voter in Punjab makes a lot of sense on PML-N's part. However, it is a question of debate whether the ruling party's move towards the centre has truly crystallised in a convincing manner and truly paid dividends.

Consider this: Merely a day after PM Nawaz directed the National Physics Centre to be renamed, the Counter Terrorism Department (CTD) in Punjab conducted a raid on the Ahmadi headquarters in Rabwa and detained four of its members. The only plausible rationale behind the measure seemed to be the appeasement of anti-Ahmadi elements incensed by the PM's move to commemorate a notable member of the community. More recently, the interior minister had the audacity to claim that sectarian outfits, including Sipah-e-Sahaba Pakistan (SSP) and Lashkar-e-Jhangvi (LeJ), are not necessarily terrorist groups. Meanwhile Rana Sanaullah still appears cosy with the same sectarian entities in Punjab whilst the federal minister for religious affairs gives eulogies for the "martyred" Mumtaz Qadri.

It seems that despite a number of symbolic overtures towards a more centrist posture, PML-N remains weary of disillusioning its more conservative vote bank and therefore resorts to counteracting any such measures through contradictory actions such as the CTD raid on Ahmadi headquarters last month. Furthermore, it's most prominent figures such as Nisar Ali Khan and Rana Sanaullah whose sympathies with extremist organisations and sectarian outfits are well documented, mean that it fails to exude the kind of liberal, soft image that is required of a truly centre-left entity. PPP, for example, boosts a plethora of such faces, including the likes of Sherry Rehman, Aitzaz Ahsan and a number of leading left-wing intellectuals that remained with the party in its formative years and thus prove its core affinity to the left.

In effect, PML-N appears to be attempting a double game whereby it attempts to capture the now unreserved liberal vote, whilst retaining its ties to the religious right. However, the assertion here is that this façade of being the new centrist entity in national politics is too flimsy to be bought by the politically aware, educated and modern-thinking voter. Hence, even if they are still voting for the Noon league, as Paracha claims in his write up, it may be for entirely different reasons altogether.

Here is one of the possibilities – the political landscape in Pakistan can at any given time be compartmentalised into two sections. The first consists primarily of a single party, usually incumbent and with great electoral strength that is locked in a power struggle with the military establishment over various recurring issues. The second section is built up of a party or an alliance of parties that remain cosy with the establishment and are either propped up by it as counterweight to the former section or at least have the propensity for heeding its instructions at various junctures. It is possible that this intersection in Pakistani politics has given rise to a new breed of "democratic" voters that simply cast their votes in favour of whichever national party currently occupies the anti-establishment role.

Previously, this role was played by PPP who remained the main threat to establishment oversight in internal and external matters. Today, with PPP's decline within Punjab, it is the Noon League that has assumed the mantle of taking on the establishment. It is this shift within the dynamics of the country's political circumstance and the PML-N's oscillation from an establishment backed outfit to being at loggerheads with it that has prompted several progressive voters to turn to the Noon League as they feel cautious, not necessarily of Imran Khan's populism, but his alleged closeness with the establishment.

Thus, what is being touted as PML-N's grab of the liberal vote bank through an ideological transformation is instead a natural acquirement of the anti-establishment vote by virtue of its position within the current political scenario.
The fact that PML-N's ideological shift towards the centre is devoid of any real substance and is mere political point scoring is by no means a positive sign for our democracy. World over, the oldest and healthiest democratic systems are underpinned by a tussle between two opposing forces of conservative and liberal leanings.

In Pakistan, PPP's diminishing stature means that mainstream politics has been reduced to a choice between two parties of similar right-wing affiliations. A more potent, well-organised, and federal party with a centre-leftist agenda is certainly needed to fill the gap and represent the more progressive thinkers in our society. However, as of now, all major parties, including PML-N, fail to fill that void.
Facebook Conversations
COMMENTS (2)
Comments are moderated and generally will be posted if they are on-topic and not abusive.
For more information, please see our Comments FAQ