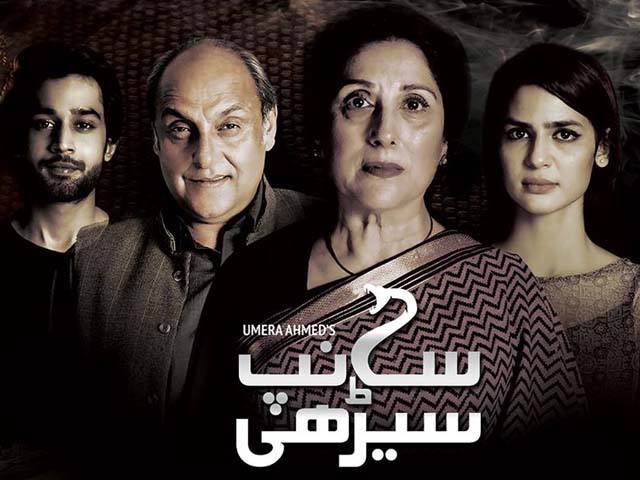 ---
Why was Saanp Seerhi so derogatory towards LUMS?
While the promo, with its slow moments, had all the elements of a passable drama, the first episode proved otherwise.
---
While the promo of the drama, with its slow-mo moments and forgettable original soundtrack, had all the elements of a passable drama, the first episode proved otherwise. Written by Yasir Shah, under the supervision of Umera Ahmad, and directed by Misbah Khalid, Saanp Seerhi exhibited way more life than its gloomy poster and promo portrayed.


From what was established in the appropriately paced first episode, the misuse of power by the feudal/political class and the standards of journalism in the country seem to form the premise of the serial.

Seth Raees, played by Sajid Hassan is your typical business man/politician who is shown using his allies in the media for mudslinging his political opponents. Anoushey Ashraf's character, a US return journalist who works as a research head, provides the viewers a glimpse into the lives of those living outside the spotlight. She faces an internal turmoil owing to her boss' disregard of ethics.


Along with a promising storyline, the background details hint at bringing forth a freshness in Pakistani drama. It's good to see the writers of our Pakistani dramas  finally realising that a university is the place to get a higher education – they're not the 'cool colourful colleges' that are often depicted. They've also realised that one's cumulative grade point average (CGPA) is a good enough measure of one's academic excellence. There is no need for:

 'Mein apni class me first ayi thi'

(I scored the highest in my class.)

Or

'Mainay apnay college mein top kia tha'

(I was the top scorer at my college.)

I appreciated the drama putting more thought into its storylines and imagery, so as to provide a more relatable and realistic picture of the events that commenced. However, even though Saanp Seerhi's first episode proved to be a pleasant surprise, here are the things that did not go in its favour:

1. The hypocrisy of the Seth Raees family. The family opposes Sophia's (played by Madiha Imam) plea to study either abroad or at LUMS (which is in a different city). Both Sophia's father and brother seem to be womanisers, and this conservative approach doesn't fit with the image created of the family as Sophia's mother seems to be quite modern.

2. The playboy: Yasir Mazhar has performed well enough in various roles to prove his credibility as an actor. However, he doesn't seem to fit the role of the businessman cum Casanova that he's been given. More so, he doesn't play the whole boy-returned-from-America-after-completing-his-studies role well.

3. "Yeh Seth Raees ki beti hai" (This is Seth Raees's daughter): No, nobody does that. How many of you would even know, let alone care, if Jahangir Tareen's son passes by you at university? We have seen enough of the whole "Seth Anandi Laal ki nuk chirri beti" in Bollywood 'college' movies, so hopefully, the drama will learn to stay away from that.

4. Intended promotion or attempt to malign: though it may make the drama feel more real than staged by using the name of an actual university (LUMS) in the script, here, it seemed to be there for all the wrong reasons. Three consecutive dialogues left me wondering:

"Saare cute boys to waisay bhi LUMS mein hote hein,"

(All the cute boys go to LUMS.)

Well... okay.

"Tumharay papa itnay baray admi hein, LUMS mein tumhara admission asani se kurwa dein gey."

(Your father's a powerful man; he can easily get you into LUMS.)

Oh, so that's why I got rejected?

And, the most absurd dialogue:

"Meray bhai ki aadhi girlfriends to LUMS ki hi hoti hain."

(Half my brothers' girlfriends are from LUMS.)

Wait, what? The ladies that worked hard to be in one of the most reputable universities in the country aspire to be the acquaintances of some rich politician/wadere ka beta? I seriously doubt that.

No publicity is bad publicity but these dialogues just leave the audience in a downright state of confusion.

With hits and misses, the drama promises to be eventful; an aroma distinct from the 'dusri biwi, pehli muhabbat' (Second wife, first love) phenomena.
Facebook Conversations
COMMENTS (1)
Comments are moderated and generally will be posted if they are on-topic and not abusive.
For more information, please see our Comments FAQ