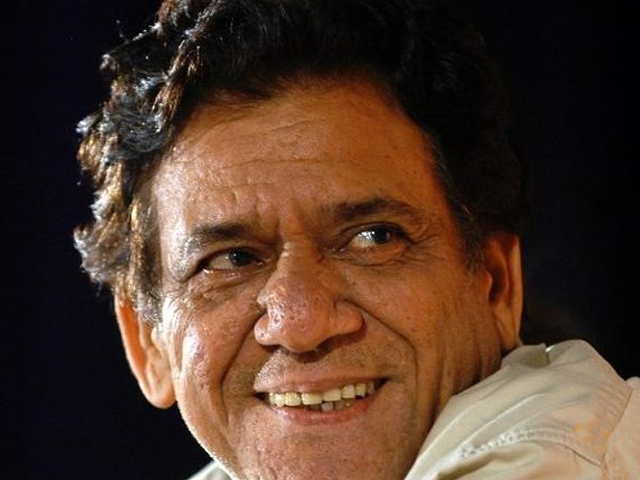 ---
Farewell, Mr Om Puri, you were our voice of peace and harmony
He never judged us like the rest of the world does. In times of crises, he stood up for us even when he didn't have to
---
Our generation is in a strange place today.  While we are reminded every day that we must "adult", grow up and face whatever is thrown at us, we are losing certain things that link us to our childhoods. In the form of raising our eyebrows incredulously as we watch people change, losing our loved ones, and listening to news of eminent figures leaving this world, figures we grow up listening to and watching on the television and behind the veils of cinemas.

The year 2016 took away too much. Some passed on naturally, some were snatched away from us in cold blood, some were victims of ill fate, and some just disappeared into the list of 2016's bygones, understated but not forgotten. We lost Edhi Sahab, rightfully the father of our country, who embodied everything a human being should be.  The powerhouse of talent, Mr Amjad Sabri, was taken away in the most horrific manner, the reality of which still hasn't really sunk in. Junaid Jamshed lost his life, along with many others, in a tragedy that has left a permanent lump in our throats. We lost them and many more who made our yester years what they were.

And yesterday, while we prayed 2017 would be a tad bit nicer, we were told of another legend passing on. This legend was not from our homeland, in fact, he did not just belong to one place. An artist like him does not let his talent be restricted by mere geography and international rules for visitation. For an artist like Mr Om Puri, the world was his theatre.

From comical appearances in many films to portraying the strongest of characters, Puri's performances were always inspiring. While watching him I used to think, this is the one actor who acts like he is not acting at all. With far-reaching intensity in his eyes, stern looking features, a heart-warming smile, infectious laugh, that command in his voice, the vulnerability and that quiver in his body language, Puri performed like there were no cameras around. He was as real as they get.

My favourite performances of Om Puri were all those in which he portrayed a father because he did it so beautifully. He was relatable, lovable, and overprotective like only a desi parent can be.

In East is East and its sequel West is West, he plays an overbearing, obsessive Pakistani father trying to keep a hold of his family as they try to fit in their new world.



Although I did not really enjoy the British series White Teeth (it did not do the novel justice), I still watched it for Puri's performances.




Puri's hilarious portrayal as Akshay Kumar's uncle in Singh is Kinng left us in fits, reminding us of certain family members we all have.


Dhoop was perhaps his strongest performance. Only he could really show how a father feels after losing his child. This one will leave you teary-eyed for days.


Teen Thay Bhai was an adorable film that didn't do so well commercially, but had a great plot about three brothers, where Puri played the eldest and grumpiest one.


Personally, my most favourite film of Puri is The 100-Foot Jouney. He plays an Indian father who loses his wife and wants his son to be as good of a chef as her. They open a small Indian restaurant in France, and while his son is impressed by the French restaurant next to theirs, Puri constantly reminds him that one should stick by their roots and culture to stay original.



There are many performances that Om Puri will be remembered for, one of them being his latest Pakistani production, Actor-in-Law.


He visited Pakistan many times and always appreciated our talent. He never judged us like the rest of the world often does. In times of crises, he stood up for us even when he didn't really have to. He argued with and faced criticism from many because he supported peace and he refused to label an entire country just because a few decided to let hate and terror be the deciding factor for all problems.

He was a man who had travelled and worked all around the world, he had lived with Indians and he had lived with Pakistanis, so he knew neither people can or should be blamed for what a small part of the entire populace decided to do. He stressed on the fact, like many other artists in both the countries did, that one should not mix terrorists with artists, one should not let art be polluted by war and governmental grudges.

India and Pakistan have both come a long way. While they still act like a divorced couple or warring siblings, I believe the general masses on both sides don't really hate each other. What they hate is losing their people at the hands of terrorists and murders. Terror has no passport, nor blue nor green, and hate knows no language or religion. And while our governing bodies and certain media try to monetise on this hate and the emotions that arise after an attack on our homelands, it is people like Mr Om Puri who try to act like ambassadors of peace, often getting frustrated over how quick we are to judge and paint the entire canvas black.

He once said,

"I had hoped when my life was chronicled, it would be an inspirational story."

It is indeed, Sir. Thank you for your support, your performances, your magic on the stage and behind the veil, and most importantly, thank you for your art. Farewell, Mr Om Puri.

We hope you find the peace and tolerance you were searching for.


Facebook Conversations
COMMENTS (9)
Comments are moderated and generally will be posted if they are on-topic and not abusive.
For more information, please see our Comments FAQ