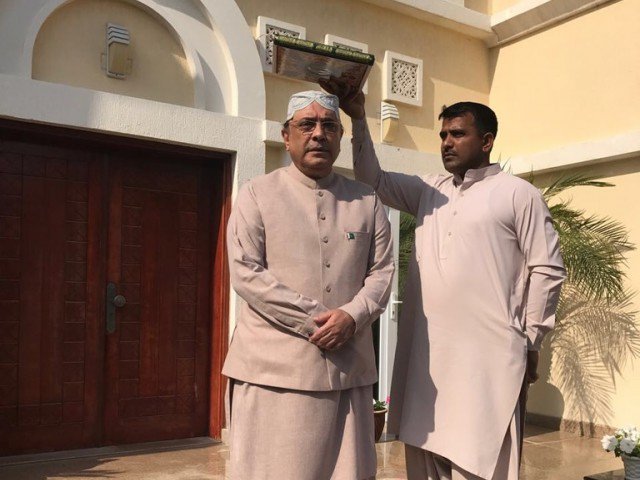 ---
Asif Ali Zardari vs Bilawal Bhutto Zardari: Round 1
Zardari's five years in power did to PPP's popularity what Ziaul Haq's 11 years and Musharraf's eight years could not.
---
Finally, Asif Ali Zardari, after a self-exile of 18 months, is back in Pakistan. His self-exile, at that time, was motivated by the Karachi operation which had started to target some of his close associates and also by his own rather uncharacteristic outburst against the military in which he threatened the institution with "grave consequences".


His return has also coincided with Pakistan Peoples Party's (PPP) deadline given to Pakistan Muslim League-Nawaz (PML-N) regarding the former's four demands. Just to reiterate that, PPP had threatened a long march to Islamabad if PML-N did not adhere to its demands.

However, on December 27th, instead of a long march, PPP announced that it would hold a series of rallies and public meetings. Further, both Zardari and Bilawal Bhutto will be contesting elections to be a part of the current parliament.

Several interrelated questions arise out of these developments. First, why did Zardari decide to end his exile and return to Pakistan? Second, what is likely the impact of Zardari's return to Pakistan? Third, what can PPP actually gain from electing both Bilawal and Zardari to the parliament.

So why did Zardari decide to come back?

In my opinion, his decision to end his self-imposed exile is a clever Machiavellian move aimed at achieving several objectives at the same time. First is to wrestle some power back from Bilawal and his favoured group within the party. Zardari was powerful but young Bilawal had substantial autonomy to shape up the vision as well as strategic direction of the party.

Compared to the patronage based and "reconciliatory" approach of his father, Bilawal's style is more confrontational and ideological. Young Bilawal has sought to revive the fortunes of PPP in Punjab and thinks that instead of "soft" opposition, PPP needs to play tough and more active role. Moreover, he has tried to articulate a liberal vision for the PPP in order to lure back the left-leaning vote bank, which over time has become disillusioned from the party. In other words, the leadership style of father and son are as different as chalk and cheese.

Even before Zardari's exile, there had been constant rumours of disagreements between the two, which were of course denied by the party. But with Zardari's return, space for young Bilawal is unlikely to shrink as the former needs to reassert himself first.

Secondly, Zardari has also returned home because PML-N, despite holding a comfortable majority, is feeling some political heat due to Panama leaks. It feels somewhat vulnerable and would need PPP's support in the legislature to pass the crucial 24th Amendment. It also needs PPP to refrain from joining Pakistan Tehreek-e-Insaf (PTI) as a coalition between the two would result in combined opposition, which would compound its problems. To some extent, this vulnerability does boost Zardari's position to negotiate with PML -N for the purpose of extracting concessions, particularly with respect to the on-going Karachi operation.

The decision to end exile has been carefully timed with the retirement of General Raheel Sharif, and since the new COAS is still in a transition phase, the federal government is in better control of the Karachi operation, at least momentarily. Zardari thinks that the situation allows him essential manoeuvrability to force the federal government to adopt a "softer" approach towards his key men.

But will his return really make a difference to his party's fortunes or even for his aforementioned personal aims? Zardari is a very clever politician and PPP has managed to survive and hold power for five years, despite fighting on several fronts, mainly because of his Machiavellian abilities.

However, it should be remembered that his brand of politics is effective when the party is in power and can distribute patronage or alternatively is in a coalition where its numerical strength is crucial for the survival of the government. Right now, PPP is just Sindh-centric and since PML-N is in a comfortable majority at the centre, Zardari's way of dealing will not be as effective. Yes, PML-N needs PPP's support in the parliament for passing some legislation but its survival is not at stake. The extent of concessions to Zardari by PML-N will therefore be limited. In fact, if he tries to put too much pressure on Nawaz Shairf, the latter has substantial leverage to put him to back foot. Realising this, Zardari has already stated that he won't try to dislodge the PML -N government.

His return is also not going to make a difference in reversing PPP's popularity decline. He is extremely unpopular in Punjab and in fact in most of Pakistan. Many PPP loyalists got disillusioned from the party during his rule. Today, the fact is that PPP has even lost support from the kachi abadis of Punjab and Zardari's unpopularity (whether deserved or not) has a lot to do with it. In fact, Zardari's five years in power did to PPP's popularity what Ziaul Haq's 11 years, Ghulam Ishaq Khan's six years, and Musharraf's eight years could not. So, if he tries to be the face of the party after his return, I am extremely doubtful that PPP's fortunes are going to recover even a fraction.

It would be better for PPP if he does not become the face of the party and Bilawal is allowed to continue playing that role. I personally think that Bilawal, by trying to articulate a liberal-left narrative, is on the right track, and if he is allowed to continue, there will be some resurgence of PPP's popularity.

But what could be the rationale behind getting elected to the parliament? In my opinion, this is only a strategy by Zardari to get directly involved in political matters for his personal gains and won't make much of a difference otherwise. In fact, it may complicate things for the opposition as its current leader, Khurshid Shah, has so far done a commendable job. Replacing him at this point is going to lead towards problems. In case they decided not to replace him, Shah will find it difficult to effectively assert his authority in the presence of Bilawal and Zardari.

On the whole, Zardari's return is going to further derail the party and it would have been better if he had stayed in exile.
Facebook Conversations
COMMENTS (3)
Comments are moderated and generally will be posted if they are on-topic and not abusive.
For more information, please see our Comments FAQ