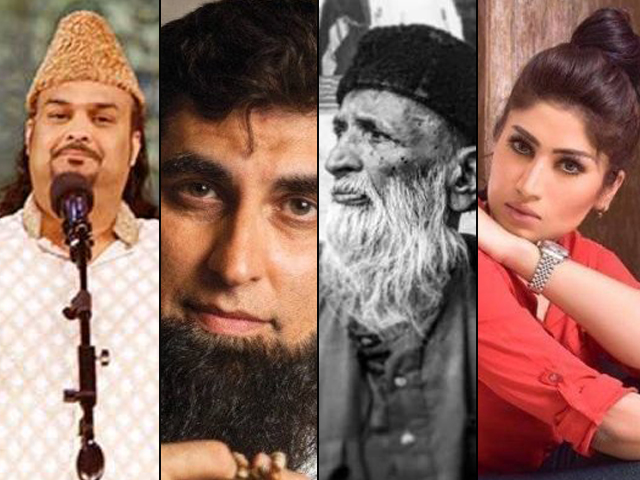 ---
Remembering the ones we lost too soon
Some were lost to old age, some to disease and some to murder.
---


It seems like the year 2016 just started a while back, but here we are, just a few days shy from welcoming 2017.

A lot happened last year which took us by surprise and shocked us. But even amidst such unpredictability, we were not prepared to see some of the deaths that came our way. Some were lost to old age, some to disease and some to murder. But regardless, they were all taken too soon.

Here are some of those names, in no particular order.

Peter Vaughan




Even though he had a career spanning 75 years, fans of Game of Thrones (GoT) will relate to his death the most. Maester Aemon Targaryen (his name in GoT) passed away at the age of 93 on December 6th.

The blind Maester had lots of memorable quotes, however one of his most favoured one is,

"What is honour compared to a woman's love? What is duty against the feel of a newborn son in your arms... or the memory of a brother's smile? Wind and words. Wind and words. We are only human, and the Gods have fashioned us for love. That is our great glory, and our great tragedy."
Leonard Cohen


The 82-year-old Canadian's career spreading over for over five decades finally came to a stop on November 7th. He was a singer, songwriter, musician, poet, novelist, and painter; enigmatic in every way. He was also wise and wrote uplifting words:

"There is a crack in everything, that's how the light gets in."

But I will remember him most for the beautiful song Hallelujah.


Hanif Mohammed




He was Pakistan cricket's first star fondly known as the 'Little Master'. He played in 55 Test matches averaging 43.98 scoring 12 centuries. The longest inning in Test history also belonged to him – 970 minutes, 337 against West Indies. He had an unflappable temperament; perhaps that is what inspires another master, Misbahul Haq, to always keep his cool as well.

The cricket legend died at age 81 on August 11th from lung cancer in Karachi.

Pete Burns




The kids from the 80s will certainly have a soft spot for him. He was the founder and singer of the pop band Dead or Alive. You Spin me Round was an infectious hit back in 1984, which is still sung (and redone) to this day.


He, however, hid from the limelight until he took part in Big Brother in 2006.  He died of a massive heart attack on October 24th, aged 57.

Ron Glass




He acted in Friends, Star Trek, and CSI but his most iconic role was perhaps as religious preacher Shepherd Derrial Brook on the 2002 cult science fiction show Firefly, it was short lived yet massively popular. Enough for a spin off feature film Serenity, which also starred him.

To date, it continues to have a cult following in Pakistan and other countries. Glass passed away on November 26th, aged 71.

Shahlyla Baloch




She was Pakistan's rising football star who played as a forward for Balochistan United and as a striker for Pakistan's National Women's Team. Baloch was also the first Pakistani woman to score a hat trick in Maldives.

A role model for many girls, breaking all the taboos and cultural norms, the 20-year-old died in a tragic car accident in Karachi on October 12th.

Gene Wilder




Jerome Silberman (his real name), an amazing actor brought great individuality in his long movie career in films like Young Frankenstein and Blazing Saddles.

However, it was his role as Willy Wonka in my personal favourite, 1971 Roald Dahl adaptation Willy Wonka & the Chocolate Factory which has been forever immortalised. No one else has ever come close to portraying the character like he did. The movie continues to touch each generation as they come.

The wild-eyed star died on August 29th aged 83 from complications from Alzheimer's disease. One of his many quotes still echoes in the world of today,

"If you're not gonna tell the truth, then why start talking?"
Prince


This death came as huge shock when news went around about the musical genius behind Purple Rain, When Doves Cry and Little Corvette.

Megastar Prince Rogers Nelson passed away in his recording studios at age 57 on 21th of April.

Selling over 100 million records, he was one of the bestselling artists of all time.

He was also one of the few or perhaps the only musician who did not want his music on the Internet. Prince fiercely protected his copyrights, and enforced full control on the presentation and distribution of his work. On YouTube alone, numerous uploads were ruthlessly taken down sometimes leaving just the video with no sound. That changed drastically though after he died of an accidental overdose of the opioid fentanyl.

A Nayyar




Arthur Nayyar was a Pakistani playback singer who started his musical journey on a TV show called Naye Fankar in 1974 where he sang two songs – Aik Gunah Aur Sahi (Nisar Bazmi) and Pyaar to Aik Din Hona Tha (M Ashraf) and never looked back. He won seven Nigar, eight Graduate, four Bolan and a National and Presidential Award.

He was a heart patient for quite a few years and breathed his last on November 11th due to a cardiac arrest.

Anton Yelchin




Russian actor Anton Yelchin was fatally crushed in a freak accident when his 2.5 ton car rolled backwards and pinned him against the gate.

His career as a child actor took off in the Steven Speilberg TV series Taken. He then went on to appear in movies like Terminator Salvation, Green Room and in all the new Star Trek reboot movies.

His young lifeless body was found on the morning of June 19th. He was only 27-years-old.

Muhammad Ali




Born as Cassius Marcellus Clay Jr, he was the boxing world's most celebrated athlete. When he was 12-years-old his bike had been stolen. He told a police officer that he wanted to "whup" whoever took it.

The officer replied,

"Well, you better learn how to fight before you start challenging people that you're gonna whup."

Joe Martin, the police officer, would be the man who would teach him how to spur and start his boxing career.

Ali became an Olympic gold medalist in 1960 and the world heavyweight-boxing champion in 1964, later on reclaiming the title two more times.

He was presented with a Hollywood star in 2002 but his is the only one not on the ground because of his name. It stands on the wall to the entrance of Dolby Theatre.

Along with that, he was also a philanthropist and social activist. He died at age 74 on June 3rd, after struggling with Parkinson's disease.

Qandeel Baloch




Born Fauzia Azeem, she was a Pakistani model, actress and a social media celebrity albeit a little controversial for many.

Her first step into the limelight was when she auditioned for Pakistan Idol, after which her audition went viral. She challenged the judges even then that she would become famous, and she came through.

She was one of the top five most searched persons on the internet in Pakistan, which also makes her the woman through whom we saw the hypocrisy of our society as a whole.

Her own brother murdered her in the name of honour on July 15th. He, along with 11 other relatives, was financially dependent on the 26-year-old.

David Bowie




2016 started with the shocking death of 69-year-old rock star David Bowie on January 10th, just two days after releasing his 25th album. He was the genius who taught generations of musicians how to use drama, image and create a persona to one's advantage.

One of his distinct features was his eyes. He suffered from a condition called anisocoria, where one of his eyes could not respond to light. Thus, one eye looked blue, while the other black.

He died after secretly battling cancer. Even his close friends were unaware. However, the struggle became apparent in his last music video Lazarus after he died.


In the span of over 50 years from his very first recordings right through to his last album Blackstar, David Bowie remained a constant influence on generations of artists. I, however remember him the most for Jareth, a role he played as the Goblin King in the movie Labyrinth.

Nancy Reagan




Born Anne Frances Robbins, she was an American actress and wife of the 40th President of the United States, Ronald Reagan, who incidentally had also been an actor previously. They in fact even starred in a movie together Hellcats of the Navy.

Nancy was also a spokeswoman of the 'Just Say No' anti-drugs campaign. She died March 6th at the ripe old age of 94.

Alan Rickman




Iconic and much loved British actor of stage, TV and films, Alan Sydney Patrick Rickman died at the age 69.

He had already established himself as a well-known and popular actor before his performances in the movies Die hard, Sweeney Todd and Alice in Wonderland. However, it was his role as the beloved Professor Snape in the Harry Potter movies, which escalated his fame to the nth level and earned him even more fans from all over the world. From the moment he said, "Mister Potter, our new celebrity", his fans were hooked making him one of the most admired characters ever.

He suffered a stroke in August 2015 which led to the diagnosis of pancreatic cancer. The cancer eventually claimed him on January 14th.

Joanie Laurer




Fans may remember her rather as Chyna, the former pro wrestler and body builder. In 1997, the World Wrestling Federation (now WWE) named her the Ninth Wonder of the World.

The 46-year-old was found dead in her apartment in California on 20th April 20th.  The cause is still not known.

Zaha Hadid




The 'Queen of the Curve' died from a heart attack at the age of 65 on March 31st.  Dame Zaha Hadid was a world-renowned architect who is famed for designing London's 2012 Olympics Aquatic Center, the BMW Central Building in Leipzig, Germany, among many others. She even taught at the Harvard Graduate School of Design.

She is considered an architect of unconventional thinking and also the world's top female architect.

Her buildings have been commissioned around the world. She was the first woman to receive the Royal Institute of British Architects Gold medal. She was also awarded the Pritzker Architecture Prize and made it to the Forbes 'The 100 Most Powerful Women' list in 2008.

She lived as an inspiration to everyone, especially girls giving them a positive role model to look up to.

No' anti-drugs campaign. She died March 6th at the ripe old age of 94.

Elie Wiesel




The Holocaust survivor and Nobel Peace Prize Laureate died at the age of 87 on July 2nd. He was the author of more than 60 fiction/non-fiction books including 'A Beggar in Jerusalem' (Prix Médicis winner), 'The Testament' (Prix Livre Inter winner). His book 'La Nuit', however, is a story of his family being sent to the Nazi concentration camps.

He had been 15-years-old when his family was deported to Auschwitz. His mother and younger sister died and later on his father as well. He and his two sisters, however, managed to survive.

An outspoken man, Wiesel also won many awards for his literary and human rights activities.

Junaid Jamshed, along with all the passengers and crew members onboard PIA Flight PK-661




Sometimes referred to as JJ by his fans, he was a singer, songwriter turned televangelist and fashion designer.

He first shot to stardom when he sang the nearly-national song 'Dil Dil Pakistan'. The song was everywhere and on everyone's lips. After numerous hits, he would leave singing behind for the path of religion.

He died at the age of 52 in a plane crash on December 7th. One of his three wives, who had been in the plane with him also passed away. Thousands made their way to pay their respects at his funeral with senior armed forces personnel, politicians, celebrities and sportsmen in attendance.

Whether one liked the musician side of him or the latter preacher; one thing is for sure, everyone will miss him.

JJ was not the only passenger on-board the ill-fated PIA flight PK661 who lost his life. 46 other passengers including the crew and pilots also died, leaving the world a darker, sadder place.

Fidel Castro




The man who defied the US for almost 50 years and nearly brought the world to the brink of nuclear war, Fidel Castro, died at the age of 90 on November 25th. He orchestrated the Cuban revolution and was head of its government till 2008.

The communist was the longest reigning leader other than Queen Elizabeth II. He believed himself as a messiah for Cuba and overlooked every minute detail down to the colour of uniforms that his soldiers wore to setting goals for sugar harvests.

After his death, social media erupted with two divided sides, one hailing him as a revolutionary hero while others as a tyrant.

Amjad Sabri




Amjad Fareed Sabri, one of Asia's most popular and sought after qawal singers was loved by all.  A wave of grief gripped the country after he was shot dead in broad daylight on June 22nd. He was only 45-years-old.

He was always known to be a humble, down to earth, helpful man who pushed the traditions of Sufism with his music. Whatever he and his brother, Ghulam Farid Sabri, sang, it became an instant hit. However, their most revered qawalis were 'Bhar do Jholi', and 'Tajdar-e-Haram'.



A previously recorded song appeared in Coke Studio after his death, leaving no eye dry in the country.

In the words of Arieb Azhar,

"His mission of love has tragically been cut short by those who spread hate in the world, and is a great loss for all the divided people of our country."
Edhi


There are not enough words in the dictionary to describe the greatness of Abdul Sattar Edhi.

He was a philanthropist and a humanitarian who founded the Edhi Foundation. It ran hospitals, provided a home for those without, was a rehab centre and an orphanage.

He was known as the 'Angel of Mercy' as he rose above everything that divides people in the world. He saw no religion, no caste, no colour when he rushed to help those needed it. Even when criticised by many, he still continued on his path to serve everyone.

In 2013, Huffington Post claimed that he might be "the world's greatest living humanitarian".

On July 8th, at the age of 88, his kidneys failed and he passed on. Even in death, he did not want to leave without helping others, and requested that his organs be donated. In our hearts, even in death, he will always live on.

Andrei Karlov




On December 19th, the Russian Ambassador to Turkey, Andrei Karlov was shot dead by an off-duty police officer, Mevlut Mert Altintas, who was eventually shot dead. He shouted,

"Allahu Akbar. Do not forget Aleppo! Do not forget Syria! We die in Aleppo, you die here!"

While many did not know Karlov, his murder is vital as it happened a day before diplomats from Turkey, Iran and Russia were scheduled to meet in Moscow to discuss the situation in Aleppo.

Predictions are going around as to what will happen. Some have even gone far enough to say World War III is here. Others remain optimistic and think that a solution will finally be sought.

So here onwards, we look towards 2017 to see what it will bring us.

"The fear of death follows from the fear of life. A man who lives fully is prepared to die at any time." (Mark Twain)